News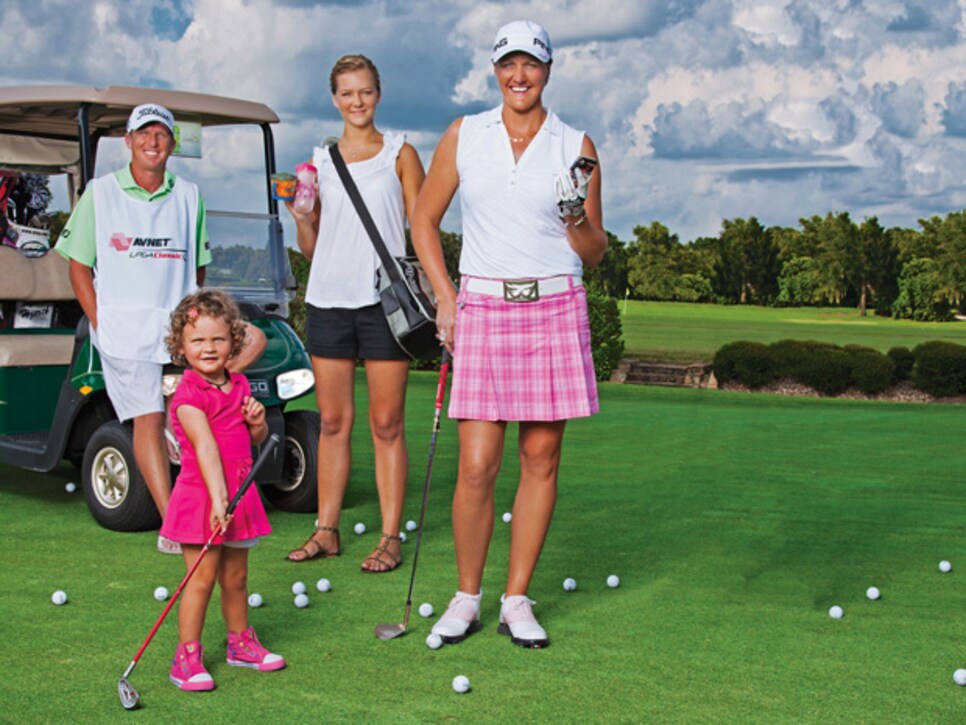 It takes a village: Hjorth's entourage includes husband Shaun McBride, nanny Magdalena Arvidsson and daughter Emily.
Q: Your daughter, Emily, is 2½, your husband, Shaun McBride, is a caddie on the PGA Tour, and you've won two LPGA Tour events in the past 10 months. How do you do it all?
A: It takes a lot of planning and communication. Shaun has an amazing boss in Bryce Molder, who lets him keep a somewhat flexible schedule. We try not to spend more than three weeks apart. Emily goes to daycare here in Orlando and on tour, because she usually travels with me. Being away from her is the toughest part for Shaun and me.
Q: Why are you playing your best golf at age 38, when your life is crazier than ever?
A: My coach, Ian Triggs, and I have worked hard to get me to a new level of consistency. That's what allows me to be up there close to the top a lot, and if I'm having a good putting week, I usually have a chance to win. I also think I'm playing better because my life is more balanced these days. I'm very happy. I practice with more quality than quantity, and when I'm done with practice, I focus on other stuff. I can separate things; before Emily, golf penetrated everything. Q: You spend a lot of time in the gym, but distance was never your problem. How has adding muscle helped improve your game?
A: It allows me to get into better positions in my swing on a more consistent basis. I started working out with Andrea Doddato of Shape & Sport last year. During the season, I see her three or four times a week. She works with other LPGA players and comes with us to most of the domestic events, so I've been able to stay with it.
Q: You have diabetes. How does that affect your life?
A: As long as I take care of myself, it's not a big problem. I test my blood-sugar levels eight to 10 times a day and give myself four or five insulin shots a day. Once in a while I feel sorry for myself, but it's really just a different way of life. I try to eat healthier, bring lots of snacks on the golf course and make sure that I never skip a meal.
Q: As a youngster in Sweden, you were a nationally ranked curling player. Any similarities between curling and golf?
A: Definitely. Both sports sort of come down to adjusting to the speed and design of surfaces. In golf, you have different types of greens, just like you have different kinds of ice on curling tracks, sometimes within the same arena.
Q: You've been using a long putter for the past five years. Why does it work so well for you?
A: It takes the hands out of play. Last season, I tried going back to the short putter, but I missed four cuts in five weeks, so that didn't last. The long putter takes my game up a notch. It makes me significantly more consistent.