LPGA
Maria Fassi has knee surgery, out through at least the U.S. Women's Open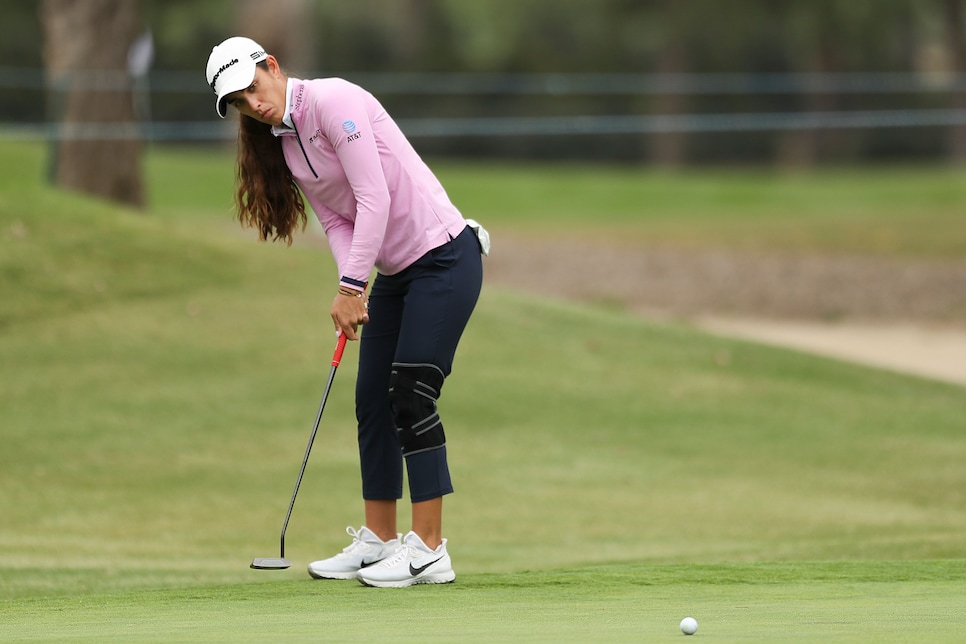 Wearing a brace on her left knee, Maria Fassi putts during the second round of last week's Hugel-Air Premia LA Open.
Meg Oliphant
Maria Fassi, the former amateur standout and NCAA champion at Arkansas, is still trying to find her way on the LPGA Tour after turning pro in 2019. The fast-swinging 23-year-old is loaded with potential, but her results have been inconsistent, missing 19 cuts in 33 starts, with just one top-10 finish.
Her development, however, is on hold for at least the next six weeks, a timespan that includes the U.S. Women's Open. Fassi confirmed with Golf Digest that she underwent surgery on Monday to repair a tear in her left knee.
"It's not a good feeling, it's just tough mentally," said Fassi, who competed at the Hugel-Premia LA Open, making her first cut in 2021 and finishing T-50. "I've had to work through a lot of things. We were getting very close to getting it together and to be able to start turning it around."
Fassi first noticed something at the ANA Inspiration when her cousin, who travels with her to LPGA Tour events, asked about her gait after she awkwardly rose out of a chair. Fassi felt a slight pain in her left knee on the range at the Dinah Shore course but didn't think any more of it. The power player couldn't remember a specific moment when she might have hurt it and decided to press on.
Two weeks later, in Hawaii at the Lotte Championship, her knee took a significant turn for the worse during the second round, when she posted a 73 before missing the cut. She felt a notable increase in pain that was particularly strong on shots with her longer clubs.
At the end of the round, Fassi approached tournament officials, who connected her with a team of doctors from UCLA Hospital. After traveling to L.A. for the tournament at Wilshire Country Club, she had testing done at the Ronald Reagan UCLA Medical Center.
An MRI revealed a second- or third-degree tear in the knee. Fassi and her family consulted with doctors from UCLA and Centro Enternamiento Medico Actura (CEMA). CEMA is the hospital her father's soccer club, Talleres de Cordoba, owns. The recommendation was surgery along with hormone therapy.
Dr. Rafael Ortega performed the surgery in Mexico City. Ortega previously had operated on Fassi's older brother, Sebastian, a goalie for the Mexican soccer team Club Nexaca, in November 2020, successfully repaired his torn meniscus and anterior cruciate ligament.
Fassi considered skipping last week's tournament, but decided to play anyway after receiving assurances the injury couldn't get any worse. "Even through the pain in Hawaii, I felt like there were a lot of very positive things and I just want to keep seeing those good things," she said. "Even of course now knowing that I'll be out for a few weeks because of the knee, I think I'd rather have good memories than the not-so-good ones that I've had the last few months."
Her family also turned out to support her in the final start. Her parents flew in on Monday from Miami and her younger brother Franco came from Mexico. The Fassi family filled the silence of no fans on-site at Wilshire Country Club, proudly yelling "Vale Maria!" after a signature Fassi fist pump on the sixth green Wednesday during the first round.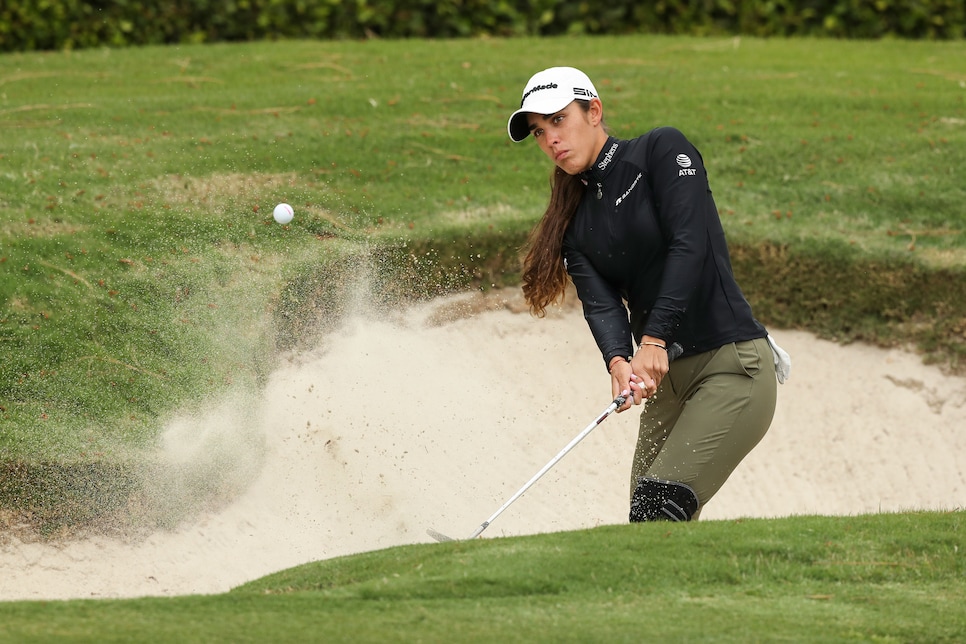 Fassi, hitting a bunker shot last week at Wilshire Country Club, will spend the first three weeks rehabbing in Mexico before returning to Arkansas to finish up her recovery.
Meg Oliphant
The knee noticeable affected Fassi on the course as she lumbered wearing a hefty brace. On the 532-yard par-5 second hole, Fassi took a big swing with a fairway wood to the front right of the green. She keeled over and leaned on her 3-wood for support after the effort. Caddie Mark Wallington tried to comfort her, patting her back and encouraging her to keep moving forward. The injury affected her ability to get through the ball as she averaged 263 yards off the tee this week, 20 yards shorter than her season average. After opening with rounds of 68-71, she closed out play with matching 73s.
The Mexican is targeting the LPGA Mediheal Championship, June 10-13, for her return but has no firm plans at this point. "I don't want to come back too early to where I could jeopardize the six weeks or however long I went without playing," she said. "I'll come back when it's safe for me to come back."
Fassi's playing status is secure for the rest of the season, but she'll need to perform when she returns to action in order to keep her LPGA card. She is currently 123rd in the Race to the CME Globe standings. She's focused on the positives from the last two weeks heading into the break and what her game becomes after she turns the ignition back on.
"Hopefully," she said, "when I come back I'm stronger than ever, with a healthy me, a good mindset to move forward and enjoy the last six months of the year."