#59watch
Watch DP World Tour pro almost pull off the most unlikely 59 in golf history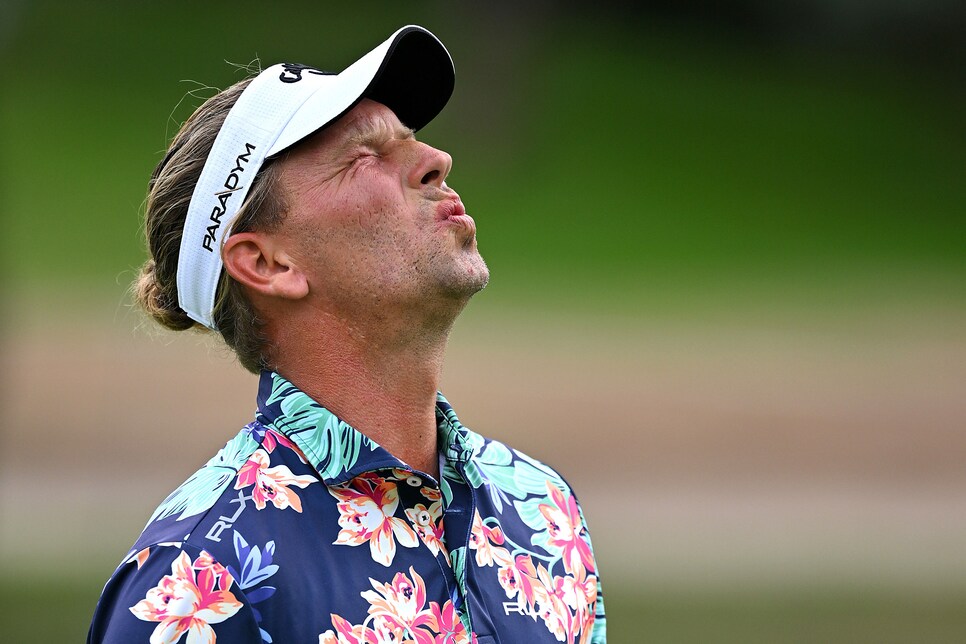 Marcel Siem started the final round of the acciona Open de España (aka the Spanish Open) in a somewhat pedestrian tie for 34th place, nine shots off the 54-hole lead held by France's Matthieu Pavon. But the climax to the 43-year-old German's day was a lot more exciting.
Having driven short and left of the green on the 324-yard par-4 18th at the Club de Campo Villa de Madrid course, Siem stood over the resulting chip knowing that, should he hole-out for what would be his third eagle of the day, he would register only the second round of 59 ever shot on the DP World Tour.
It wasn't to be, although it was close, the ball missing the flagstick by inches before finishing maybe 12 feet past.
The putt for 60, however, failed to live up to most of what Siem had produced earlier—seven birdies, those two eagles and a lone dropped shot. Never on line, it missed comfortably on the left. So 61 and 17 under par for the 72 holes it was in the end.
"At the start of the day I wasn't really thinking about winning the tournament," said Siem, who is in strong contention for one of the 10 PGA Tour cards available off this year's Race to Dubai standings. "I was just trying my best. I'm really pleased though. I had a chip on the last for 59, something I've never had before. It was pretty cool. Unfortunately, I misread the putt. But it was cool to think about the 59."
Another who started the final round alongside Siem also caused a ripple of excitement during a final round (and tournament) dominated by Pavon. The Frenchman led from start-to-finish, dropped only three shots all week, closed with a near-immaculate bogey-free 64 that took him to 23 under par for the week and made off with his maiden DP World Tour title by four-shots. Almost incidentally, South African Zander Lombard reached 19-under to pip England's Nathan Kimsey and claim a distant runner-up spot.
But never mind all that. It was defending champion Jon Rahm, seeking a fourth win in this event, who had local pulses racing early. At the conclusion of his third-round 67, the Masters champion announced that "the best has yet to come" and at least for a while he was living up to that promise.
Birdies on each of the first four holes had Rahm dreaming of what would have been the unlikeliest of victories. And when two more birdies arrived before the turn, he was out in 30 and thinking big. Sadly, however, the back-nine turned out to be something of an anti-climax for the large crowds following the World No. 3. Three pars were followed by a bogey on the par-4 13th. But ever the showman, Rahm finished with a typical flourish, driving the last green and leaving the putt for eagle hanging on the lip. It all added up to 64 and an eventual T-9 finish.
"Today was a good day," Rahm said. "It was the start I wanted but not the back nine I needed. I gave myself a chance to hope. But overall this wasn't the week I wanted. Friday afternoon [when he shot 72] cost me a lot. If I could have made a few putts like i did yesterday and today it could have been a different tournament.
"I'm still proud to have come and competed and hopefully sneak a back-door top-10," he continued. "That is good for the stats, good for the soul. I might have just run out of energy a little bit this week. Today was just a last-gasp attempt to give the crowd what they wanted. I almost did that on 18. I hit the perfect drive and almost made the putt. It would have been an incredibly way to finish."
This time round, that sort of glory was left to Pavon. Arriving in Madrid on the back of a T-6 finish in last week's Alfred Dunhill Links Championship, the 30-year-old Toulouse-native was clearly a man on the rise in an event where he has some positive history. A year ago, Pavon shot 19 under par and finished second—by six—to that man Rahm. "Chevaux de course," as someone from France might say.