The Loop
Marc Leishman was thinking 62 pretty early in his round on Sunday
ST. ANDREWS, Scotland -- As he walked down the Old Course's 16th hole during Sunday's third round of the British Open, Marc Leishman leaned in to hear his caddie mention something. "Two more birdies," whispered Mathew Kelly, "and that gets you that."
"That" went unspoken, superstitiously hanging in the air. "I knew what he meant," said Leishman.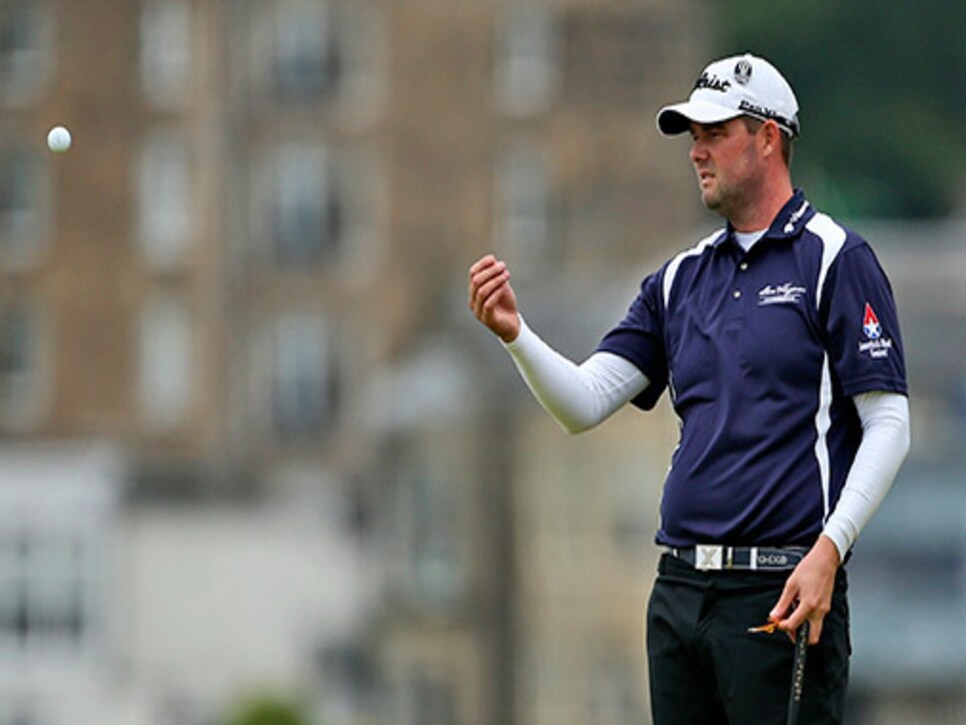 An eighth birdie on the 15th set up the scenario of two birdies on the final three holes for the precious 62, and just one to join the group of 26 to have shot 63s. While having legitimate looks at birdie on all three holes, lipping out from 10-feet on the treacherous Road Hole 17th, Leishman could only must three pars, and had to settle for a mere 64. The solace? Having started the day T-50, he leaped to T-2, one shot back of Dustin Johnson, who was still a half hour away from teeing off.
It's not often you shoot a 64 in the Open and wonder what might have been. Not surprisingly, Leishman choose to look at it differently. Given the emotional journey he has been on the last three months -- his wife, Audrey, nearly dying from toxic shock syndrome in April -- Leishman's approach to pretty much everything is to look on the bright side.
"I feel like I've always had a pretty good outlook on life, but now just it takes a lot more to worry me," said Leishman, his wife still recovering back at their home in Virginia Beach, Va. "I don't get annoyed about little things that I can't really help, when you hit a bad shot there's no real point getting frustrated about it because you tried to hit a good shot, you didn't, move on. That frustration doesn't help."
Suddenly, though, Leishman goes from being an also ran in his fifth Open Championship to a potential dark-horse. He'll take good vibes from shooting a closing 65 a year ago at Hoylake to finish T-5, his best showing in the tournament.
"Probably wasn't quite expecting to do what I did, but I really put myself in it, depending on what the leaders do today, see how far ahead they get," Leishman said. "But if I can do the right things and do things well, there's no reason why I can't have another good one tomorrow."