The Loop
Marc and Audrey Leishman are more than grateful after an emotional 2015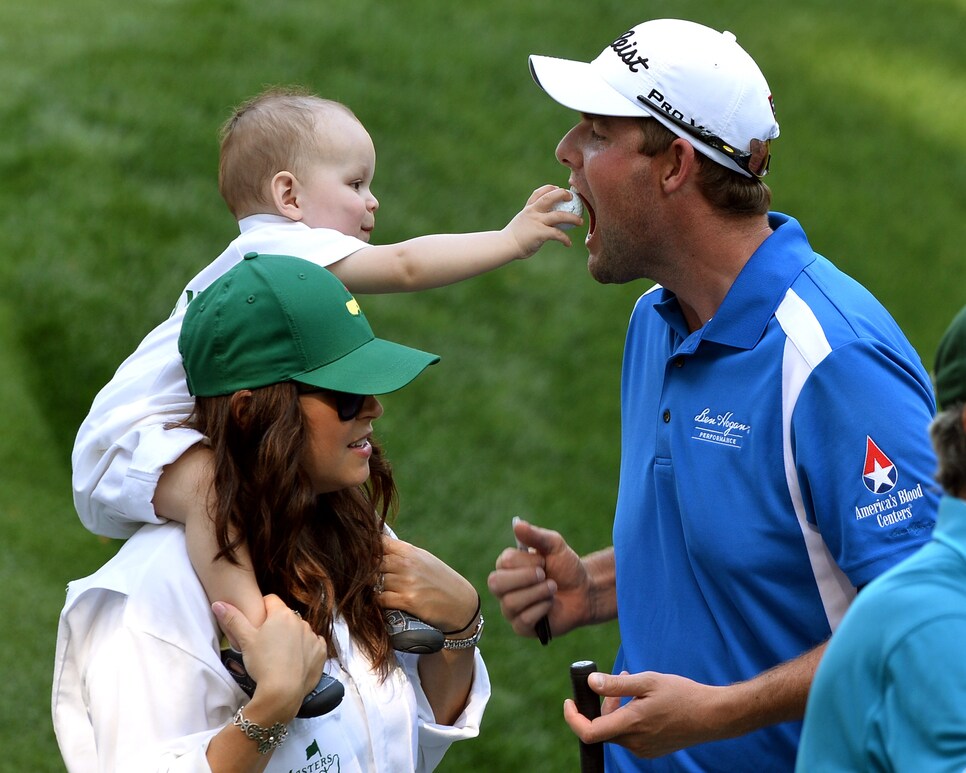 Marc Leishman was drinking a Bud Light and waiting on his cheeseburger at a sports bar in JFK Airport when we caught up. The Australian had just walked off a plane from South Africa to New York after winning the Nedbank Challenge Dec. 6 and was awaiting a connection to celebrate with his family back home in Virginia Beach, Va. "Nothing too glamorous," he said.
For Leishman, this final trip of 2015 represented more than simply coming home for Christmas. From a competitive standpoint, his win in Sun City closed out a year notable on the course for a playoff loss to Zach Johnson in the Open Championship and a Presidents Cup singles victory over Jordan Spieth.
But what made this near 13,000-mile post-victory journey so emotionally gratifying was the personal drama Leishman faced in April when his wife, Audrey, nearly died. "It's been a struggle," she understated when I reached her at home last week. "But all those struggles make it that much more meaningful watching him do what he did."
Marc was practicing at Augusta National nine days before the Masters when he received word from home that Audrey was suffering from acute respiratory distress and toxic shock syndrome. What started with flu-like symptoms and strep throat quickly escalated into a life-threatening situation.
With Audrey's lungs filling with fluids and her organs shutting down, doctors put her on a ventilator and ultimately into a medically induced coma. At her bedside, Marc played their favorite videos of their sons, Harvey (4) and Oliver (2). Before Audrey's miracle comeback, thoughts crossed Marc's mind of the boys growing up without their mom, and his tour career coming to an end.
Marc, 32, admitted recalling those moments as he played the back nine of the Nedbank and increased a lead that became a six-stroke win over Henrik Stenson. "Normally I don't think about it at all when I'm playing," Marc said. "But the last couple holes, I definitely started thinking about her a lot, about how good it was to be out there playing. It was awesome."
At home with Harvey and Oliver, Audrey jumped up and down in front of the TV, but also felt a sense of inner peace. "It just felt so right to watch him win that way," she said. "We both know that it means so much. We don't have to say it because we've done it together."
The Leishmans met when the Web.com Tour came to Virginia Beach in 2006. Marc had grown up in Warrnambool on the rugged Shipwreck Coast of southern Australia. The daughter of a Navy man, Audrey was born in Naples, Italy, lived in Rota, Spain, until age 4 and came with her family to Virginia Beach. She and Marc married in 2010, a year after he was PGA Tour Rookie of the Year, scheduling the wedding for after his first appearance in the Masters.
This year, Audrey didn't travel to a tournament until the Players in May, and is still not 100 percent. Most of her energy the past month was channeled into moving into a new home in Virginia Beach, while Marc traveled to China for the HSBC, the Australian Open and direct from Sydney to the Nedbank.
Last Tuesday night the Leishmans went out and bought a Christmas tree to begin their celebration of the holiday season, even after their biggest presents had essentially been opened. As Audrey said of the entire experience, "It felt like higher powers were in play."