The Loop
Making the case that a Grand Slam for Jordan Spieth is entirely possible
Stories of interest you might have missed…
Ian O'Connor of ESPN makes the case here that a Grand Slam for Jordan Spieth is entirely possible. "If Spieth won on raw talent and precision at Augusta, he proved Sunday he can win a big one on blood and guts, too…Spieth also proved he can win a major on a links course (or at least a close facsimile of a links course); he'll take his next two cracks at the Open Championship at St. Andrews and then the PGA at linksy Whistling Straits. But it was the fight he showed against the field and the treacherous Chambers Bay greens, a fight he won with B-game execution that told any right-minded witness that Spieth is very capable of matching Woods' remarkable Tiger Slam (three straight majors victories in 2000, followed by another Masters title in 2001), and putting a cherry on top by squeezing his into a single season."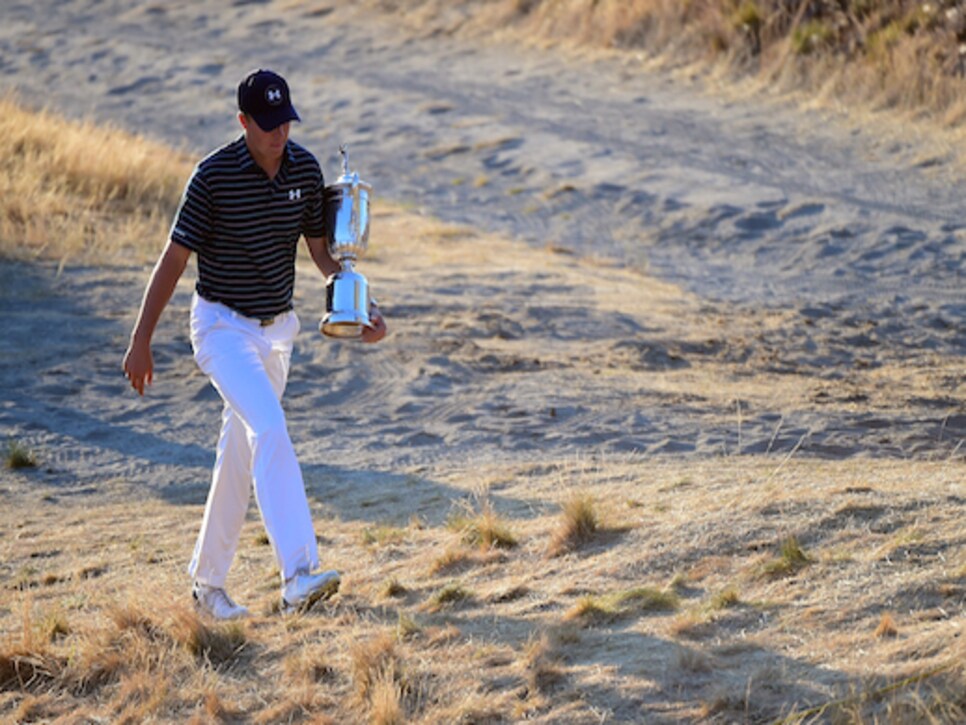 Is the end in sight for Tiger Woods? John Huggan examines the possibility in this story in the Guardian. "The festering sore eating away at Woods's already damaged psyche shifted to the longest club in his bag…Woods's on-course body language screams get me out of here' far more than I can do this.' Suggestions he continues to compete only to fulfill lucrative contractual obligations are voiced more loudly after every wild drive and every missed cut. The rapidly approaching bitter end may well be the day the last endorsement dies."
"The 115th U.S. Open will be remembered for many things: its historic standing as the first held in the Pacific Northwest," Dave Sheinen writes in the Washington Post. "The breathtaking moonscape vistas of Chambers Bay, on the site of a former gravel mine. The miserable greens. The shifting par on holes 1 and 18. Tiger Woods's first-round 80. Jason Day's courage. And, of course, Dustin Johnson's three-putt and Jordan Spieth's victory. But years from now, Chambers Bay's most important legacy may be the fact it was the first completely made-for-TV major championship in golf history."
"The endless recurring theme of the U.S. Open is the gruesome losing shot on the final hole that no one foresees — especially the victim — because it is an almost incomprehensible mistake not normally factored into golf's equation," Washington Post columnist Thomas Boswell writes. "Now Dustin Johnson will get to ask so many others, from the great Phil Mickelson who double-bogeyed the 18th at Winged Foot to the careless Stewart Cink, who botched a one-foot putt to miss an Open playoff, how can that happen?"
"It's been 28 years since lifelong Sacramentan Kevin Sutherland has slept in his own bed while competing in a golf tournament," Steve Pajak of the Sacramento Bee writes in advance of the U.S. Senior Open there this week. "I've never had a home game as a professional golfer," Sutherland said. "It's going to be interesting. It's going to be a lot of fun. The key for me is managing my expectations to make sure they're my expectations and not necessarily everybody else's. That's going to be easier said than done being that I don't have a lot of experience dealing with that."