The Loop
Major championships have become major displays of scoring firepower -- and this year's PGA is no different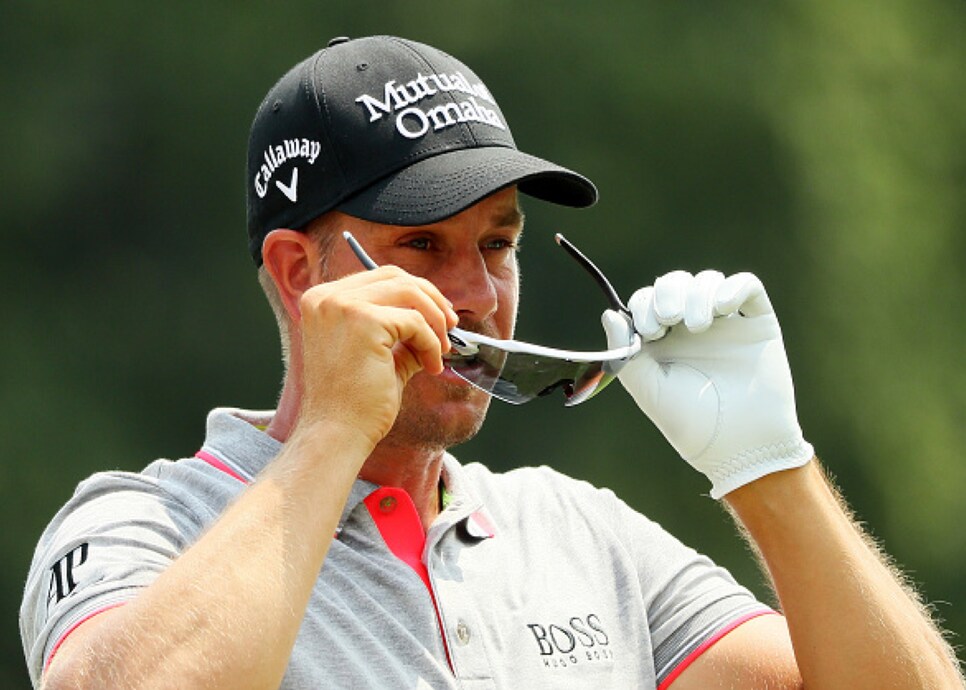 SPRINGFIELD, N.J. -- It was early afternoon, about 1:30, when Padraig Harrington finished his day's work, a five-under-par 65 that, suddenly, is about what's expected of anyone good enough to tee it up in a major. By then the sunshiny morning had turned into a gloom's-coming afternoon. As a gust of wind moved tree limbs around, Harrington, the 2008 PGA champion, smiled and said, "I'd like to see it blustery this afternoon."
Not that Padraig wished ill for his competitors. No, no. The beguiling Irishman only wished they would have a chance to rise to the challenge of playing through blustery breezes and rain moving sideways into their eyelashes. And that was almost a certainty. Weather radar had tracked storms moving toward New Jersey, on schedule to arrive Saturday afternoon.
So Saturday's early starters in the 98th PGA Championship caught a break: ideal conditions, with sunshine, no wind, and pool-table-true greens. By 2 o'clock, the rains came to stay. Play was suspended, to be picked up Sunday morning, with 49 players still to finish their Saturday round. A dozen leaders, with Jimmy Walker and Robert Streb at 9 under, had not started and will play the full 36 holes Sunday -- without a re-pairing for the final round, all this dependent, of course, on whether it rains again, as is expected.
Long story short: a mess.
So your faithful correspondent did what all faithful correspondents do when it's raining and there is small chance it will ever stop raining. He went to the media dining room for a cookie. On the way, he asked a buddy, "Do you think it occurred to anyone to start play an hour earlier today, maybe with three-somes off two tees, and at least get in the Saturday round before the rain?"
Came the answer, "It occurred to everybody -- except the PGA."
Well, PGA officials have more on their plate than just getting in a full round ahead of a storm that was spotted two days earlier. Mostly, they have TV contracts. To have played a full round by 2 o'clock Saturday afternoon -- all 86 players done at the same time as Padraig Harrington -- would have left CBS with no golf in hours that they had contracted for lots of golf. As always in these situations, TV's money makes the decision.
Anyway, I had a chocolate chip cookie in hand when a buddy proposed writing a rainy-day column about how everybody who wins a major these days does it by going 20-under par. Not true, but close enough for a rainy day: the last 11 majors have been won by an average score 12.4 under par. At the British two weeks ago, Henrik Stenson was 20-under. Jason Day won the PGA last year at -20. In 2014, Rory McIlroy won the British and PGA at -17 and -16. Jordan Spieth won last year's Masters at -18, Zach Johnson the British at -15.
Not to say the amazing has come the commonplace, but shortly after Harrington signed for his 65, here came the American veteran Kevin Kisner with a 65 of his own that put him at -5 for the tournament, only four shots behind the leaders. And when asked how aggressive he intended to be in a Sunday round with the championship at stake, Kisner said, "Yeah, well, 20-under won the last major. I think you better attack it every time you get a chance on the PGA Tour."
You may not have noticed, because almost nobody did, but the heretofore anonymous American, Robert Streb, shot a 63 here Friday to catch Jimmy Walker. It was the third 63 in a major this year, following two by Phil Mickelson and Stenson at Troon. Mickelson came off the course Saturday -- after a 68 -- and said Baltusrol is so vulnerable –- soft greens, perfect surfaces -- "that there's a 61 or 62 out there."
Of all this, my favorite rainy-day note came when a man with a microphone asked Padraig Harrington a question. He asked, "Can you assure me it will not rain this afternoon?"
Padraig considered the divine implications of the man's question.
"If I had control of that," he said, smiling, "I wouldn't be playing golf."