The Loop
Mahan moving past Celtic Manor at Royal Melbourne
Mahan exited Celtic Manor in Wales last September weeping, his face a portrait of supreme angst after Graeme McDowell dispatched him in the deciding singles match of a one-point European victory. Mahan was inconsolable, but he also made undeniable the fact that America's best golfers indeed are invested emotionally in their annual team responsibilities.
"I thought that was a good thing," Toms said of Mahan's emotional display in the wake of a tough U.S. setback. "People now see how much Hunter Mahan cares about these matches. And they're not going to write that he's not into this or the American team is not into winning these team events. We care quite a bit about what we're doing here."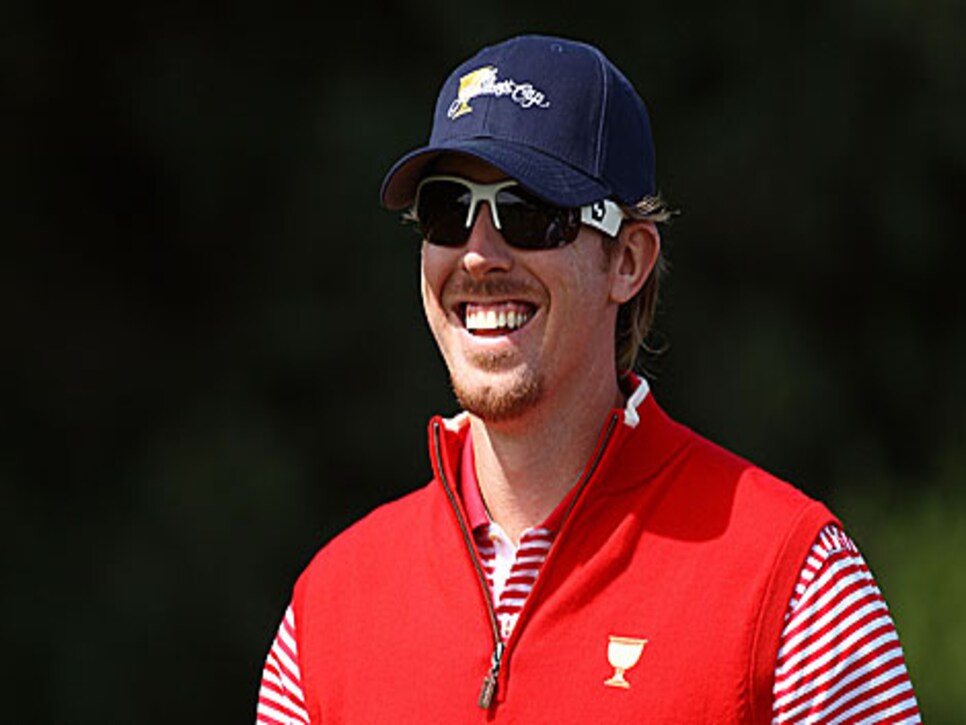 Photo by Scott Halleran/Getty Images
Mahan, 29, is competing in his third Presidents Cup and is making his fifth appearance for a U.S. team. He is no more eager to compete at Royal Melbourne GC than he's been in previous stints. But he doesn't deny he's a different golfer.
"I haven't really thought about it much, but it was definitely a learning experience," said Mahan, who is 4-4-1 in Presidents Cup play, including 2-1-1 foursomes. "Yeah, it felt like you let people down. It hurt at the time, but I can look back on it now and think, 'what a moment. What an opportunity.' And nothing bad can happen from it. I don't take anything bad from it at all. I got a lot out of it, just like I do in every one of these situations."
"He got put in that spot where we left the last guy hanging, and that's a bitter position to be in," said U.S. veteran Jim Furyk. "I was there in 2002 against Paul McGinley at the Belfry. It's a miserable feeling. You hate to be in that match. Whether it's our side or theirs, you feel for that other guy, too.
"Even though he's young, Hunter has a lot of experience and he knows what to do," Furyk added. "He's played well all year to be back on a U.S. team, and I think it motivated him this year with a good solid season and here he is."
Not that Mahan would care if the spotlight's glare fell upon him tomorrow. If needed this week, he would take the anchor position in Sunday singles again, too.
"To have the 12th guy actually mean something ... it doesn't happen very often. I've been in some good situations, and that one wasn't good, but still, you're going to learn from that," Mahan said. "It shouldn't defeat you. You can't let it defeat you. You can only get better from it.
"I remember looking down 16, and it was like 50 deep full of fans on that left side ... just amazing. You had that whole crowd almost all of them against us. It was truly a remarkable setting. I enjoyed that pressure. I really did."
As for the tears that streamed down his face in the post-round press conference, those were probably inevitable.
"I've always been too emotional about the game," Mahan admitted. "It defined me way too much. I want it to define me less, but not be less motivated to play. When you put so much into it, it sort of does define you, but I remember [Ryder Cup captain] Paul Azinger telling me it's OK to want it, but you have to want it the right amount. Obviously, last year I wanted to help my teammates and help us win so much. It meant a lot to me, and to all of us.
"I guess if I did learn anything," he added, "it's that you can't want it so much that there is too much pressure."
Follow on Twitter: [@DaveShedloski
](http://twitter.com/daveshedloski)