The Loop
Mac O'Grady (or oGRADY), legendary eccentric, plays in Genesis Open qualifier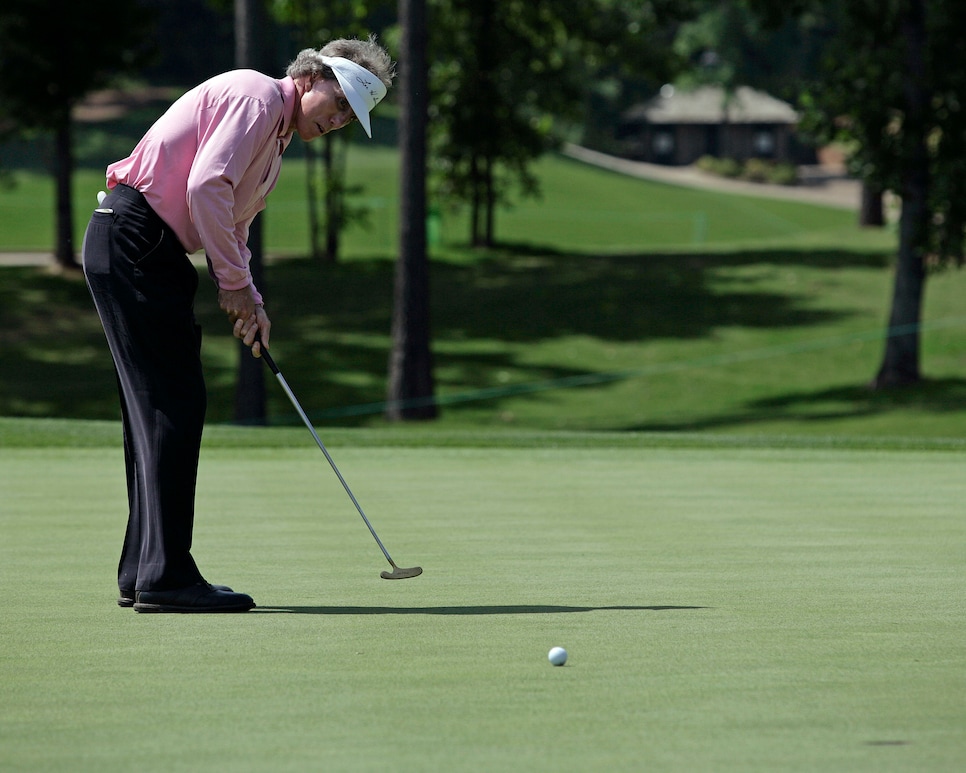 Mac O'Grady, for those who remember him, delightfully remains a puzzle with pieces missing. He played in the Genesis Open qualifier on Monday, though with no hope of actually qualifying.
His name on the leaderboard, incidentally, was Phillip Mac oGRADY. We don't know if "oGRADY" was just inputted wrong or if it was his doing. We also don't know if he was playing right-handed or left-handed, or a combination of the two.
One never knows with O'Grady, for whom the word "unconventional" doesn't do him justice. Gary McCord, who has known O'Grady since both were teens growing up in Southern California, once said, "Wacko Grady is what I call him."
O'Grady has been such an interesting and unusual character over the years that any chance to recall him is a welcome one, even the occasion of his name turning up at the bottom of a leaderboard.
Here's what Steve Wulf of Sports Illustrated once wrote about him and his way of talking. "A wedge shot isn't just a wedge shot, but 'a bird flying to the firmaments, outlined against an incandescent sky, beginning to fall, gently sashaying back to the earth.' Crazy? Why, he went through the PGA qualifying school 17 times beginning in 1971 before finally winning his touring card in November of 1982."
When he was 38, he said he was going to retire. "I'm 38 but I'm old enough to retire," he said. "I figure each of the 17 times I went through the qualifying school, it aged me a year, and every year I spent on the tour, seven of them, aged me a year. So I'm 62. That's retirement age.'"
O'Grady won two PGA Tour events playing right-handed, while putting left-handed. He also was an excellent left-handed player, who said he was an amateur from that side of the ball and wanted to play in the U.S. Amateur as a lefty.
In 2002, Thomas Bonk wrote in the Los Angeles Times that, "O'Grady tried to qualify for the B.C. Open under the name Mac O'Grady II and was going to do it left handed. Again it seemed logical to O'Grady. He wanted to play with Mac O'Grady I, who could get in as [with his PGA Tour past champion status]. O'Grady played as a right hander, but wanted to enter under the second name as a left hander. The tour informed him he would have to choose one of his personalities and he stuck with the right handed version."
O'Grady, incidentally, had a swing widely admired. He became a highly-regarded instructor who counted Seve Ballesteros as a student at one point.
This is all an abridged version of one of golf's most complex and eccentric characters, but it's still good to see his name turn up occasionally, appropriately in odd places.