The Loop
Lydia Ko's secret weapon at Sebonack? Her caddie
SOUTHAMPTON, N.Y. -- One year ago, relatively unknown 15-year-old Lydia Ko was on the way to earning low-amateur honors in her first U.S. Women's Open. This week, Ko returned to the event as the reigning U.S. Women's Amateur champion as well as the youngest winner in LPGA history, having defeated one of the year's strongest fields at the 2012 CN Canadian Women's Open.
In the course of a few months, Ko went from being the world's top-ranked female amateur golfer to No. 16 in the Rolex Rankings, and it seems only a matter of time before she turns professional. With much higher expectations, the New Zealand native opened her second U.S. Women's Open with an even-par 72 at Sebonack GC.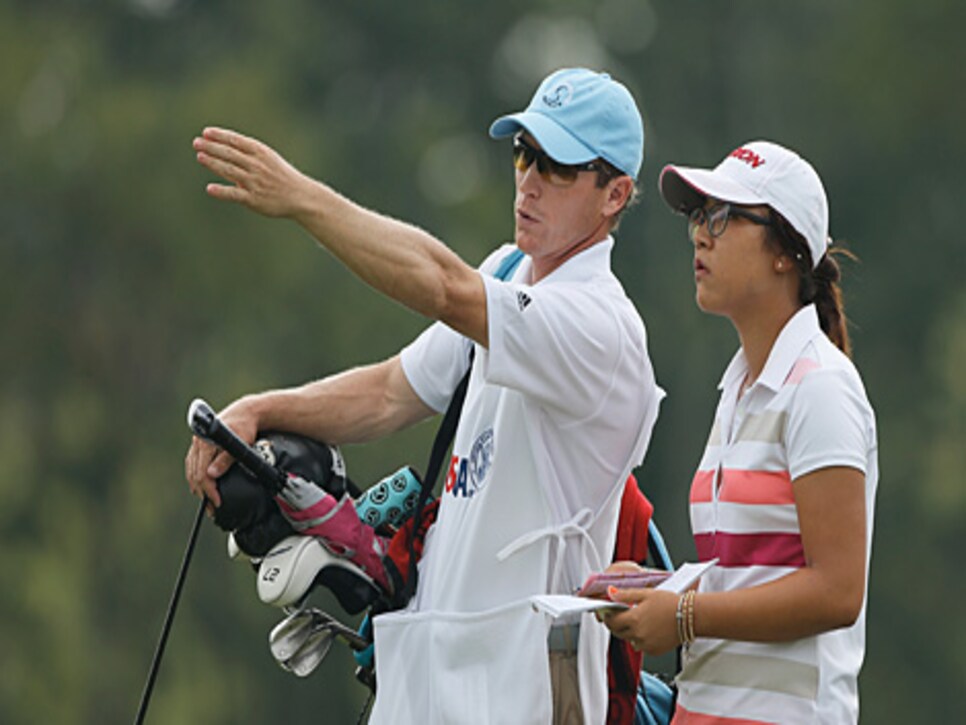 "I started off with a bogey and ended with a bogey, so other than that it was a pretty good day," said Ko, who played alongside Na Yeon Choi, the defending champion, and Brittany Lincicome. "This is not an easy golf course."
That much is true, but Ko has the benefit of local knowledge. Sebonack GC assistant pro Louis de Kerillis, who has worked at the club since it opened in May 2006, is caddieing for Ko and helping to navigate the remarkably large and wavy greens that define the Tom Doak-Jack Nicklaus layout. De Kerillis' knowledge of the area's courses extends well beyond his tenure at Sebonack. He grew up about a half-mile from the club on Sebonac road and spent his childhood in the caddie yards at nearby Shinnecock Hills GC and National Golf Links of America. He first met Ko a few weeks ago when she came to Sebonack prior to the Walmart NW Arkansas Championship, and has been helping her learn the nuances of the greens.
"These greens are so elevated here and definitely are some of toughest I've putted on," said Ko, who missed three-foot par putts at the 14th and 18th holes Thursday. "There are some holes you can go for it and some you just can't." Ko played a total of five practice rounds at Sebonack, two before the tournament in Arkansas, where she finished T-4, two shots behind winner Inbee Park. Those practice rounds, however, were played in constant wind and rain and didn't help Ko a whole lot during the first round, which was played in gorgeous weather.
"Today was a great scoring opportunity, but it's hard when you're hitting 8-irons and in practice you were hitting hybrids," said de Kerillis, who spent four years teaching at Kauri Cliffs in Ko's native New Zealand before starting at Sebonack.
Having never seen Ko play before her arrival at Sebonack, de Kerillis was astonished at how mature of a golfer she is for a 16-year-old.
"She's going to win a lot of events out there. She's a really smart golfer. Her swing is phenomenal and she's proven that it holds up under pressure. She hits her hybrids straighter than anyone and she hits her 3- and 5-wood straighter than I hit my wedges.
"To be good out here you need experience. It takes time. Sometimes she can be a little yardage oriented or too worried about mechanics, but eventually she'll start to feel shots. She thinks like a veteran and swings like a 16-year-old. How good is that?"
She may not have the experience of her competitors, but for a 16-year-old, having a USGA championship and an LPGA title under your belt isn't too bad.