U.S. Women's Open
Why Lydia Ko has an unexpected logo on her visor at the U.S. Women's Open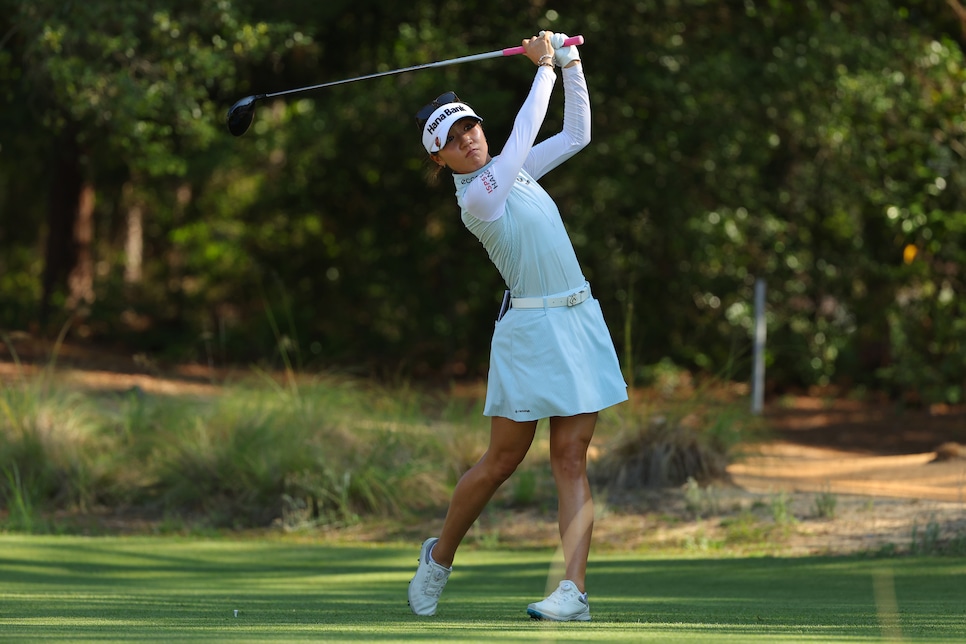 LPGA Tour players have logos on their apparel and bags from a variety of companies. From finance to technology, you'll see a range of big companies supporting female golfers with their corporate signatures prominently featured on shirts and hats. But at the U.S. Women's Open at Pine Needles, Lydia Ko has a new logo on her visor: A local coffee shop, High Octane Coffee.
American Express partnered with six athletes playing this week in North Carolina and are using the logo space they've purchased to give local small businesses some publicity. Along with Ko, Celine Boutier, Gaby Lopez, Stacy Lewis, Lexi Thompson and Rose Zhang all have logos of local businesses on either their apparel or bags for the week.
The players worked with American Express to find a company that aligned with them, and each company is owned by women. Ko landed on High Octane Coffee because while traveling, her sister and her mom are always searching for the best local coffee.
"They are pretty avid coffee drinkers," Ko said. "It's cool to go to different spots and find local gems. I love looking around, finding a good vibe, seeing if they have good little snacks."
Ko isn't a coffee fanatic, but her usual coffee-shop order is a matcha latte. High Octane has it on the menu.
"And the logo is super cool, with the coffee and the triangle, it's chic and cute." Ko said.
High Octane is in Aberdeen, N.C. The three women who own it, Kelly McAndrew, Tracey Harrison and Nicola Squires, turned a 1930s gas station into their dream coffee shop.
"For Amex to do an initiative like this is really cool," Ko said. "Especially for me, to partner with Amex and High Octane, a local business here, it's truly cool to do that because it feels like there's a connection: It's more than us playing golf here, we're getting familiar with the locals."
Rooting the tour more solidly into the communities where they play is a trend Ko wants to continue.
"It'd be cool to be able to connect and give back as much love we get when we play there," Ko said. "It's something I'd like to see more of."