LPGA
Lydia Ko blazes out to huge lead at Tour Championship, in position for Player of the Year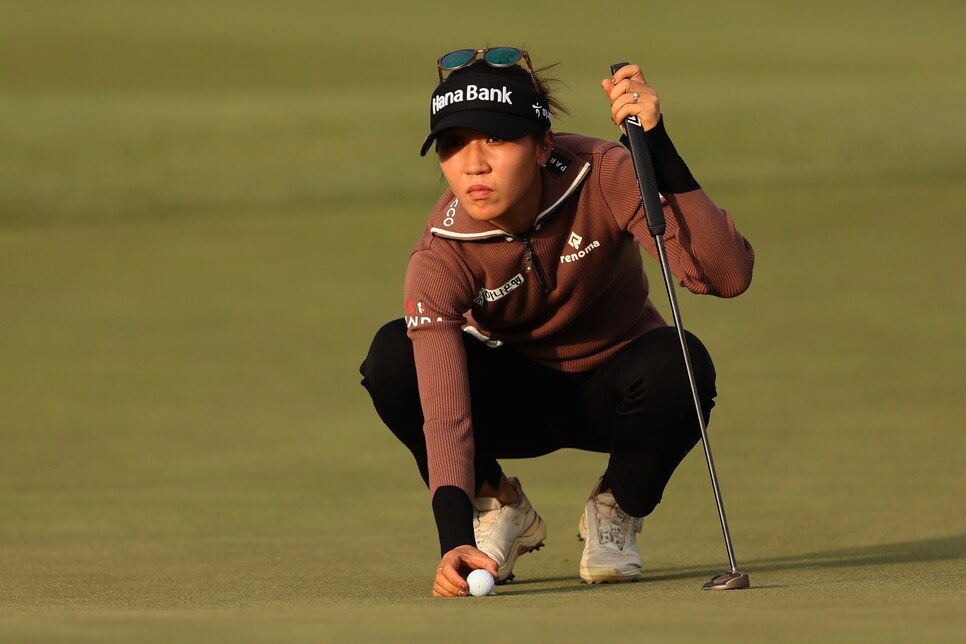 NAPLES, Fla.—Every once in a while, Lydia Ko's mother will offer the same unsolicited opinion:
"You played so much better when you were 15."
Ko, now 26, laughed as she relayed that nugget to the media after her second round at the CME Group Tour Championship Friday.
"Thanks, Mom. Okay, what am I meant to do with that information?" she wondered.
She could afford to laugh; she had just posted a 67 in cool, windy conditions to reach 13 under for the tournament, a full five shots better than Hyo Joo Kim in second place. She's after her third win of the season, but that doesn't begin to cover what's at stake. First off, she can win the Rolex Player of the Year award, which she hasn't done in seven years. Second, she can take home the largest prize in the history of women's golf, a gaudy $2 million prize. Third, if a few things fall the right way, she can get back to No. 1 in the world, a spot she last held in June 2017.
All of which is to say that if she wins this week, she'll have a pretty good rebuttal the next time her mom takes a trip down memory lane.
Ko's round included six birdies and zero bogeys, and in fact she hasn't made a bogey at Tiburon Golf Course since her very first hole, when she hit a tree. Since then, it's been a dominant show of force, and two birdies on 11 and 14 Friday afternoon moved her to 12 under, a score she'd improve by one on the par-5 17th:
Following a closing par on 18 (her birdie attempt lipped out), a small crowd followed Ko as she made her way to the scoring area, and she signed autographs and received approximately a dozen hugs from one enthusiastic fan on her way off the course. She was her usual eloquent self in reflecting on her round.
"You know, this is the last tournament of the season," she said. "It's my ninth year on tour, so I want to finish the season well and also just want to finish it without any regrets. You know, just playing really freely out there. I think that's a big key for me."
She stayed patient in the windy conditions, knowing that if she could avoid the big errors on the front nine, she could make birdies on the back and put some distance between her and the field. In particular, she thrived on the greens, which is no surprise considering she leads the LPGA Tour in putts per green in regulation, is second in putting average, and has more made putts of 10 feet or longer than anyone else. She still doesn't think she's the best putter in the world, but her strength in that part of the game affects everything else.
"When I am putting well, I just know that, hey, I can make up-and-down from here and there," she said. "I think...when I do feel more confident in my short game, that makes me a little bit more aggressive, maybe go at pins a little bit more so just if I am short-sided or just off the green, it won't be a difficult up-and-down."
Ko's quest for World No. 1 depends on Nelly Korda finishing 21st or worse, and perhaps the only bit of bad news for Ko is that Korda is not obliging. At 7 under, she's in a tie for third with Gemma Dryburgh, Anna Nordqvist, and Nasa Hataoka.
"I played pretty solid on the front," Korda said. "Just made putts on the front nine, honestly. Just didn't make them on the back. I gave myself a couple of really good looks, but just didn't convert them. That's kind of what happens on this golf course.
Korda may well retain her No. 1 ranking, but she and the rest of the field face a massive task in chasing down Ko over the weekend. For her part, Ko thinks she's a better, wiser player in 2022 than ever before, better than all previous versions, and the results are proving her point—and yes, that includes the rising star who turned pro as a teenager.