Lydia Ko, Lexi Thompson, Brooke Henderson a U.S. Women's Open glamour pairing
SAN MARTIN, Calif. – One of the cool things about the U.S. Women's Open is it loves the glamour pairings, and you can't get any more glam than the Lydia Ko, Lexi Thompson, Brooke Henderson threesome the first two days at CordeValle.   Not only are they No. 1 (Ko), No. 2 (Henderson) and No. 4 (Thompson) in women's golf -- No. 3 Inbee Park is out with a thumb injury -- they are 19, 18 and 21 years old, respectively. And that's pretty much a snapshot of the women's game right now: young, talented and with a ton of attitude.   Take a look at the top 10 in the Rolex Rankings and this jumps out: The oldest is No. 8 Stacy Lewis, 31, and she's the only player over 27. The average age of the top 10 is 23, and half are 21 or younger. Seemingly overnight, women's golf has become gymnastics or swimming or tennis, where 30 is the new 50.   And these kids know how to win. Ko has 13 LPGA titles and two major championships and that makes you want to put down a prop bet on when her career wins will pass her age. I'm setting the over/under on that at 21.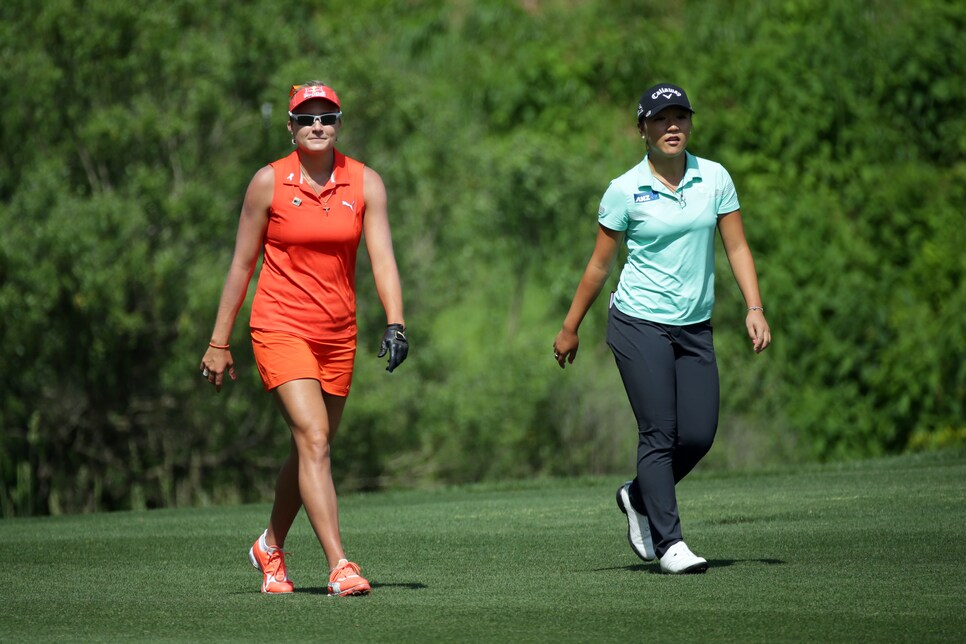 Thompson has one major among her seven LPGA titles, and Henderson, who had to fight her way onto the tour in 2015 after being denied an exception to the minimum age rule, has three wins, including her last two starts, one of those being the KPMG Women's PGA Championship, where she won in a playoff over Ko.   How young has women's golf gotten? Wrap your mind around these numbers. There are 26 amateurs in the 156-player field, the youngest being 14-year-old Karah Sanford. There are 28 teenagers and 102 are younger than 30. The average age of the field is a mind-boggling 25.08.    For those of you keeping score at home, the youngest winner of the U.S. Women's Open is Park at 19 years, 11 months and 17 days. Either Ko or Henderson could break that record if they take home the winner's share of the $4.5 million purse, the largest in the women's game.   Perhaps the most striking thing about this young wave of talent is their maturity. They not only play beyond their age, they behave beyond their age.   "When we're out here, we're not thinking about who's 18 or who's in their 40s. We're all golfers at the end of the day," Ko says. "But experience, I think you can't take that away from any player. That's what can really help you through these pressure situations. And I think that is the big thing that has changed [for me] since three, four years ago."   How cool is that? A 19-year-old talking about learning from experience. Talk about perspective.   There is also an endearing bond between these phenoms even as they are trying to beat the stuffing out of each other.   "Yeah, Lydia Ko is amazing," Henderson says. "She's an inspiration to all of us girls out here, and I think everyone in the world, basically. She's done amazing things in her career, and she's only a couple months older than I am. I'll always look up to her. But that doesn't mean I don't want to beat her."   And what does Ko think about that?   "For her to say something like that about me is very sweet of her, but to me she's a really great player," Ko says. "We all know the amazing talent she has. But the thing is that she has such a great personality and she's super nice. That's why we always love watching somebody like her play well."   And talk about thinking above your age, check out this from Lydia on her pairing with Brooke and Lexi.   "If we can do something to inspire one junior out there, coming out to watch and say, 'Hey, I want to be like them, and I want to play alongside them in 10 years,' I think it's a job well done, " Ko says.   Makes you feel like not only women's golf but golf in general is in good hands.   "I hope we do have a lot of playoffs together for major championship wins, like we did a couple of weeks ago," Henderson says about her win over Ko in the PGA.   That's what all fans are hoping for. With its seemingly bottomless pool of young talent, the women's game just might produce the best rivalries in all of golf. And the Lydia-Lexi-Brooke trio is a good place to start.