News
Lydia Ko is still smiling in a season of change, unexpected uncertainty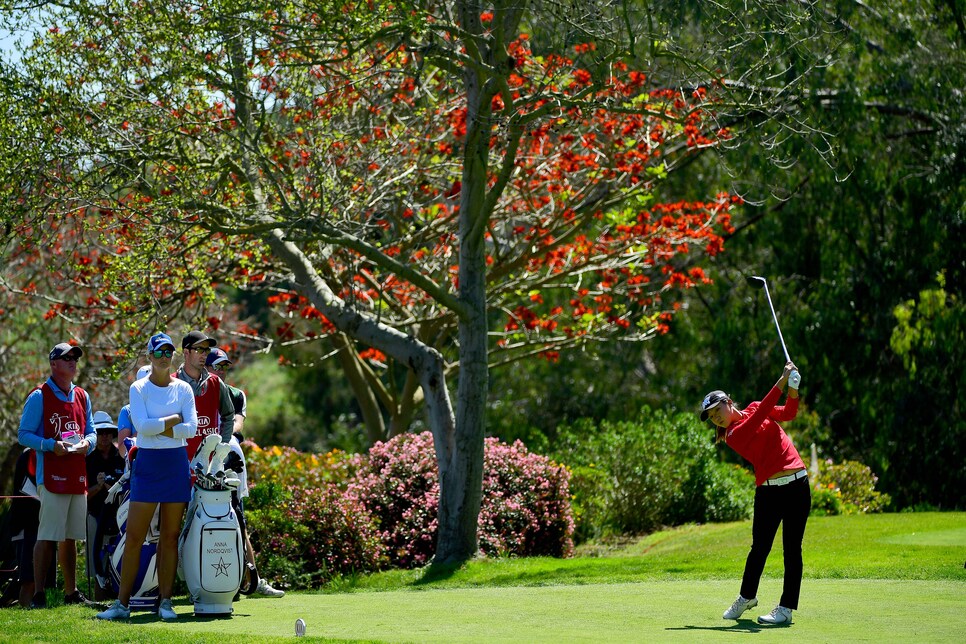 RANCHO MIRAGE, Calif. — Lydia Ko's disposition remains perpetually sunny, belying the cloud that has formed over her performances in recent months. Once miles ahead of the competition, she's only smiles ahead now.
For 75 weeks in a row, Ko, 19, has been No. 1 in the Rolex Rankings, a position now in jeopardy with Ariya Jutanugarn closing fast. When she last won, in July 2016, Ko was 461.26 points ahead of No. 2 Brooke Henderson in the rankings. Her lead now over No. 2 Jutanugarn is 1.51 points.
It may not be a crisis, but it might be a concern for Ko, who has been in what could be called a slump, according to her lofty standards, with a major championship on deck.
The ANA Inspiration, the first major on the LPGA schedule, begins here Thursday on the Dinah Shore Tournament Course at Mission Hills Country Club. Ko is the defending champion.
Ko also was the defending champion of the Kia Classic last week and missed the cut for only the second time in 91 professional starts.
It was the 14th straight tournament she played without winning, which is not alarming, but it is the longest such streak of her career. When she was still an amateur, in 2012 and '13, she played 10 straight LPGA events without a victory.
Ko, meanwhile, applied the brakes to continuity, changing equipment (from Callaway to PXG) and coaches (from David Leadbetter to Gary Gilchrist), either of which alone can be disruptive, but together can be a Rubik's Cube of complication.
"I guess everything, when it's a change, it takes time to get used to," she said last week. "With the clubs, I really like the results I was seeing. And I liked the changes made with the swing, too. To me it's been positive changes for me."
Questions persist, however, and only results commensurate with past performance will allow them to subside. Among them: Who orchestrated the changes? Speculation in several corners has focused on her parents, whom she has acknowledged consulting, while also saying that the final decisions were hers alone.
"I think my greatest concern with Lydia is just who is influencing those decisions," Golf Channel's Jerry Foltz, an astute observer of all things LPGA, said. "If it's all her in an effort to get better then I'm all for it. But if there are other people involved, when you're good enough to get there and good enough to do what she's done, I just always question when a young player seeks change.
"When you make change, you lose an element of what got you there to begin with. … And more often than not you spend your time trying to get back to that feeling you had before you made those changes."
Ko's putting has not helped the transitions of which she is in the midst. Last year, she led the LPGA in putts per greens in regulation and putts per round. Though it represents only a small sample to this point of the new season, she ranks 41st and 87th in those categories.
After the Kia Classic pro-am, Ko spent a considerable amount of time on the putting green, working with Gilchrist. The next day she shot 74 in the first round, an uncharacteristically high number for Ko, who attributed it to poor putting. "It was really hard to get anything rolling when you're not putting that good," she said.
In the second round, she missed short putts on the 16th and 17th holes, then three-putted the 18th to miss the cut by a stroke. "I was putting so much better today until the last few holes," she said.
The quality of one's putting to a degree depends on the caliber of their iron shots. Ko, who bemoaned her iron play in the second round at the Kia Classic, acknowledges that her new irons are producing a different ball flight than her previous clubs, though in an advantageous way.
"When I tried the new clubs, the driver to me felt like it was going a little longer and carrying a little longer," she said. "With the irons, they're a little higher. I've never been a high ball hitter. It's definitely cool to see my irons go a little higher. That way I can control it a little better, especially downwind."
Ko, meanwhile, is attempting to find the swing she successfully brought to the LPGA and to again wield her clubs without technical minutiae interfering with the process.
"I think we're trying to make it as natural as possible," she said. "I've only had a month, the whole of January to get used to everything. [Gilchrist has] been giving me drills I can get used to it so that I'm not really thinking about it so technically."
Short memories, as often noted, are an asset in golf and maybe Ko can quickly erase the Kia Classic from her mind. Better to recall the three events preceding it, when she finished in ties for eighth, ninth and eighth.
"It was definitely nice to have some consistent top 10 finishes," she said. "I think that gives me a bit of confidence with everything that has gone on. Overall I think I've been excited about everything that's happened. I'm excited to go into these stretch of events."
Working in her favor in this a season of change is what isn't apt to change, World Golf Hall of Famer Judy Rankin said.
"The big thing I would say is Lydia is such a nice person," Rankin said. "Unless she's the very best actress in the world … she is a very relaxed, happy person. So for that reason I think she'll be fine."