Lydia Ko, Gerina Piller, on opposing career tracks, vying for Women's PGA title
SAMMAMISH, Wash. – Well now, this should make for an interesting Sunday. The final group at the KPMG Women's PGA Championship includes Lydia Ko and Gerina Piller, who are the yin-yang of golf. If opposites attract this is the perfect pairing.   Ko, who leads at two under par, has 12 LPGA wins, including two major championships, at the age of 19, and is trying to win her third consecutive major. She owns just about every LPGA record that begins with the word "youngest."   Piller, one stroke back, is 31 and has yet to win, her claim to fame being an eight-foot par putt in a Solheim Cup singles match that enabled the U.S. to stage an historic comeback. Before that, she was renowned for a final four effort on the Big Break.   When it comes to resumes, this is no contest. Piller didn't start playing golf until she was 15. Ko won a pro tournament at 14 – a couple of them, in fact.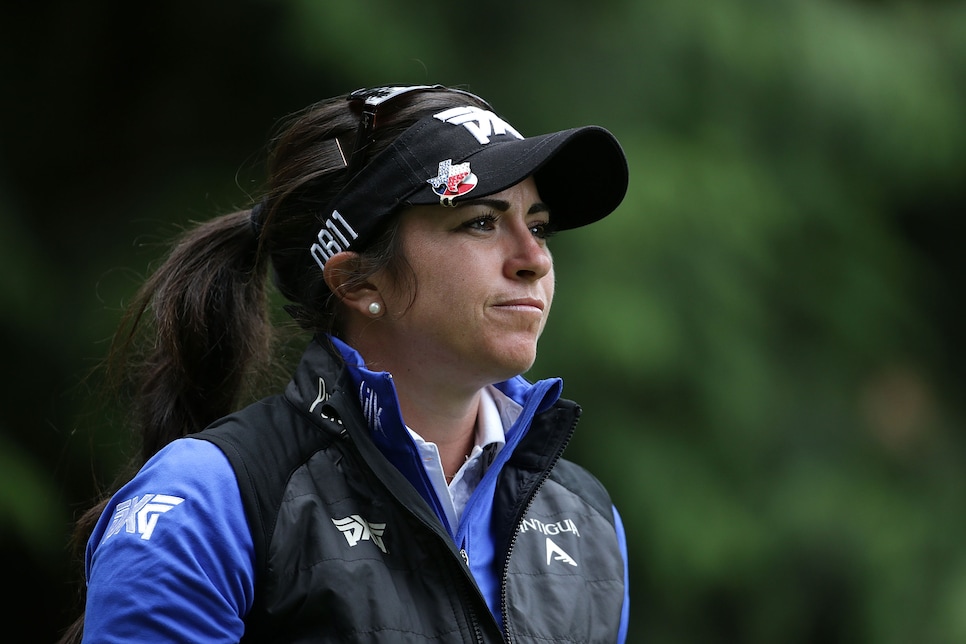 What they have in common is that they are both extremely likable women, the teen from New Zealand and the native of Roswell, N.M., home of the UFO museum, whose husband, Martin, is a PGA Tour pro. Not only is Ko not married, she doesn't even have a driver's license.   There is a feeling, however, that Piller's time is near, if not here.   That Solheim Cup putt propelled her into 2016 and she's been in the top 10 in seven of her last nine starts. Piller has just been all-around good this year, working her way to No. 16 in the Rolex Rankings, one spot away from qualifying for the U.S. Olympic team. She's in the top 10 in greens in regulation, putts per GIR and scoring and is 13th in driving distance at 267.70 yards per whack.   "I do feel like winning is definitely close," said Piller, who was a pitcher and catcher on a boys baseball team as a kid when she was Gerina Mendoza. "I'm more comfortable seeing my name up there. I'm more comfortable knowing if I miss a green I can still make par."   The third member of the final group, tied with Piller at one under par, a stroke behind Ko, is Brittany Lincicome, a long hitter who's won six times on tour, including major championships at the ANA Inspiration in 2009 and 2015.   If Ko wins here she'll go into next month's U.S. Women's Open with a chance to be the first woman to capture four majors in a row. If it was called the Tiger Slam when Woods won four in a row would it be a Ko-Slam if Lydia matches Tiger's feat?   "I'm happy with my position," Ko said. "I just have to focus on my game. We have a long 18 holes to go."   Among those two strokes back at even par are 20-year-old Ariya Jutanugarn, who's bidding for her fourth consecutive win. Also in that knot are Brooke Henderson, 20, and Mirim Lee, who started the day tied for the lead, along with Anna Nordqvist and Cella Choi.   And speaking of yin-yang, Amy Yang, who has finished in the top-10 in majors 12 times without a win, is once again in contention. Her 66, the low round of the week, put her in the gaggle at even par. Yang is a birdie machine and some day she's going to explode on a Sunday   Speaking of Sunday, Saturday almost ran over into it. The one thing you can say about pace of play in the third round was that there wasn't any. The final group teed off as a threesome at 9:45 a.m. and finished at 3:22 – a glacial 5 hours and 37 minutes, enough time for the towering pines around Sahalee to grow several inches or for Stephen Hawking to re-think "A Brief History of Time."   For Piller, who said she came into the week "hitting it a little squirrelly," Sunday could be a day that has been a long time coming.   "I've got to go out there and take no prisoners and put the pedal to the metal," she said.  "I'm sticking to my game plan – hitting fairways, hitting putts and putting a good stroke on it."   Anytime you can get both Stephen Hawking and the UFO museum into a golf story, you know you have an entertaining tournament going on. Let's hope the final act is as good as the first three. It has the right characters.