The Loop
Luxury doomsday community announces "Course of the Gods" golf complex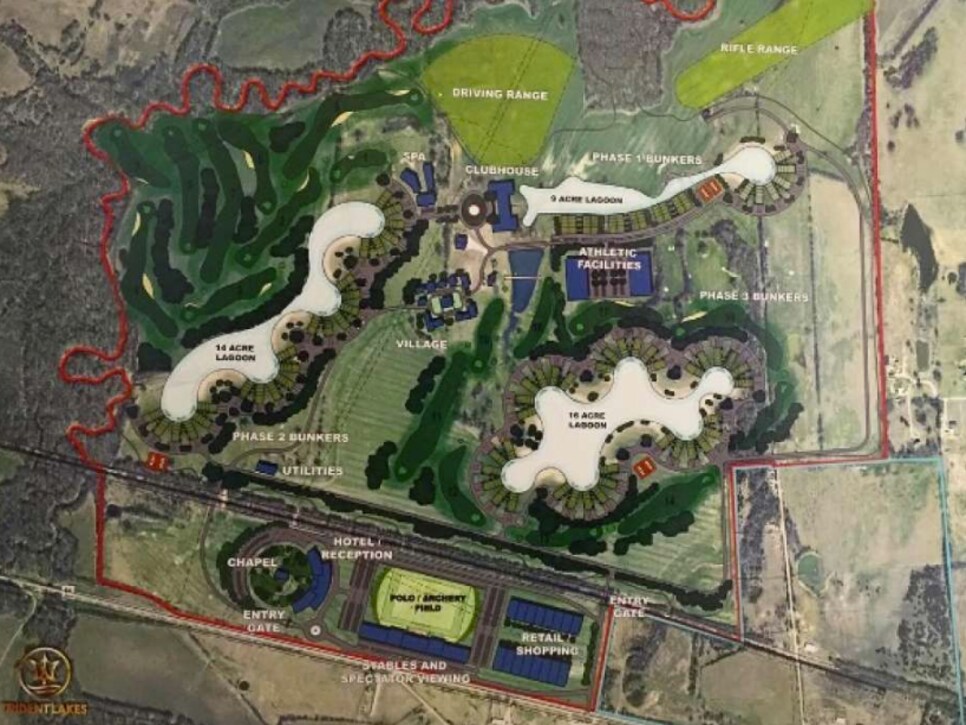 Judging by the events of the past year, you might be thinking the world is coming to an end. Well doomsdayers, rejoice: you can now get in some golf while waiting for Armageddon.
Trident Lakes is a luxury end-of-the-world gated community set to open in 2018. Located in Fannin County in Northeast Texas, the $300 million development will feature over 530 fortified subterranean condos built to withstand a major catastrophe. Also set for the grounds are a spa, 100-stall equestrian center, four miles of jogging/biking trails, five gun ranges, tennis courts, polo fields, indoor gym, shops, restaurants, and statue of Poseidon holding a golden trident, billed as one of the largest in the world. (There's no room for subtly in the post-apocalyptic world.)
Add one more recreation to the mix: an 18-hole golf course and driving range. In early February, Trident Lakes named Dave Edsall with DE Golf Design to helm the "Course of the Gods."
"Dave's experience and vision fits perfectly with the special community we are building," said Trident Lakes CEO Jim O'Connor in a statement. "We're confident we'll have a golf course that exceeds our residents' lofty expectations."
Sprawled over 700 acres of land, the course will go along with the resort's Greek mythology theme: the par-4 18th hole will finish over two ponds and be called "Poseidon's Revenge." Other holes may include "Zeus" (a potential 650-yard par 6), "Hermes" (surrounded by hazards and boundaries) and "Nesoi" (an island-green par 3).
"Course of the Gods" sure is an, ahem, audacious name for the links; not sure you want to be deriding the heavens after a worldwide disaster. Nevertheless, what better way to spend the final days on earth than an emergency nine?