Sanderson Farms Championship
Luke List didn't think he had a chance. Twenty minutes later he was fist-pumping his way to victory in a five-man playoff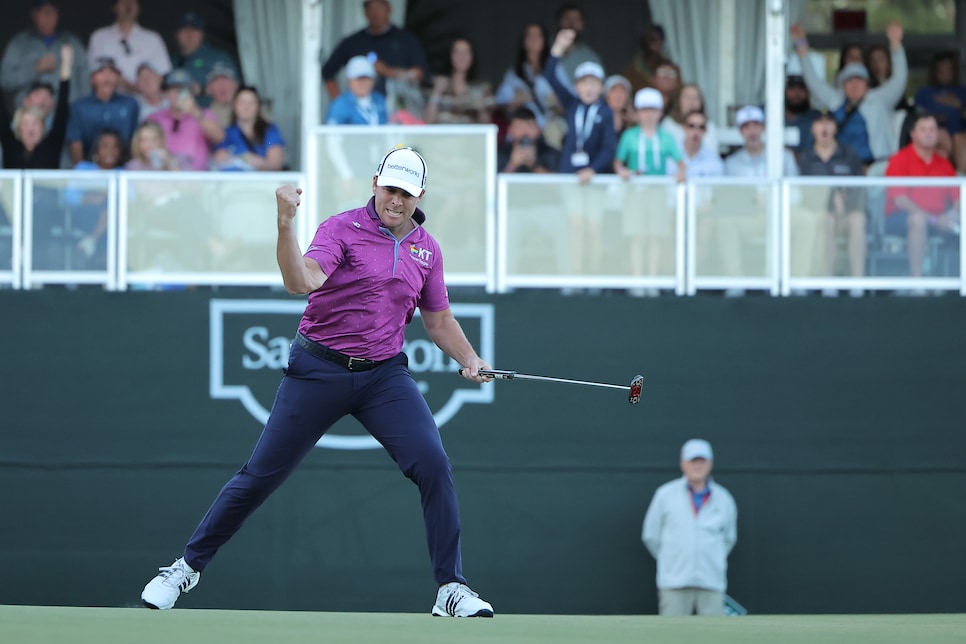 Well, isn't this just swell. For the second time in as many weeks in professional golf, we're talking about hats. Or the lack thereof. At least this story had a happier ending than the one in Rome.
Luke List, unable to resist the pleadings of a young fan, gave away his cap after tapping in for a two-under-par 70 and a close-but-no-cigar top-five finish Sunday at the Sanderson Farms Championship. Apparently, the kid was really giving the 38-year-old veteran a hard time. He used some slick language, including the word, "please." Ruthless.
"The kid had just said, 'Can I please have it?' And I'm kind of a sucker for kids saying please and thank you," List explained. "You'd be surprised how often we don't hear that out on the road."
A few minutes later, List tracked the kid down and asked to get his hat back. We're fairly sure he said "please." And a few minutes after that List was saying "thank you" to PGA Tour rookie Ben Griffin and three other peers when he beat them all in a sudden-death playoff and stole his second career victory.
Taking advantage of a second life given to him when Griffin bogeyed the 72nd hole, List, hat firmly affixed atop his noggin, sank a 43-foot birdie putt on the first playoff hole to win the second event of the new FedEx Cup Fall series in Jackson, Miss.
List, who won his first PGA Tour title by beating Will Zalatoris in a playoff at the 2022 Farmers Insurance Open, was certain that his 18-under 270 total at the Country Club of Jackson was going to fall short. But Griffin, the 54-hole leader, struggled coming home. He missed an eight-foot par putt that would have given him his first tour title in just his 36th start.
List, 38, was making just his second start since the Genesis Scottish Open in July after being sidelined by a thumb injury. He entered the week 119th in the FedEx Cup standings and 159th in the Official World Golf Ranking. He now has earned another berth in the Masters, which is nice because he lives in Augusta, Ga. Interestingly, List had not recorded a top-10 finish between victories, a span of 47 starts.
"I didn't think it was going to be enough, but here we are," List said. "It's been a crazy [last] 20 minutes. My heart rate is going pretty good right now. I told my caddie I was going to pour it in, and I willed it in."
Griffin's bogey, his fifth in his last 11 holes, also gave a second chance to rookie sensation Ludvig Aberg, Henrik Norlander and Scott Stallings, who won the event in 2012 when it was played at Annandale Golf Club. Griffin had tied the 54-hole scoring record held by Stallings and Steve Lowery and began the day with a three-stroke lead, but he struggled to a 74, hitting just three fairways and nine greens. He had suffered just one bogey before Sunday.
"Yeah, I just got a little loose out there today. It was a grind pretty much all day. I didn't really have a ton of control," said 27-year-old Griffin. "I got out of position a lot, and I saved bogeys when I needed to, maybe got a tough break here or there with a plugged lie, whatever it may be. But yeah, it's hard closing out on the PGA Tour, and I should have got it done. It's a bummer. But I'll be back."
Griffin moved up to 51st in the FedEx Cup Fall standings. Players who finish 51st to 60th earn an exemption into the first two signature events next year, the AT&T Pebble Beach Pro-Am and the Genesis Invitational.
List jumped from 119th to 61st. His best previous finish of the season came in January when he was joint 11th at the Sentry Tournament of Champions.
Aberg was the first to putt in the playoff, but his 53-foot putt on the 18th green veered left. List, putting on the same line, took advantage of the read and poured in his putt. He reacted with an emphatic fist pump followed by another a few seconds later.
"Yeah, I think all my emotion kind of came out after that putt, and then it was just shock, really, still," List said after pocketing $1.476 million—surpassing his season earnings to date.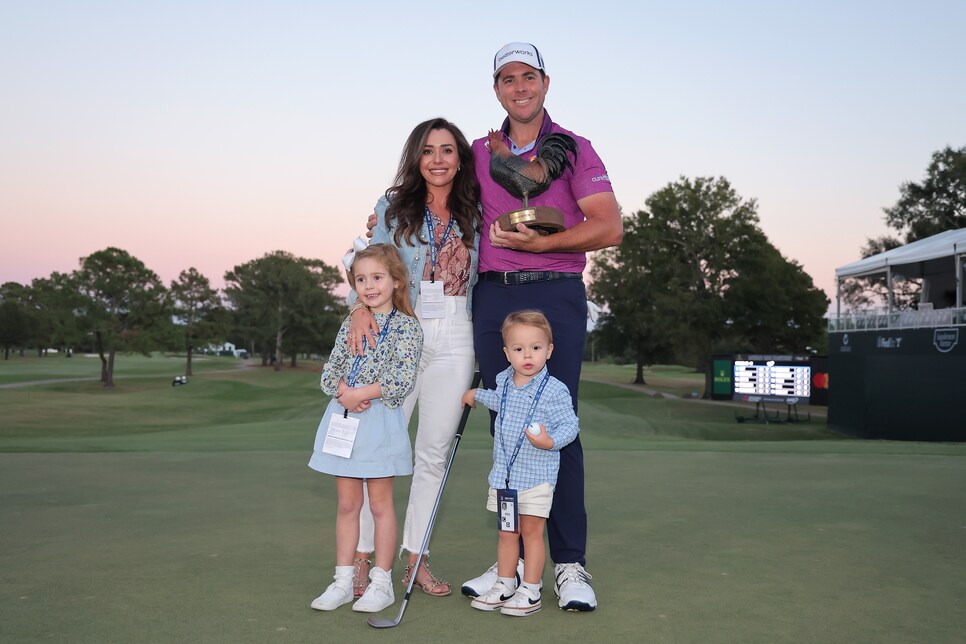 Luke List celebrates with the trophy alongside wife Chloe, daughter Ryann and son Harrison.
Jonathan Bachman
Griffin, who also let a late lead slip away last fall at the Butterfield Bermuda Championship, came up short on his chance from a similar line from 32 feet. Stallings, just off the back edge of the green, missed from a similar distance. That left Norlander, who like List hadn't posted a top-10 finish all season. He faced a pitch from behind the hole from 18 feet but struck it much too hard and wide left.
The five-man playoff was the first of that size since the 2016 RSM Classic won by Mackenzie Hughes. Coincidentally, Norlander was a part of that one, too.
Aberg, a member of last week's winning European Ryder Cup team and the lone participant in Rome to make the trip to Mississippi, shot a final-round 68. Stallings shot 70 and Norlander, who bogeyed two of his last five holes after catching Griffin briefly for a share of the lead at 20 under par, also had a 70.
Mark Hubbard, who finished T-6, bogeyed his final two holes after also grabbing a share of the lead and missed the playoff by a stroke. He had a final-round 67. Carl Yuan also fell one stroke shy. He eagled the par-4 17th hole from 119 yards but then bogeyed 18. He settled for a 72.
Unlike Patrick Cantlay at the Ryder Cup the week before, List (ahem) knew his hat fit just fine. He had a backup, but, as he explained in retrieving the gamer, "that one did me right, so it was nice to have that one for the playoff.
"The young kid, I told him, 'hey, bud, I'm sorry to have to get this back. I think there might be a chance of a playoff.' Even when I said it then, I didn't really believe it," List added. "I just kind of go through the motions going down there, and then when he hit just in the rough there on 18, I was like, OK, maybe there's a chance. I did find him right after the playoff or after the trophy presentation and was able to give him the hat back. I didn't sign it yet. Hopefully I can get him a signed hat later."
The victory allows him to take care of another kid. His daughter Ryann had been bugging him to bring home another trophy. "Yeah, I'm very excited because my daughter has been kind of on me, it's time to win another trophy," List said. "And she really enjoyed the surfboard at Torrey Pines, and I told her earlier in the week there was a rooster or chicken or whatever you want to call it, so she's pretty excited.
"I think we'll have to get her a little mini version of it."
Yeah, OK, as long as she says please.