News
Think Young, Play Hard: Luke Guthrie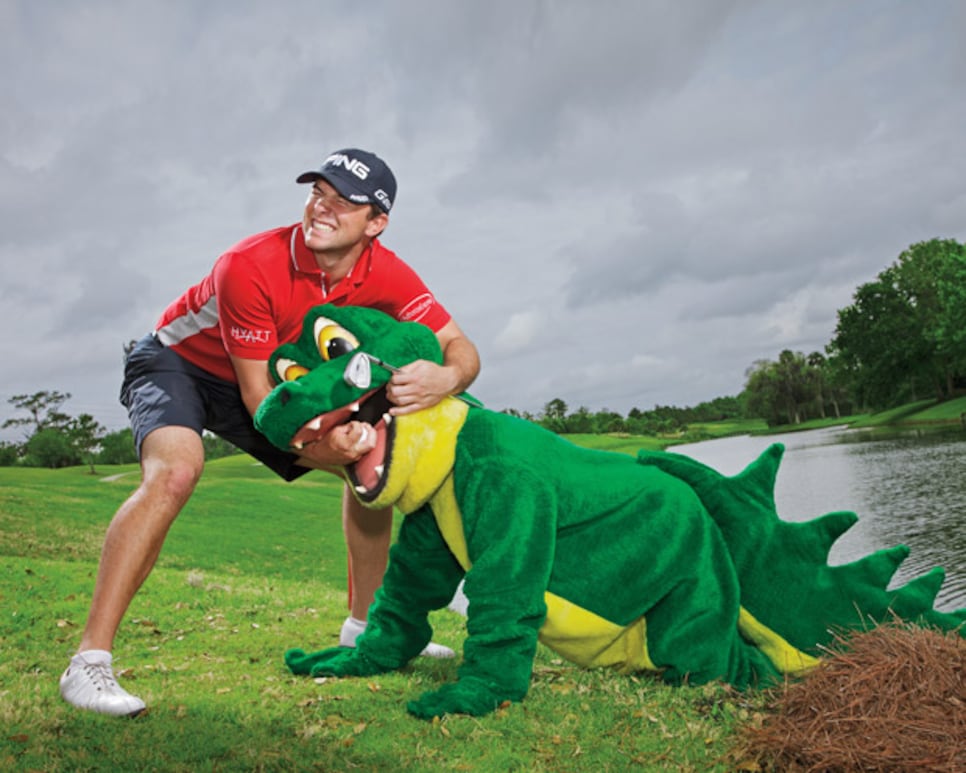 Guthrie, photographed in Ponte Vedra Beach, April 11, 2013.
ON GETTING HIS PGA TOUR CARD BEFORE GRADUATING COLLEGE
I had 12 hours left at Illinois when I got my card after winning the Boise Open last September. It kind of made sense to go back and finish college. It was hard to do the work, but I did have a 3.5 G.P.A. for the semester.
ON EARNING $695,265 DURING THAT TIME
It's nice knowing it's there. It's kind of a running joke that I'm frugal. I haven't bought anything big yet. I'm still a college kid pinching pennies. If I can save a buck here or there, I do it.
ON ORIENTATION FOR PGA TOUR ROOKIES
You sit in classrooms all day, and different departments come in and talk to you. Retirement benefits? Never thought about that before. Protecting the brand? Fines for slow play? It's a shock to the system.
ON GETTING A SLOW-PLAY FINE
I'm a deliberate player, and I got a bad time at Bay Hill. I was just a little behind. The fines are thousands of dollars. Seemed a little harsh. I didn't react to it very well.
My dad [Dennis] has worked for Sara Lee for years. We've always had their products all over the house. The cakes, the Ball Park hot dogs, the Hillshire sausages. The best were the CheddarWursts.
I'm addicted to it. I'm convinced they put something in there. But I have a rule: I can't drink it until noon or later.
ON THE STRENGTH OF HIS GAME
I'm not in the top 100 on tour in greens in regulation, but last time I checked, I was fifth in total birdies. I just put a score on the board. Seems like I'm shooting a 78, but I turn it in at 70. Even if the shots aren't pretty, I get the ball in the hole.
Mike Adams, the golf instructor, does all this biomechanical stuff, and he measured my arms. Turns out my wingspan is one inch shorter than my height. Now everyone knows about my T-Rex arms. I'll see my college teammate Chris DeForest, and he'll make that dinosaur noise. Even my coach at Illinois, Mike Small, uses it. If I lose a bet, he'll say, "You sure you can get those T-Rex arms in your pocket?"
I had a 28-foot putt with a big hook my junior year in Ohio State's tournament. I was in the last group, and it was make or miss with the individual and team titles on the line. I get myself pumped up, and I see it going in the hole, and I make it. It was cool to do it in front of all those people. I get pretty intense in those moments.
I have a degree in business. What the heck would I be doing if I weren't a golfer? I have no clue.