News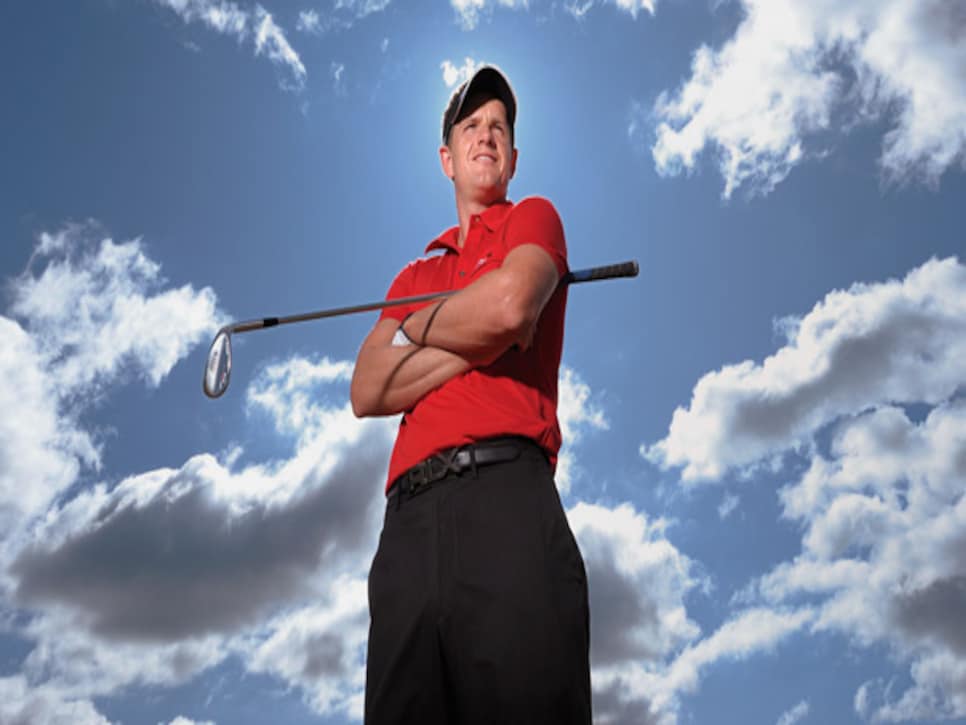 Golf got understandably giddy when Rory McIlroy became No. 1 in the world. Though seemingly pre-ordained for the throne, he earned his moment by withstanding a final-round 62 from the putative No. 1, Tiger Woods, all as the game's historical No. 1 and McIlroy's sometime mentor, Jack Nicklaus, looked on.
The symmetry seemed to mark the end of what will probably go down as a murky and forgettable two-year transitional period that followed Woods' fall. But one already under-appreciated accomplishment shouldn't be forgotten: Luke Donald's 40 consecutive weeks atop the World Golf Ranking.
Donald's remarkable run--only five other golfers among the 16 official No. 1s since 1986 have held the position for a longer unbroken period--is more than the latest story of a singles hitter beating the sluggers with some hot putting weeks. Rather, considering that it occurred in an era in which presumably only bombers need apply for greatness, Donald's was arguably the most sustained stretch of small-ball virtuosity ever seen.
Full disclosure: I owe the 34-year-old Englishman a make-up call. At the beginning of 2011, I wrote that his relatively short and surprisingly crooked driving eliminated him as a candidate to become No. 1. Whoops. Donald got better with the driver and his approaches in 2011, getting his hands higher on the backswing and gaining body stability with increased workouts. Having to scramble less, Donald turned his short game from defense to offense. His wedge play especially paid off on par 5s. Despite having to lay up more often than more powerful peers, he finished fourth in birdies or better on those holes.
Donald further proved that he is the best bunker player and putter in the game. He has been first in sand saves three times since 2006. On the greens, he led the revealing strokes-gained statistic for the third straight year. Last year he was also first in two key categories, putting from five to 10 feet and three-putt avoidance, going 483 straight holes without a three-putt. Though only 5-foot-9, Donald stands as a colossus astride the vital real estate from 100 yards and in. With the same rhythm and balance that marks his full swing, Donald is so textbook with his technique that the genius can get obscured. "Seve would conjure up inspirational stuff," says Ian Baker-Finch, who often practices with Donald, "whereas Luke just steps up totally orthodox and hits a great shot every time. Result-wise, I couldn't choose between them."
Donald surprisingly was not a short-game wiz growing up. Seeing his comparative weaknesses after turning pro, he went to work on the fundamentals, specifically eliminating the "skip, skip, spin" ball behavior on chips and pitches that comes from too steep a strike and breeds inconsistency. With the putter, Donald is all about neutral posture, alignment and arm swing. His decision four years ago to switch to a face-balanced head--an unusual move for an accomplished blade putter--led to immediate improvement.
Being replaced at No. 1 has not changed Donald's lifelong approach of focusing on the basics. Says Pat Goss, who coached him at Northwestern and remains his swing instructor: "In his quiet way, Luke's the hardest-working tour pro I've ever seen."
Donald won't be working overtime to get longer. He lost his swing in 2006 and 2007 by trying to go harder at his tee shots. By contrast, he started the 2012 season with a 43½-inch driver, down an inch. "The things he does better than other players, he knows he can do more often after he hits it straight," Goss says.
If Donald gets to No. 1 again, he'll get more credit than he did the first time. Regardless, he remains an important influence for would-be great players. Fittingly, as Donald was being surpassed as No. 1 by McIlroy, Rory won the tournament with his short game.