Bromance
Ludvig Aberg was the breakout star of the European Ryder Cup scouting trip, according to his teammates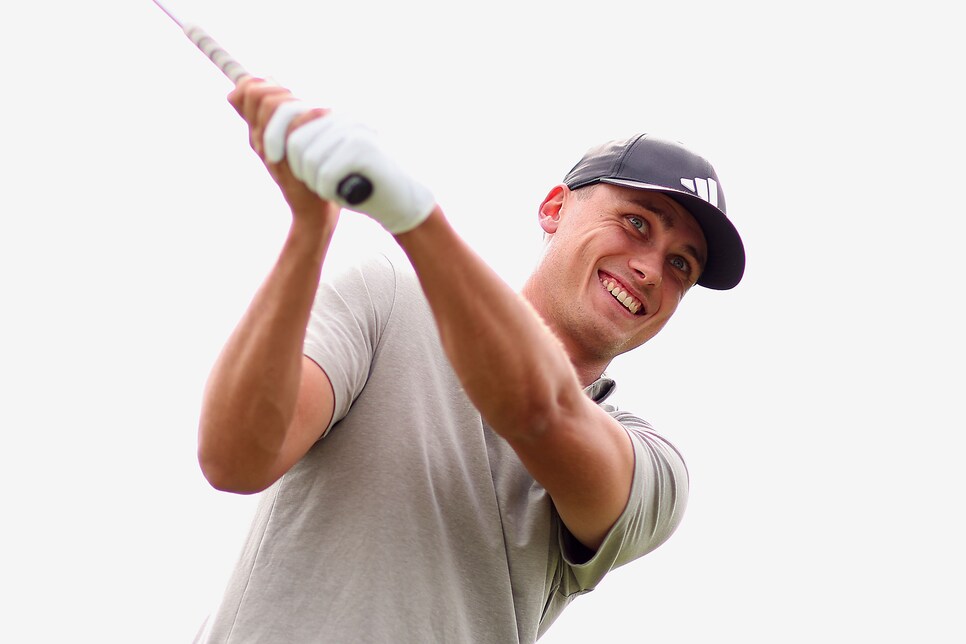 Ludvig Aberg smiles on the range prior to the 2023 BMW PGA Championship.
Richard Heathcote
VIRGINIA WATER, England — He's the guy everyone has been talking about in the run-up to the 44th Ryder Cup and that didn't change at Wentworth on the eve of the BMW PGA Championship. Rory McIlroy. Jon Rahm. Victor Hovland. The three best players on the European team that captain Luke Donald will lead at the Marco Simone Country Club near Rome at the end of this month all had plenty to say about the most unlikely member of the team, Ludvig Aberg.
And why not? Not much more than three months ago, the 23-year-old Swede was an amateur. A special one, ranked No. 1 in the world, but still playing college golf. Even now he will make his Ryder Cup debut as the first to do so without having played in a major championship. In that respect alone, Aberg is worth discussing. Even the supremely gifted McIlroy was intrigued to meet the lad who so many are describing as "a generational talent," to the point where the four-time major champion was almost giddy with anticipation.
"I first noticed Ludvig when he won the Haskins Award and the Nicklaus Award for being the best college player," said the Northern Irishman, who will be playing in his seventh Ryder Cup. "There were some people in the golf community touting him to be on this Ryder Cup team when he was still playing college golf. He has obviously had a phenomenal start to his pro career and played well. He's having an incredible start to his career. Anyone who watches him play golf can see the potential and kind of talent that he has. I had an opportunity to play with Ludvig for the first time on Monday, which I was excited about. I told him, 'I've been looking forward to this for a while.'"
While that might be the ultimate compliment Aberg has been paid, there was a lot more to be said about the Texas Tech graduate. He certainly didn't disappoint McIlroy.
"He probably exceeded my expectations," McIlroy said. "Everyone talks about what a great driver of the golf ball Ludvig is—and he is. The ball-striking is incredible. But I was really impressed with his wedge play and how he can control his trajectory with shorter clubs. I was on the bandwagon before. I'm certainly at the front of it now."
And McIlroy has company. Sitting right beside him on that bandwagon is Rahm.
"When you're creating the kind of reaction Ludvig has, it's a good thing," said the Masters champion. "Because clearly people see the potential you have. He's already played good enough to capture the attention of the best players in the world and the media. Coming from behind and making four birdies in a row and taking the lead to win the European Masters is not easy. So clearly he's showing it. He's got great potential. The only thing that matters is what's going on in his head. A lot of times as players we put a lot more pressure on ourselves than the media can put on us. I wouldn't quite know how to answer the question [how much of a risk his selection is], but he definitely has the talent to back it up."
There is one thing Aberg has going for him. While Hovland and Nicolai Hojgaard hail from Norway and Denmark respectively, their shared Scandinavian heritage will surely make the young Swede more comfortable than he might have been otherwise. Hovland certainly thinks so, citing their ability to converse in a language not English and the fact that the pair beat McIlroy and Tommy Fleetwood at Marco Simone.
"Swedish is very tough for me to read, but when we speak with each other, it's very easy," revealed Hovland (in English). "There's a lot of Swedes in Norway, especially in golf instructing. Almost half the coaches are Swedish in Norway. So I'm very familiar with the language. I think that makes it a little bit more familiar when you're on a team and on such a big stage. Everything for me and Ludvig and Nicolai is in a foreign language, so it's nice to have someone that you can speak with. Even though they are from different countries, like Ludvig and Nicolai, we have a very similar culture."
Even Aberg was asked to comment on Aberg. And, with a smile, he complied.
"I would say I'm a very calm person," he said. "I don't get too high, not too low. I like to see myself as a very nice, considerate, I don't … you know, I want to treat people the way that I want to be treated, and I think that's very important. I like to keep my feet where they are and not get too caught up in the moment or something like that. So I like to view myself as a nice person. But I guess it's up to other people to figure it out."
Don't worry about that. Just about everyone already has.