Bombs Aberg
Ryder Cup 2023: Ludvig Aberg's driving is incredible—these are 3 of his 'big' priorities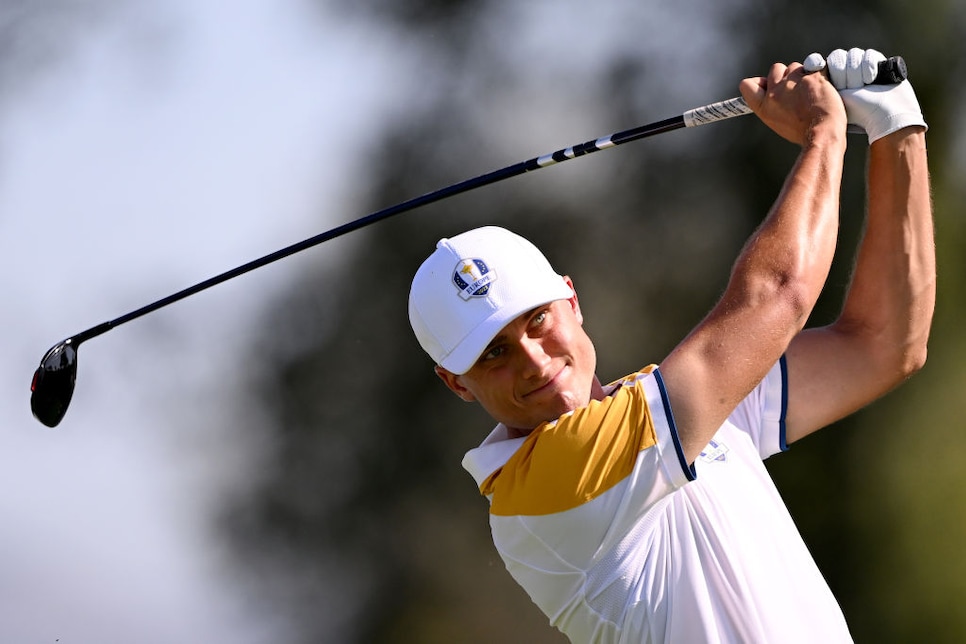 ROME — There's a lot of hype surrounding one player at the Ryder Cup: Ludvig Aberg. The 23 year-old Swede who only turned pro in June, and became the first player in Ryder Cup history to make the team without playing in a major championship.
The excitement around Aberg was apparent from the moment he stepped onto the first tee on Tuesday for his first practice round at Marco Simone. Playing with Jon Rahm, Viktor Hovland and Tyrrell Hatton, he hammered a high draw down the first fairway. Vice captain Edoardo Molinari was videoing the shot, and began giggling with joy seconds after impact.
"Boom!" Molinari yelled as the ball flew through the air.
It's Aberg's driver that has captured the imagination of his fellow Ryder Cup teammates—and for good reason. DataGolf pegs him as one of the statistically best drivers in the world since turning pro (which you can dive deeper into in the video below).
Aberg's results have been impressive, no doubt, but his unique skill—AKA, his elite ability to hit long and straight drives—is what landed him on this team. Speaking to the media on Tuesday, he shared how he developed that skill, and some priorities he places around it.
1. Distance first, accuracy later
Aberg's generation of golfers is the first to be taught what was an idea at the time, a radical idea: Power first, accuracy later. The idea is that speed is easier to train when you're young, while accuracy can be taught to golfers at any age.
Aberg embodies that philosophy.
"Growing up, I tried to hit it as hard as I could and tried to narrow it down a little bit after that," he said. "The driver is the most fun club to hit. It goes the furthest. I felt that way since I was probably 10, and I still feel that way."
"Learning to hit the center of the face was a big thing for me," he said. "Hit it hard but keep it in the center of the face."
Aberg's final priority is to keep an eye on the curve. Draws go further—but big draws are hard to control. When he sees the draw getting too severe, Aberg says he'll practice trying to do the opposite and hit fades. The opposite if he sees his fade getting slicy. Practicing trying to hit different shots is something amateur golfers can do, but the act of trying can help.
"I like to keep it a pretty neutral flight. I don't like to curve it too much," he says. "Sometimes you get too stuck on one side where you draw it too much or fade it too much."