The Loop
Lucy Li at U.S. Women's Open: 'She's way better than I was expecting'
PINEHURST, N.C. - Lucy Li was the girl with no glove and no fear, and, after one round of the U.S. Women's Open, nothing to be ashamed of.
There were more than a few worries that the 11-year-old, the youngest to ever qualify for the championship, would be in way over her head at Pinehurst No. 2 Course. But those fears didn't materialize Thursday morning as Li played more like an adult than a child.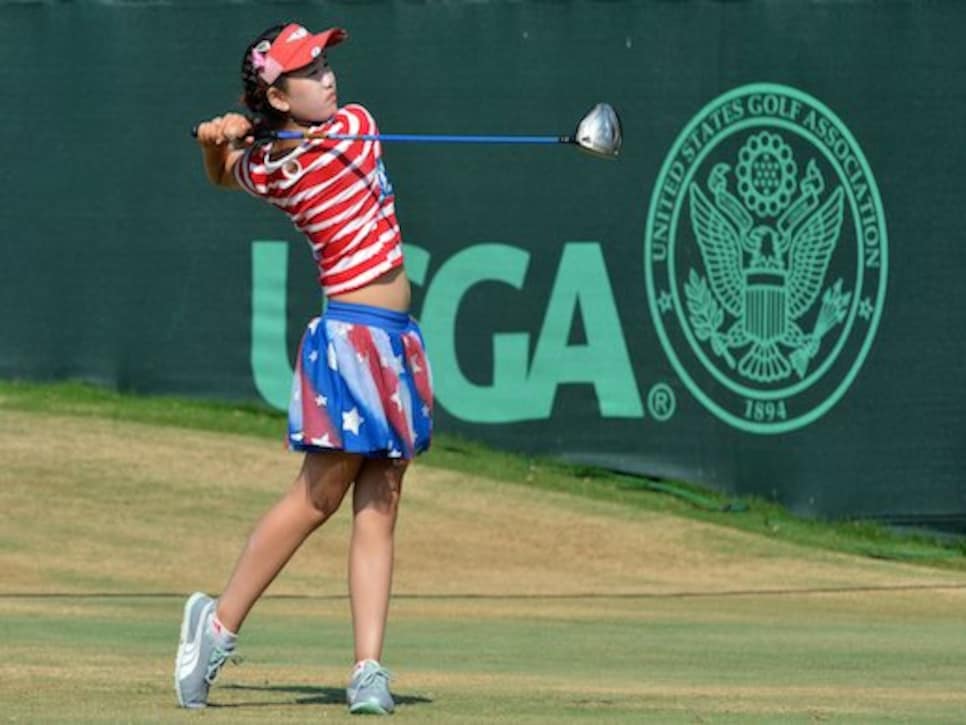 "She's way better than I was expecting," said Catherine O'Donnell, a young pro in the 7:07 a.m. pairing with Li and Canadian Jessica Wallace. "She's a joy to play with too. Couldn't have been nicer. Very intelligent girl. And Jess and I had a great time playing with her today."
Three ugly holes marred Li's scorecard - double-bogeys at Nos. 10 and 16 and a triple-bogey at No. 3 - but she was only one over for the other 15 and finished at eight-over 78, a stroke better than Jessica Korda, Natalie Gulbis and 2005 U.S. Women's Open winner Birdie Kim. On a day when Stacy Lewis' 67 took the early lead, Li's score was just two shots higher than former Open champions Inbee Park and Se Ri Pak.
"I was just trying to have fun, go out and play my best, whatever that was," said the sixth grader from Redwood Shores, Calif. "I'm happy I broke 80 because I got two doubles and a triple and that can really ruin a score. I learned you've got to be patient. Try to get rid of the big numbers. Yeah, I learned a lot."
Li, who carries the ball close to 200 yards with her driver, hit 13 of 14 fairways (missing only her first hole by a yard or so), nine of 18 greens and had 32 putts on the undulating greens. Her glaring weakness was sand play, failing to save par from six greenside bunkers. A visit to the front-left bunker on the 339-yard par-4 third hole was her most costly error after a pulled wedge approach rolled off the green into the sand. She hit her third shot over the green, chipped on and three-putted for a 7.
If that was her short-game nadir, the highlight was a 30-yard pitch off a tight lie to a perched green from long and right of the eighth green - "We could have ordered a lemonade from [there]," said caddie Bryan Bush - that stopped 10 feet from the flagstick to applause from the caddies in the group. "Give her that shot again," said O'Donnell, "and she can't do that [with] another 50 [tries]," said O'Donnell.
It was a grown-up shot by a kid who didn't sweat it when she got "Rossed" on the troublesome turtleback greens originally designed by Donald Ross and was comfortable chipping from the surrounds. "She is so mature for her age," said Wallace, 23. "There were times where I felt more immature than she is. Just the way she handles herself on the golf course - she is mature beyond her years. It was a pleasant surprise playing with her."
The pace of play slowed down on Li's second nine, with two groups waiting to tee off on a couple of holes, but she didn't seem bothered by the tedium. "She was like, All right, this is great, another stroll in the park kind of thing,' " said O'Donnell. "And just chitchatted with us all day." Li kept a damp, cold towel wrapped around her neck between shots, waited in the shade and blocked the sun with an Oklahoma Sooners umbrella on her penultimate hole.
Li has braces, uses a ball marker with her first name on it and is generously listed as 5-feet-2. She wore a red, white and blue skirt and top. "Because it's the U.S. Open," Li said. "I like red, white and blue too."
"She looks 11," said O'Donnell. "She doesn't talk 11, and she doesn't hit the ball like she's 11."
"Way to whack it, Little Bit,' " a male spectator said encouragingly after another one of her fine tee shots.
Li sure looked 11 after the round, standing on a crate at the microphone as she talked to reporters and enjoying a Starburst strawberry sorbet bar that was melting in the heat. Someone asked what Li was going to tell her friends about her big day.
"I was going to tell them I was seven-over in three holes," she said. "One over for 15, and I made 13 pars."
She shouldn't forget the birdies at the first and fifth holes either. Show and Tell is going to be easy this fall.