Wyndham Championship
Lucas Glover slays the yips, wins the Wyndham and it turns his career around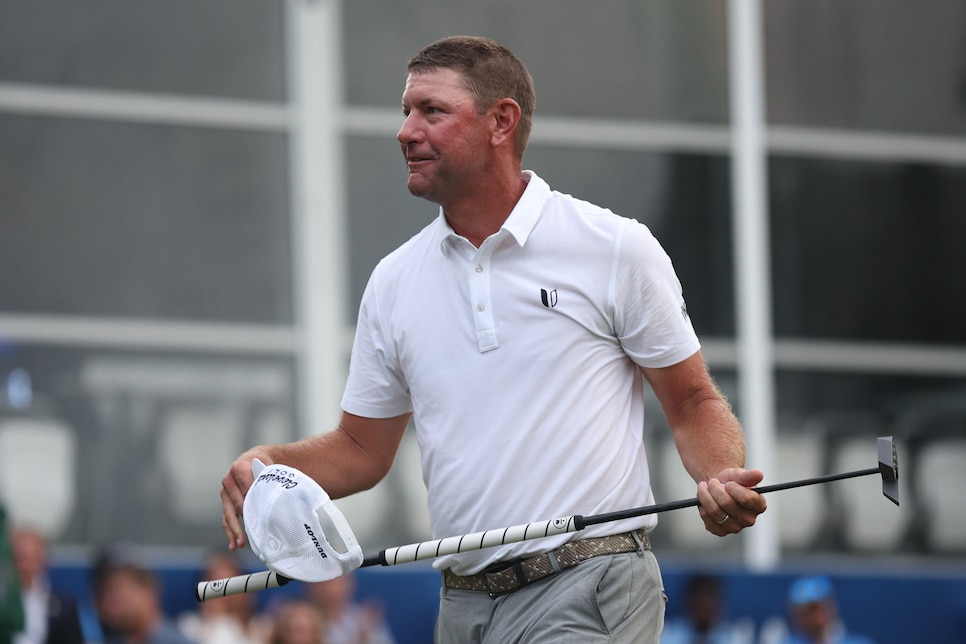 GREENSBORO, N.C. — "It's been a long road, fighting something for 10 years."
Those were the words of 43-year-old Lucas Glover, following his fifth career PGA Tour win on Sunday at the Wyndham Championship, where he emerged from a two-hour rain delay to out-duel a desperately unlucky Russell Henley and book his trip to the FedEx Cup Playoffs. He was talking about the putting yips, which have dogged him a decade and led to a switch to the long putter in June that carried him to victory at Sedgefield Country Club. Surrounded by his two children—his daughter crying, his son repeating "dad, you won!" with something like incredulity—Glover fought back tears and seemed to value a very different destination almost more than the playoffs: home.
"I'm too old to be away this much," he said, and despite the fact that he'll have at least one more week of travel ahead of him, the security he gained here will give him more time with the children at his sides.
In the end, after a week of frantic movement as players ricocheted up and down the projected FedEx Cup rankings in this regular-season finale, Glover didn't just win a trophy and the attendant $1.36 million prize; he was the only player who started the week outside the playoff cut line who managed to change his fortunes. Only the top 70 make the first playoff event next week in Memphis, and Glover, at 112th entering the week, wasn't even near the bubble. Winning takes care of quite a bit, though, and Glover's masterful performance ensured that he vaulted all the way to 49th. The casualty of his ascent, and the only player who fell out of the top 70 in Greensboro, was Austin Eckroat, who missed the cut and dropped from 70th to 74th.
In terms of the bubble, the story of the Wyndham Championship was a one of "almost." First and most prominent, Justin Thomas engaged in a thrilling late battle to force his way into the playoffs and increase his viability as a Ryder Cup captain's pick and finished just one spot—and one stroke—shy of pulling it off.
"I know this game doesn't owe you anything," Thomas said Sunday, after his round but with the outcome still uncertain, "but I really felt like I fought hard enough to deserve it."
One spot behind Thomas, Adam Scott watched one of golf's most impressive streaks of longevity come to an end. Along with Matt Kuchar, Scott has qualified every year for the FedEx Cup playoffs since they began in 2007. After struggling on Friday and Saturday relative to the field, the Australian put together a massive run on Sunday, shooting 63 to finish in a tie for fifth. Like Thomas, he was just a single shot from entering the top 70. Unlike Thomas, he seemed at ease with missing it; perhaps even a bit relieved.
"If it does end, I think it's a good thing," Scott said of his streak. "I think it gives me a good chance to look at what I need to do differently to be more competitive in whatever competition I'm playing in."
Billy Horschel came into the final round tied for the lead with Glover, and was projected to advance to the playoffs despite a starting position of 116th. Unfortunately for him, he shot a 2 over 72 when he needed his magic the most, and finishing solo fourth was only enough to elevate him to 90th in the standings.
Davis Thompson, Shane Lowry and Michael Kim also came up short on the bubble, with Kim's T-5 position giving him the best chance of the three until a Sunday 68 halted his momentum. On the other side of that equation, Ben Griffin and Beau Hossler held on to their precarious playoff positions despite missing the cut on Friday (Griffin, a cliffhanger of sorts, fell from 68th to 70th, barely ahead of Thomas), while Matt NeSmith, Vincent Normann and J.J. Spaun finished in the middle of the pack to keep bubble at bay and qualify for the playoffs.
After Thomas' near heroics and the weather delay, it was Glover who emerged as the star of the show. On Saturday, he revealed that his putting had been so bad that if he didn't find success with the long putter, he was considering trying it left-handed. The stats tell the dire story; coming into the Wyndham, he was 180th in Strokes Gained: Putting. This week, he was 15th, and punctuated his win with a seven-footer to save par on the last hole. In all, since the switch, he's notched four top-10 finishes, including the win this week, and only one missed cut.
To win on Aug. 6 was especially poignant—it was his grandfather's birthday, the man he called a "mentor and a hero" who got him involved with the game and played an instrumental role in his golf education. After he won, he met up with a group of family members, including three uncles, and pointed at the sky in tribute to his grandfather.
Glover still remembers when the yips started, a decade ago at the Colonial. There, on the 13th green, he made a four-putt that came "out of nowhere." Since then, he's been through stages where he shakes and seems to lose all function and coordination on the greens. He's not afraid to call it the "yips," and says that admitting his problem has been part of the solution. Adopting the long putter was a response to nothing else working; he needed to rewire his brain, and turn putting into a completely new exercise. The physics of the long putter were different enough that the mechanics of it felt like a whole new process.
Toward the end of his press conference, his Srixon hat pulled low over his head, a reporter asked about the most radical thing he had done in the last decade to fix his putting. Glover didn't need to think long, and his answer was just one word: