News & Tous
Citing backlash, LPGA star ends sponsorship with Saudi Arabia's Aramco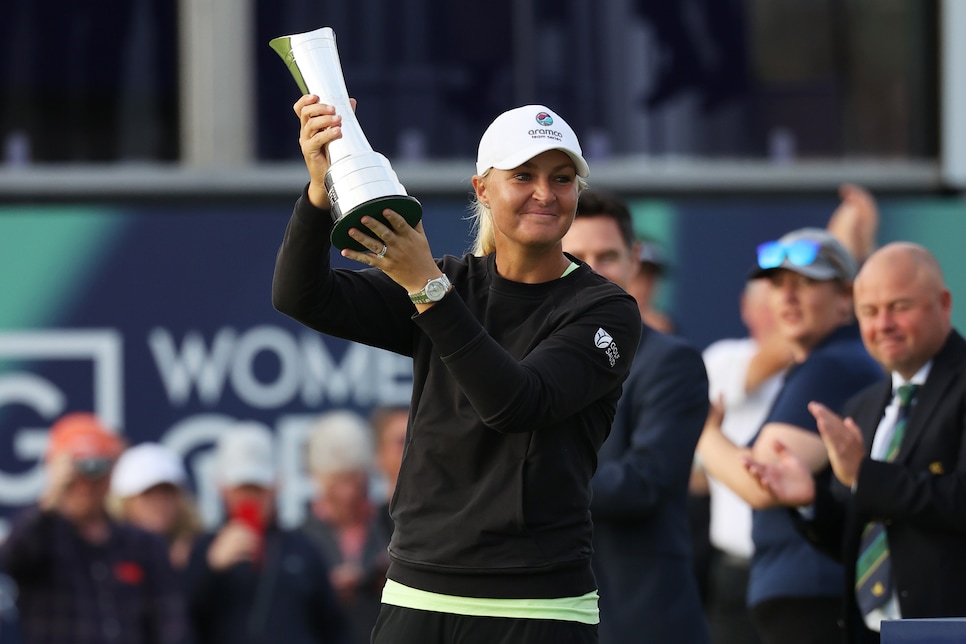 LPGA star Anna Nordqvist revealed she has ended her endorsement deal with Aramco—Saudi Arabia's state-run petroleum company and a major financial supporter of women's golf—due to ongoing backlash for the partnership.
In an interview with Swedish news agency TT, the three-time major winner did not express second thoughts regarding the moral and ethical issues of the relationship. Rather, Nordqvist revealed that she wasn't prepared to receive the "incredible amount of hatred and mean comments from people who don't even know me."
"It hasn't really turned out the way I thought it would and this is something I've been thinking about for a very long time," Nordqvist said. "I have to think about my well-being and I haven't been feeling well. For me, this was never about money, but I wanted to do something for women's golf and especially for the women's European Tour."
Aramco sponsors six events on the Ladies European Tour: the Saudi Ladies International plus five "team series" tournaments played in Bangkok, London, Sotogrande, Spain, New York City and Jeddah. Aramco also has a number of individual endorsements with players like Nordqvist, Alison Lee, Bronte Law, and Carlota Ciganda. Aramco's chairman is Yasir Al-Rumayyan, who is also the governor of the Public Investment Fund, the kingdom's sovereign wealth fund that controversially backs LIV Golf.
The Saudi government has been accused of myriad violations of human rights, many of which involve its treatment of women. Publicly, the country has touted reforms in recent years; still, Saudi Arabia ranked 147th out of 153 nations in the World Economic Forum's Global Gender Gap Index for 2021. According to Human Rights Watch, Saudi women still must obtain a male guardian's approval to get married, leave prison or obtain certain healthcare. Women also continue to face discrimination in relation to marriage, family, divorce and decisions relating to children, including child custody. Women's activists are routinely imprisoned and ruthlessly silenced.
Despite severing ties with Armaco, Nordqvist says she still plans on playing in team series events as well ast the Saudi Ladies International. "Yes I do. I need to get in four competitions on the European Tour before August, because my big goal is to play the Solheim Cup. It's a competition that fits into the schedule, we haven't been spoiled with a lot of competitions at the beginning of the year." She later added, when asked where she draws the line: "It is a difficult question to answer. But I feel it's important to play all over the world, that we can influence younger generations to dream big. If young girls who grow up somewhere, wherever it is, can see a golf competition and that there is an opportunity."
The Saudi Ladies International, set to be played Feb. 16-19, will see an increase in its prize money from $1 million to $5 million in 2023—the same purse as the men's Saudi International and the largest non-major purse on the LET.