Honda LPGA Thailand
LPGA rookie sensation Patty Tavatanakit is emerging as one of the biggest stories in golf in 2021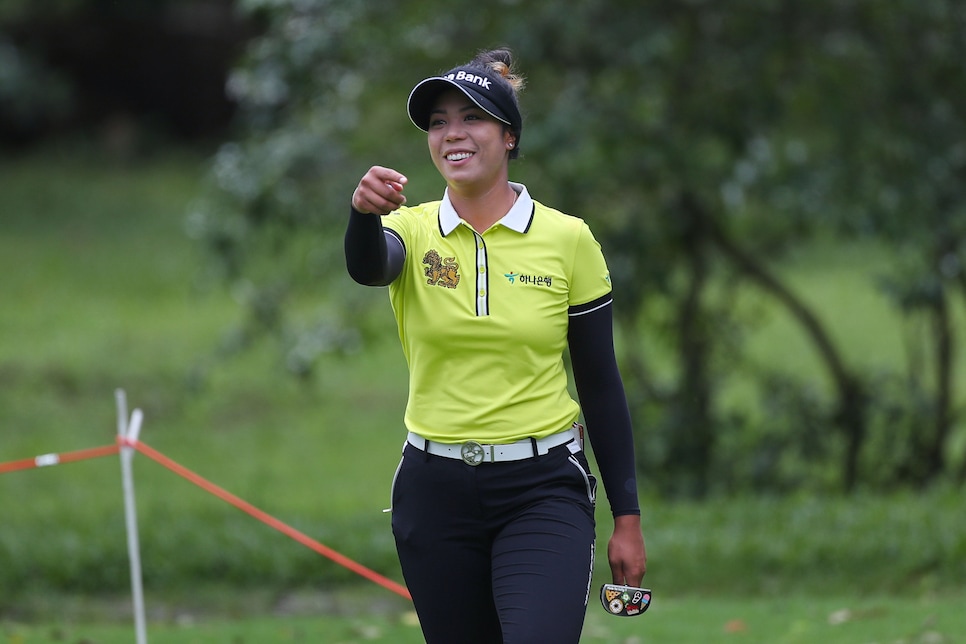 Patty Tavatanakit reacts during the first round of the Honda LPGA Thailand, where she grabbed a share of the lead with an eight-under 64.
Thananuwat Srirasant
Patty Tavatanakit didn't feel well in her homecoming at the Honda LPGA Thailand on Thursday. Before teeing off at Siam Country Club for the first time in five years, she endured a rainy warm-up session. Everything felt slow, and she was dealing with nerves and anxiousness playing at home
You'd have never known the 21-year-old was struggling, though, until she shared so after her opening round. The reigning ANA Inspiration champ put together another scorching round with nine birdies on her way to an eight-under 64. She emerged tied for the lead after the first round with compatriot Atthaya Thitikul and one ahead of countrywoman Ariya Jutanguarn.
After the round, Tavatanakit, the 12th-ranked player in the world, wasn't afraid to discuss her long-term aspirations, which are as high as her drives are long.
"I'd like to be World No. 1, but I know that will take a lot and it's not going to come easy. It's going to take time," Tavatanakit said. "If anything, I just want to play good and win a couple more this year."
It was nearly four years ago that Jutanugarn became the first Thai native to break through and grab the World No. 1 ranking.
Tavatanakit's emergence has been one the biggest storylines on the LPGA Tour so far in 2021. Her dominant performance at the ANA (rounds 66-69-67-68 to win in a walk) was a surprise to some given she is still technically a rookie based on her status from the 2020 season. But added distance off the tee in 2021 helps explain her breakthrough. Tavatanakit has gained 16 yards from 2020 to 2021, moving from 14th to fourth on tour in average distance at 280.78 yards
Tavatanakit credits tweaks to her swing with coach Grant Waite during the offseason and subtle changes to manage her body mentally and physically over an entire season.
"Last year, I felt like I struggled off the course and I just didn't really care as much," Tavatanakit said. "I took it each week and just do my warmup every single round. [Now], I wake up three hours before my tee time no matter how early it is. So if my tee time is at 7, I get up at 4:30."
The early alarm to make her body more alert has led to consistency in Asia. She's 23 under par through five rounds with her T-3 finish at the HSBC Women's World Championship in Singapore a week ago, where she finished fifth in the field in distance off the tee.
Tavatanakit continued crushing her driver on Day 1 in Thailand, averaging 284 yards in the soggy Siam Country Club fairways. She drove the 282-yard par-4 15th en route to a birdie that contributed to her five-under back-nine score. The consistently short clubs on her approaches led her to hit 15 greens in regulation.
Her success this week isn't all due to her work in the offseason. Sometimes, it's as simple as being back in her homeland. "I'm just really glad to be back home and be able to eat Thai food every single day," Tavatanakit said.
It's the fuel that's propelling Tavatanakit to potentially celebrate her homecoming as the first Thai player to win the Honda LPGA Thailand.