News
LPGA players make the cut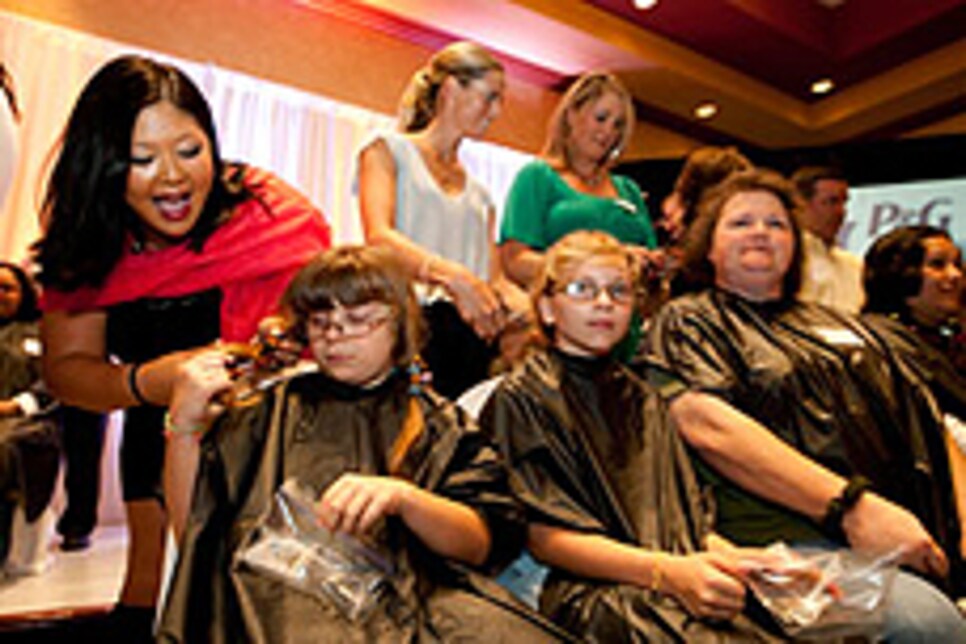 Defending champion Jiyai Shin, the world's No. 2-ranked player Cristie Kerr, Michelle Wie, Christina Kim and Anna Rawson were among the LPGA players who supported the Pantene Beautiful Lengths Cutting Event, cutting hair to help create wigs for women who have lost their own to cancer treatments.
"It is such a good cause and so important for the people that go through cancer to have the feeling of real hair," said Rawson. "It's fun to get that many people together to cut some hair, have a laugh and do something for a good cause."
This event started in a small tent with 10 donors at the inaugural P&G Championship in 2007, but on Wednesday more than 100 volunteers donated at least eight inches of their locks. A year ago, nine LPGA players, including Kim, Paige Mackenzie, and Stacy Lewis donated their own hair to the cause.
"Last year I actually participated on the other end of the scissors and donated eight inches of my hair," said Kim. "A lot times people say that [losing] their hair is the moment when they say, 'Oh my God, there is something wrong with me.' By the LPGA taking part in the Pantene Beautiful Lengths event, we're able to help a few women not necessarily feel that fear the same way."
(Photo courtesy the LPGA)