The Loop
LPGA loses State Farm as title sponsor
The already embattled LPGA, which has only 23 tournaments on its 2011 schedule, just seven of which are full-field non-major championships played in the United States, got more bad news Friday when State Farm Insurance said it was pulling out of the tour stop in Springfield, Ill., after this year's event. The 61-year-old organization, the oldest and most successful women's professional sports organization, already has its thinnest schedule since 1972 and this does not bode well for 2012.
"State Farm has been a tremendous partner for the past 19 years, and we are disappointed by the news they will not renew their sponsorship past 2011," Kate Peters, Executive Director of the LPGA State Farm Classic, said in a statement. "We are thankful for their years of support, and we're still very much looking forward to working together to stage a great tournament in June."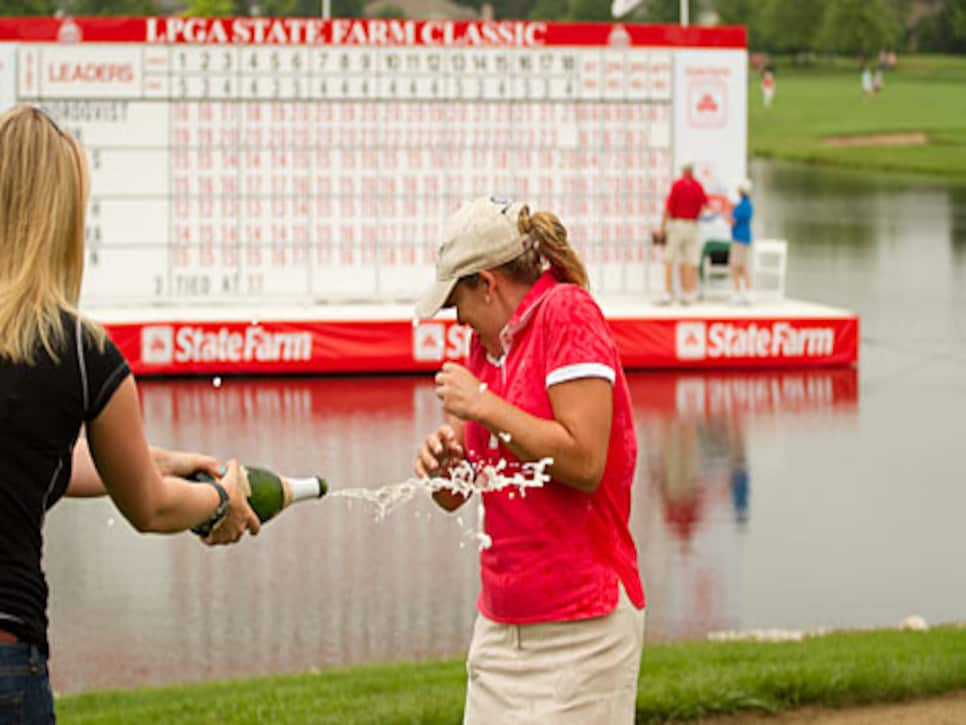 Cristie Kerr won last year's State Farm Classic. Photo: Darren Carroll/Getty Images
The State Farm Classic was first played in 1976, making it even older than the Corning Classic in New York, which was founded in 1979 and succumbed to the recession in 2009. The loss of State Farm as a sponsor throws a new challenge at Mike Whan, who is in his second year as LPGA commissioner. Every effort will be made to keep the tournament in central Illinois.
"Our attention now shifts to securing a new title sponsor for 2012 and beyond," Peters said. "This tournament has been part of the Springfield and Central Illinois communities for more than 30 years, and it has a measurable impact on the local economy and area charities serving families in need. We will find a way to continue that level of support in Springfield and Central Illinois."
The new LPGA season began last week in Thailand and continues this week in Singapore. Then there are two weeks off followed by the Founder's Cup in Phoenix, a full-field event in which players will receive no prize money, the purse going to charity. That's followed by the Kia Classic in California and then the Kraft Nabisco Championship, the first major of the year.
Then comes the ugly part of the schedule as six of the next eight weeks do not have tournaments. Earlier this year, it was announced that the April tour stop in Mexico was being cancelled because of drug violence in that country. Beginning with the LPGA Championship in late June, three of the next four tournaments are majors. From when the U.S. Women's Open ends July 10 to when the Safeway Classic begins August 18, there are no events in the United States.
The LPGA has been hit was a devastating confluence of events. Former commissioner Carolyn Bivens alienated many longtime sponsors; then came the recession. In 2008, the No. 1 player in the world, Annika Sorenstam, retired at the age of 38. In 2010, the No. 1 player in the world, Lorena Ochoa, retired at the age of 28.
The tour is still searching for a star upon whom to hang its marketing hat. Yani Tseng, 22, could be that player. She's already won three majors and won two Ladies European Tour events in Australia before winning the LPGA season opener last week in Thailand. Having an American emerge as the best player in the world wouldn't hurt either. The last time a Yank was LPGA player of the Year was Betsy King in 1994.
And that's something over which Whan has no control. He came into the year looking to add new events, and now it seems part of the challenge will be keeping existing ones. All this could mean that the LPGA -- founded by 13 feisty Americans in 1950 -- could become even more of a global tour and perhaps lose its identity as it is absorbed by the tours in Europe and Asia.