LPGA Tour
After horrid start, Moriya Jutanugarn goes on a stunning heater in LA Open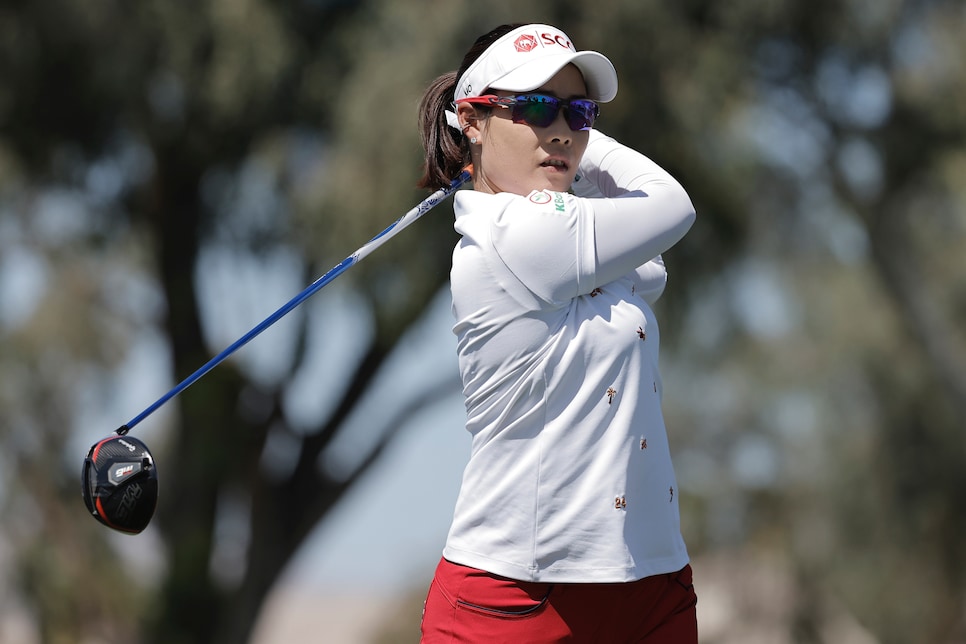 Moriya Jutanugarn, shown playing in the ANA Inspiration, started the LA Open with a six-under 66.
Michael Owens
LOS ANGELES — Most golfers can relate to the warmup Moriya Jutanugarn had Wednesday morning ahead of the first round of the Hugel Premia L.A. Open. Despite seemingly hitting the shots she wanted on the driving range at Wilshire Country Club, the 26-year-old Thai native walked off with a bad feeling, one that carried over into the start of her round. Through five holes, Jutanugarn was four over par.
What most golfers can't relate to was Jutanugarn's response. She proceeded to birdie 10 of her next 13 holes to finish at six-under 66, the solo leader through the morning wave. Nelly Korda and Austin Ernst shot 67s.
Starting off the 10th tee, Jutanugarn stood on her sixth hole and asked herself if she would be proud at the end of the day. She then heard the encouragement she needed from caddie Justin Thompson to turn her round around. "He told me after I make the first birdie, all you have to do is get it back one at a time," she said. "He kept saying that all day today."
Jutanugarn, who won the inaugural playing of the tournament in 2018, her lone LPGA title, made the turn in even par, then played Wilshire's first nine holes in six-under 29 on the front nine. For the day, she had only 26 putts.
The performance reinforced the recent advice she received from her coaches, Lynn Marriott and Pia Nilsson of Vision54. The duo connected in person with Jutanugarn for the first time in more than a year during the ANA Inspiration, where they attempted to fine-tune her process to make it simpler. "[We coached her] to be 'nicer' to herself in her reaction to her shots," Marriott said on Wednesday when reached in Arizona via text.
Jutanguarn relied on that by being less outcome-oriented throughout the 10-under run. Instead, she recommitted to "making herself proud" at the end of the day.
"Well, of course, making birdies and putts is fun, but I really enjoyed myself out there … how I [was able to] control my emotions with so many things going on at the start," Jutanugarn said.
Channeling those emotions into solid performances will be particularly important for Jutanugarn in trying to accomplish one of her goals for 2021: qualifying for the Olympics. When fellow Thai native Patty Tavatanakit won the ANA Inspiration, she jumped to 12th in the Rolex Ranking, leapfrogging Jutanugarn (currently 41st) and her younger sister Ariya (32nd). Only the top two will play in Japan.
Grabbing a second LPGA title is also something Jutanugarn would love to accomplish, an accomplishment that would be fitting if it came at Wilshire, which she considers one of her favorite courses on tour.
"Of course, I had a lot of good memories out here," she said. "Just to come back is always great … I love this town. I like this place. … It's just one of the golf courses that you just have to enjoy it and one of the weeks on tour I really [enjoy]."