Chevron Championship
Chevron leaders are searching for maiden LPGA victory, chased by pack of proven winners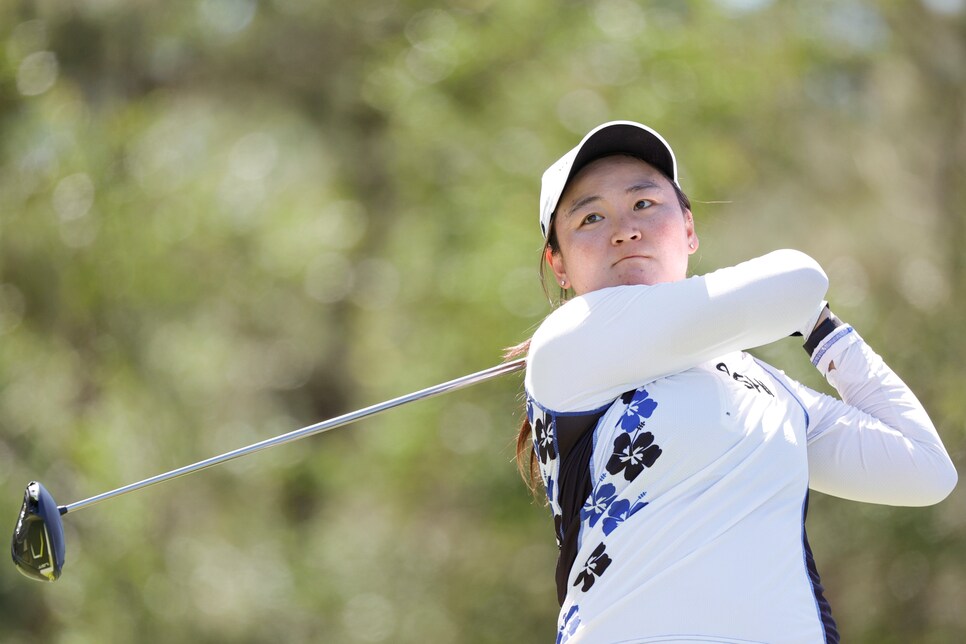 Allisen Corpuz of the United States plays a tee shot from the second hole during the third round of the Chevron Championship.
Carmen Mandato
THE WOODLANDS, Texas — Weather has been looming over most of Carlton Woods' debut as the home of the LPGA Tour's Chevron Championship. Delays marred the opening 36 holes, forcing the second round to finish Saturday morning and groups to go out in threesomes during the third round.
But the climate finally cleared, with the conclusion of the first three days revealing a wide-open leaderboard heading into Sunday. The final pairing of Allisen Corpuz and Angel Yin, tied at 10 under, will tee off at midday, each aiming for her maiden LPGA victory. Lurking near the leaders are 14 players five strokes or closer. Ten of those are past tour winners.
Even with Yin's struggles the last few years, the 24-year-old Californian burst into her post-third-round press conference, after a five-under 67, beaming confidently. She says her self-assured perspective came from a practice round at the 2020 Drive On Championship at Reynolds Lake Oconee with former Solheim Cup teammate Cristie Kerr.
"She was walking after she hit a tee shot off a practice round, and she was, like, 'I'm four days away from people knowing I'm back,'" Yin said. "That's the confidence. Every day I tell myself that. Just channel your Cristie Kerr."
Given Corpuz's recent results, she could have her own reasons to doubt herself. Coming into the Chevron, she finished T-61 at the DIO Implant Open and missed the cut in her native Hawaii. But Corpuz, 25, took a few days to determine what went wrong. She concluded her alignment was off, and with the confidence of growing up on Bermuda grass similar to that of Carlton Woods, Corpuz is in a position to prove to herself she belongs.
"Obviously, there's a lot of really good players out there, and just keep reminding myself that at my best I'm just as good as them," Corpuz said. "Yeah, that's what I've been telling myself."
One stroke back from the leaders are three players also aiming for their first LPGA major.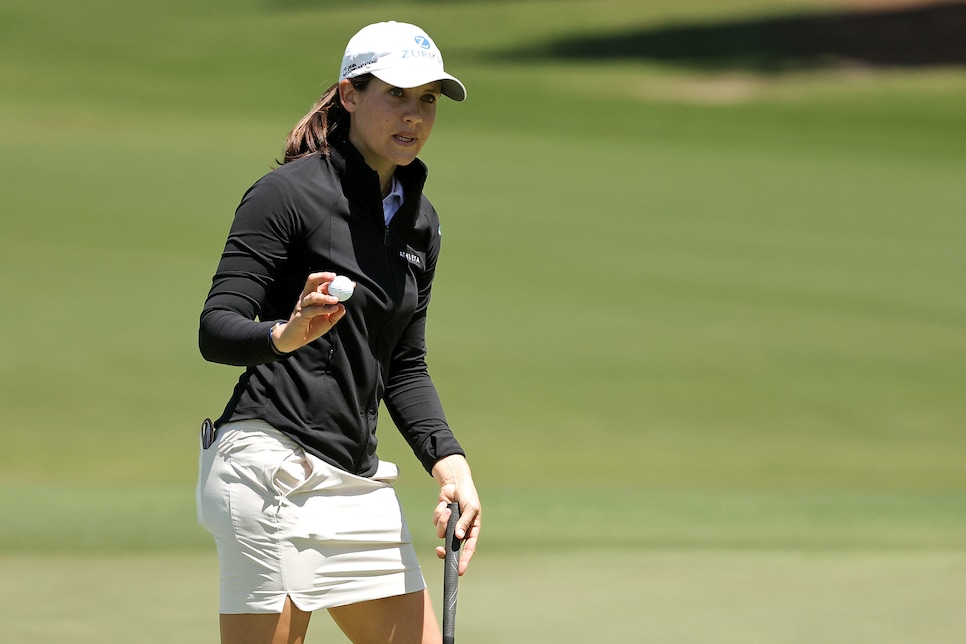 Albane Valenzuela waves on the ninth green during the third round of the Chevron Championship.
Stacy Revere
Albane Valenzuela, 25, had to play nearly her in age in holes Saturday to sit a stroke back. She finished her last five holes from the second-round 67 in the morning, then posted a third-round 68 with only one bogey.
It's a notable turnaround from a WD at the DIO Implant Open three weeks ago, when her knee unexpectedly swelled. Now, rest and bringing her dad on the bag for the week allowed Valenzuela to slow down her pace on the course and her swing. The adjustment's allowed her to enjoy being in contention for her first LPGA win.
"It's just been fun to have my whole family, just have family vibes, and we're just playing as if it was home," Valenzuela said.
Amy Yang, 33, shot a 65 Saturday, the low round of the championship, to be in position for her 20th career top-10 at an LPGA major. The four-time LPGA winner earned her first top-10 with a T-9 at the then-McDonald's LPGA Championship in 2009. Yang has been knocking on major doors for so long that that tournament's name has changed twice, becoming the Wegmans LPGA Championship in 2010 and the KPMG Women's PGA Championship in 2015. Yet, even with the South Korean's embroidered smiley face on her visor, Yang's sunny disposition belies the challenges for her breaking through on the major stage.
"I'm out here to win a major, and getting close a lot of times and not being able to get one is just mentally tough," Yang said.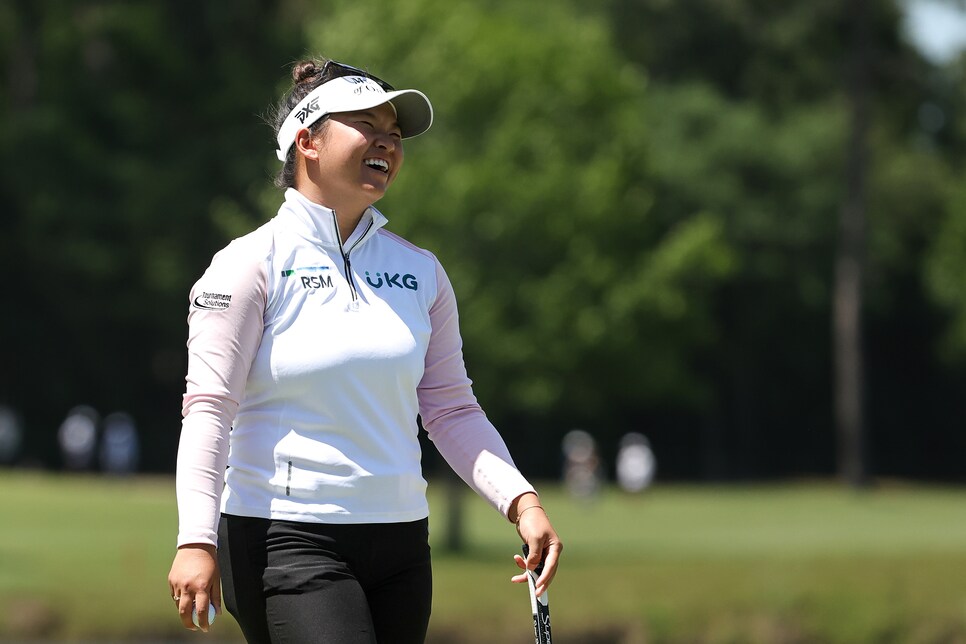 Megan Khang laughs after playing the ninth green during the third round of the Chevron Championship.
Stacy Revere
Megan Khang, 25, shares Yang's near-victory battle scars. The eight-year veteran posted 30 top-10s in her career, yet no wins. Seven of those top-10s have come in majors, including a T-8 finish at last year's U.S. Women's Open. Khang has talked to herself about dealing with nerves on the tee and acknowledging that instead of feeding the negative energy, she should try to get more excited. It proved effective with a Saturday two-under par 70, her third consecutive round in red figures.
"The pressure is on for all of us," Khang said. "I didn't take a big look at the leaderboard, but it looks to be a pretty crowded leaderboard up there, and on this golf course, anything can happen, whether if the wind picks up or they move some tees forward or back. It's definitely going to be interesting, and that's what majors call for."
Like the number of animals in the pond next to the 18th green, a variety of players are swimming near the top five within a stroke of the lead. At eight under are past major champions Hyo Joo Kim, Nelly Korda, and A Lim Kim, while Hye-Jin Choi had the 54-hole lead at the 2017 U.S. Women's Open as an amateur before finishing runner up to Sung Hyun Park. A win for Korda would return her to the top of the Rolex Women's World Rankings.
Former World No. 1 Atthaya Thitikul sits three back of the pace. Recent breakthrough winners Ashleigh Buhai (2022 AIG Women's Open) and Lilia Vu (2023 Honda LPGA Thailand) are four back.
One could envision any of them emerging as the newest Chevron Championship winner Sunday. All that's left to find out is who will or will not leap into the newest pond.