News
LPGA announces 2012 schedule with four more events
There has never been any doubt that LPGA commissioner Mike Whan can work the front end of a deal. He is a born salesman with a quick wit and an agile mind fueled by a conga line of empty diet soda cans. He also believes passionately in his product. Whan thinks women's golf is under-valued by the marketplace with a lot of growth potential, and he is correct about that.
But Whan, who took over as commissioner in 2010 after the disastrous Carolyn Bivens regime mercifully came to end, has had trouble at the back end of deals. And that has probably been more a result of the worst economy in 80 years than either his selling skills or the quality of his product. Whan took over with the tour in a 20-foot hole and he was handed a 10-foot ladder.
Finally, however, all that hard work -- those meetings and social functions where endless words were exchanged -- have started to pay off. The 27-tournament schedule released Tuesday by the LPGA could very well be the most crucial corner turned in a seemingly endless series of twists and turns during the 62-year history of the tour. The edge of that hole is now within reach.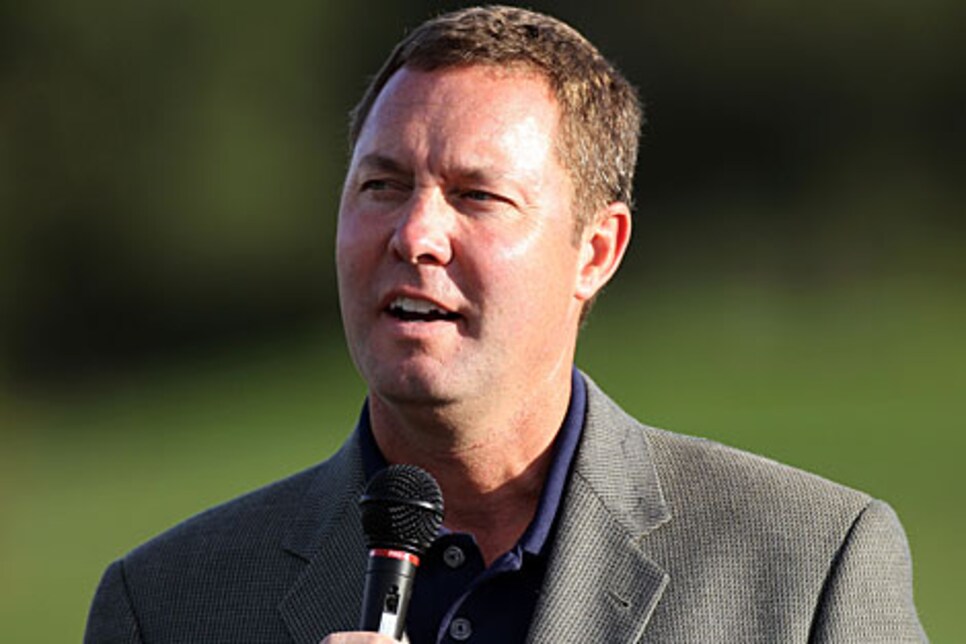 Photo by Sam Greenwood/Getty Images
Last year, Whan said the LPGA needed to have 30 events to function both financially and to get the media coverage it needs to grow. At the time, that seemed like a remote goal. After a season in which only 23 events were played -- the fewest since 1972 -- Whan's target date of 2013 for getting back to 30 seemed to be beyond reach. No more.
"At the end of last year, I felt like I was hitting a lot of good iron shots, but the putts weren't going in," Whan said about negotiating efforts that appeared at the time to go well and then failed to produce a title sponsor. "Now the putts are dropping," Whan said. Asked if 30 were now doable next year, he said: "I sure hope it's doable. If we don't get there, I'll feel like I'm under performing."
New to the 2012 schedule are the season-opening ISPS Handa Australian Women's Open Feb. 9-12, the LPGA LOTTE Championship at a yet-to-be-named course in Hawaii April 18-21, the Manulife Financial LPGA Classic in Waterloo, Ontario, June 21-24 and a return to the Kingsmill Resort in Virginia with the Kingsmill Championship Sept. 6-9. The Jamie Farr Toledo Classic in Ohio also returns Aug. 9-12 after a one-year hiatus.
There are way more positives than negatives in the new schedule. From the start in Australian until the conclusion at the CME Group Titleholders in Naples, Fla., Nov. 15-18, there are never more than two weeks without a tournament. Last year, there were two three-week droughts. Also, there are 15 domestic tournaments this year (plus two in Canada), up from 13 in 2011, which is good news for young North Americans trying to work their way on tour.
There is no question that the schedule does leave plenty of work for Whan to do. From when the first major of the year -- the Kraft Nabisco Champions -- ends April 3 until the Jamie Farr Toledo Class begins Aug. 9, there are nine off weeks. That's missing a lot of marketing opportunities during the heart of the golf season.
The limited field and unofficial money HSBC Brazil Cup fills one of those off-weeks May 5-6 and the LPGA does use its off weeks wisely. The tour skips the weeks the men play the Masters, the U.S. Open, the British Open and the Ryder Cup. In addition to the 15 events the tour has in the United States, the two in Canada and one in Australia, there are six in Asia, two in Europe and one in Mexico.
"It feels like we got all the basics right," Whan said about the success of the scheduling effort, which also managed to bring back nine of the 10 existing tournaments whose contracts were expiring, losing only the State Farm Classic after a 35-year-run. "It's about servicing your clients. We knew if we did that right, success would follow -- and it did."
Certainly, players are a big part of the formula for success. LPGA pro-ams consistently rank among the top customer experiences in the world of sports marketing and entertainment. Potential sponsors who visited LPGA events were also impressed with how well LPGA players interacted with corporate partners, Whan said.
Whan also got two other boosts form players last year. Yani Tseng emerged at the age of 22 as a superstar, winning seven LPGA events, including two majors, as well as five times overseas. And Lexi Thompson, still only 16, became the youngest winner on both the LPGA (Navistar LPGA Classic) and the Ladies European Tour (Dubai Ladies Masters), creating a lot of headlines for attention-starved women's golf.
Two events on the 2012 schedule -- the Mobile Bay LPGA Classic and the Kingsmill Championship -- don't have true title sponsors and will cobble together secondary sponsors to help with the costs while they search to someone to put their name on the event and pick up more of the tab. "If we weren't treating our customers right, people wouldn't say: 'Put us on the schedule and we'll figure it out,'" Whan said.
The rumored team event that would bring Asia and Australia into something resembling the Solheim Cup does not appear on this schedule and won't happen this year, but is still being worked on. It will happen, and with a unique format. It is not a question of if, but when -- and where. And that means another playing date down the road, albeit for a limited field.
Meanwhile, it would not be surprising if Whan were able to add one more full-field event to this year's schedule. "I still know there is at least one out there we could put on the table, but we haven't," Whan said about another potential title sponsor. "And I want to get them all." At the rate he is going, there is no reason to doubt he will get that one -- and many more.
Below is the full 2012 LPGA schedule:
OFF(HSBC LPGA BRAZIL CUP - UNOFFICIAL)MAY 3-6