LPGA Tour
Haters rejoice: The 'Great Wall of Dinah' won't be part of 2021 ANA Inspiration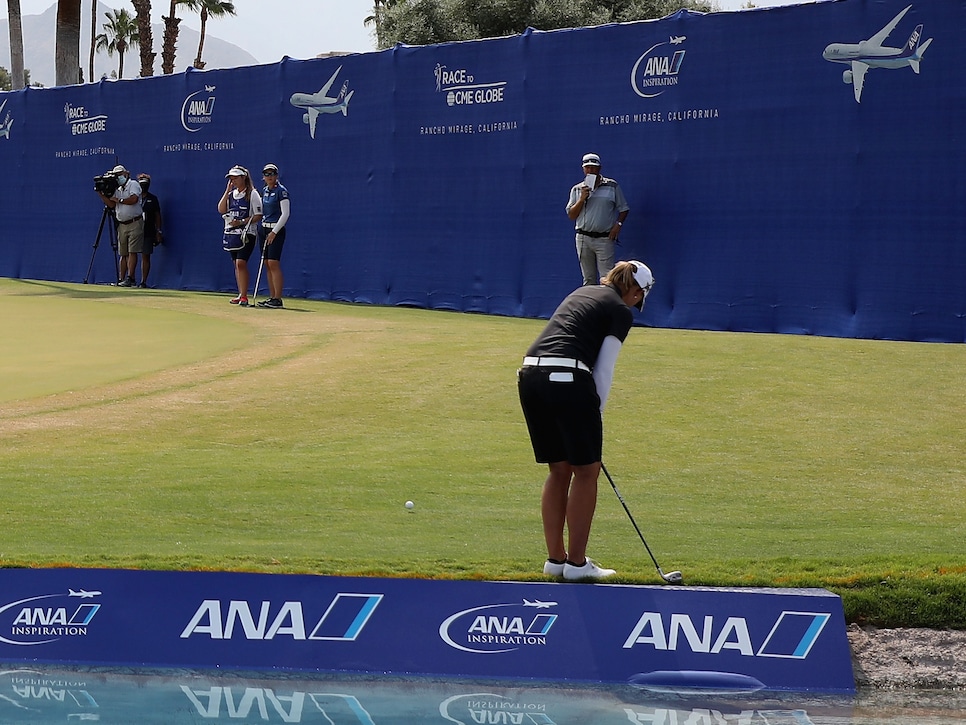 Katherine Kirk putts in front of the "Great Wall of Dinah" during the 2020 Ana Inspiration.
Christian Petersen
It was huge. It was blue. It was controversial. It was… a backstop on the 18th green at a major? At the 2020 ANA Inspiration, the hospitality tent that usually sits behind the 18th green wasn't there. With no fans on site, there was no need for any sort of stands. The 18th is a par 5, reachable in two if you have enough firepower. The hospitality tent historically prevented balls that were coming in too hot from running off the back of the green, into the water. To keep that from happening in 2020, an enormous blue wall was built. It became known as the "Great Wall of Dinah" in a nod to the previous name of the tournament and the name of the course, the Dinah Shore Tournament Course. The large fence behind the green kept—among others—eventual winner Mirim Lee's ball from going into the water. Players spoke openly about using the wall as a backstop during the event. Those displeased with the wall's involvement in the tournament didn't hold back.
But good news for all those who didn't like the wall: Even though there won't be any fans at the 2021 ANA Inspiration in order to follow COVID-19 protocols, the wall also won't be there.
A statement from the tournament explained that in this 50th anniversary of the major, the 18th green will be played the same way it was in 1972: as an island green. As the final groups come down 18, they'll have to strategize differently, no more confidently ripping a fairway wood onto the green knowing the wall will keep it in play.
One player who is certainly happy is Nelly Korda, who lost to Lee in a playoff. She said early in the week in 2020 that she didn't like the wall. "Honestly, I wish they didn't have that wall there because I think it would play really cool as like an island green," Korda said.
The ANA was moved in 2020 to September because of the COVID-19 pandemic, but in 2021 it returns to its early season slot in the first week of April.