Love's return engagement is less about redemption, more about a larger plan
Why Davis Love III? That's the big question in golf today after the U.S. Ryder Cup Task Force deliberated twice and decided on going back to the future with its selection of DLIII as captain of the U.S. Ryder Cup team in 2016. This will be framed as more about a long-term plan than it is bringing back a captain that lost. This is about what Paul Azinger told me in the wake of the closing Gleneagles news conference, where Phil Mickelson took over and praised the pod system Azinger rolled out en route to a U.S. win at Valhalla. Instead of promoting himself, Zinger promoted the idea of establishing a system like Europe has, where there's continuity not only in the selection of captains, but in the grooming of captains.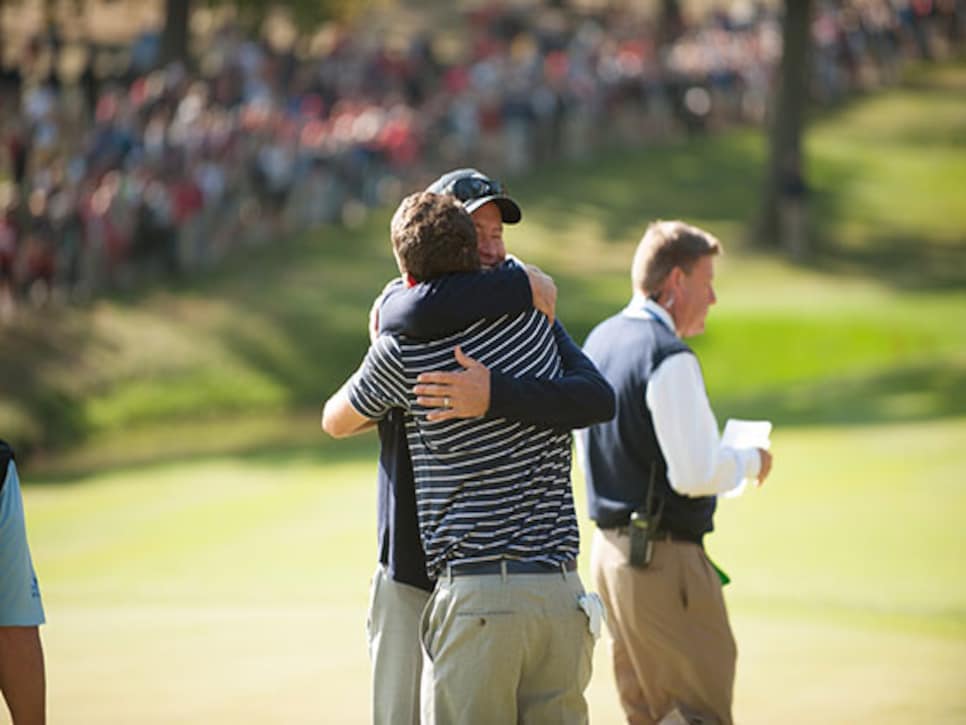 Thus, we're going to hear phrases at the news conference on Tuesday, Feb. 24 that this was "building the foundation" with a guy that not only orchestrated a four-point lead at Medinah in 2012, but that has been in the back rooms of Ryder Cups since 1993. You're also going to hear "captain by committee," where it's not just Love making important decisions at Hazeltine. He'll be the man out front, but it will be Love along with the respected Tom Lehman and a guy being groomed for the captaincy at Whistling Straits in 2020, Steve Stricker. The two players I traded texts with, Brandt Snedeker and Keegan Bradley, both played for Love at Medinah, and hailed his work as a communicator and leader. Like everyone on the losing side in the Miracle at Medinah, Snedeker and Bradley feel a sense a sense of letting Love down, and will be part of a Win One For Davis theme. "He was very prepared and listened to what every player had to say and gave us a voice in the process of picking partners," Snedeker said. "He tried to take the pressure off all of us." With Bradley you have to read between the lines because of all the players on the U.S. team at Gleneagles, he was victim of Tom Watson's old-school motivation tactics. "He deserves another shot," Bradley said of Love. "Because people forget about what a fantastic job he did pairing us up at Chicago. He keeps the locker room light and fun. He makes you excited to represent USA." Why not Fred Couples? We'll probably never get the real on the record answer. Fred told me at the Schwab Cup that he was not a PGA of America guy, and apparently that was true. That's not to say he won't be invited by Love to be in the team room. This way, Freddie can skip the dinners and the opening and closing ceremonies and still be a part of the support group. As a strategist, most of the lineup decisions during a 3-0 Presidents Cup captaincy were made by bringing in Stricker, Tiger Woods, Jay Haas, Phil Mickelson and Jim Furyk and asking for their consensus. True, Couples could have done the same thing as Ryder Cup captain. And true, he did have a conversation with PGA CEO Pete Bevacqua. But something happened in that second task force meeting at Torrey Pines that caused the PGA to take a step back and re-think the Couples captaincy. As for Azinger coming back, I've been wrong in saying it was because he got sideways with the PGA. If anything, it was more a case of the PGA not warming up to him after the win in 2008. According to a story by Rex Hoggard of Golfchannel.com, it was Azinger who recommended Love for the job after taking his name out of consideration for personal and business reasons. For Azinger, there's far more to lose than gain from another captaincy. It's different for Love, because as Azinger pointed out, European captains Tony Jacklin and Bernard Gallacher learned from their losses before producing victories. "Davis will bring continuity to the process," Azinger told Hoggard. Continuity is also a phrase we will be hearing at the official announcement of Love's captaincy at PGA of America Headquarters next week.   Continuity, building the foundation and captain by committee: It's stealing a page from the European Tour handbook on team building. Works for them. Let's see if it works for the U.S.