The Loop
Love meets Obama, invites him to Ryder Cup
BETHESDA, Md. -- Davis Love III already knows who he'd like leading off the Ryder Cup next year when the biennial match against Europe is contested at Medinah CC near Chicago. You can't do better than the Commander in Chief.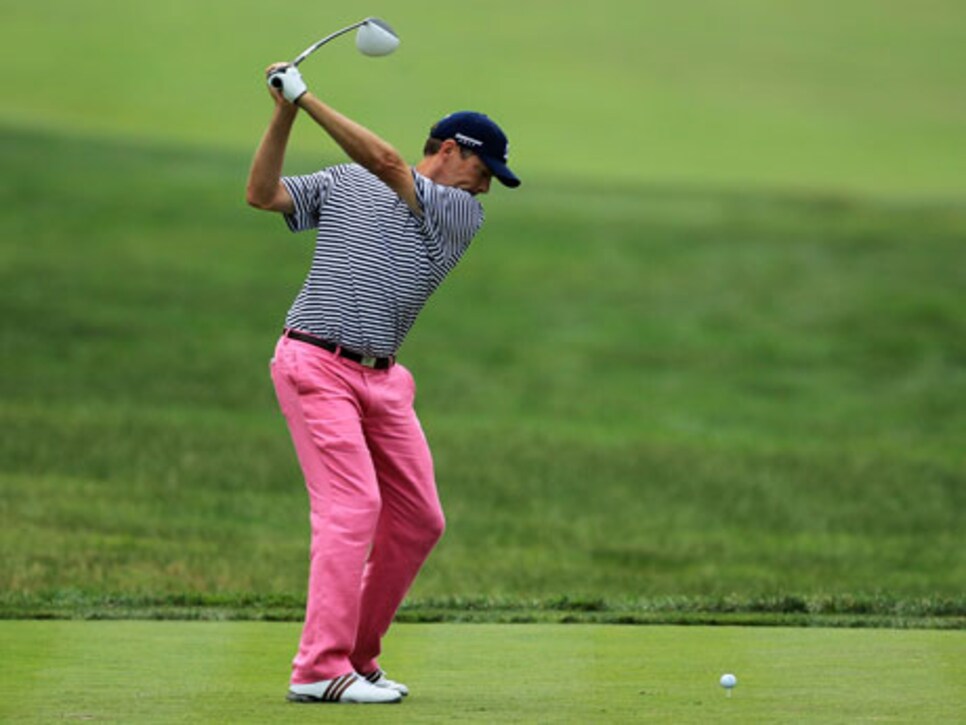 Davis Love III hits his tee shot on the ninth hole. (Photo by David Cannon/Getty Images)
Love, the U.S. Ryder Cup captain, joined fellow Americans Phil Mickelson and Bubba Watson for a visit to the White House Wednesday to meet President Barack Obama. The 44th president is an unabashed golf enthusiast, and he requested the trio visit him in the Oval Office. Love, 47, said he has met every president starting with Gerald Ford.
"It was a great time," Love said Thursday after shooting a 1-under-par 70 to begin the 111th U.S. Open at Congressional CC. "It's always exciting to meet a president you haven't met. We invited him to come to the Ryder Cup in his hometown. Hopefully, he'll come and get us started off at the Ryder Cup. He sounded like he wanted to come, but he's a little busy. I would imagine he'll be even busier next year (when he seeks re-election)."
Love, Mickelson and Watson, as well as Mickelson's wife, Amy, and Watson's wife, Angie, spent about 20 minutes with the president talking about golf. They presented President Obama with a few gifts. "He's a golfer and a golf fan. We brought him some clubs and a bag for his match on Saturday," Love said.
Obama and his vice president, Joe Biden, both Democrats, are scheduled to play a match Saturday at an undisclosed area golf course against Republicans John Boehner and John Kasich, both from Ohio. Boehner is the Speaker of the House of Representatives and Kasich is the governor of the Buckeye State.