The Loop
Love announces two assistants, other Ryder Cup plans
Ryder Cup captain Davis Love III confirmed what Fred Couples let slip at the Memorial Tournament, that he and Mike Hulbert would be the first two of Love's four assistants when they face the Europeans at Medinah CC in September. "I talked to Fred all the way back in January, so he did pretty well to keep it under his hat all the way to Memorial," said Love jokingly. "But talking to Fred about how we were going to do this, working with them on picking the other two, I think staging this is different than we've done in the past, but I am waiting on a couple guys to see how they play, where they fit in the mix of the points list."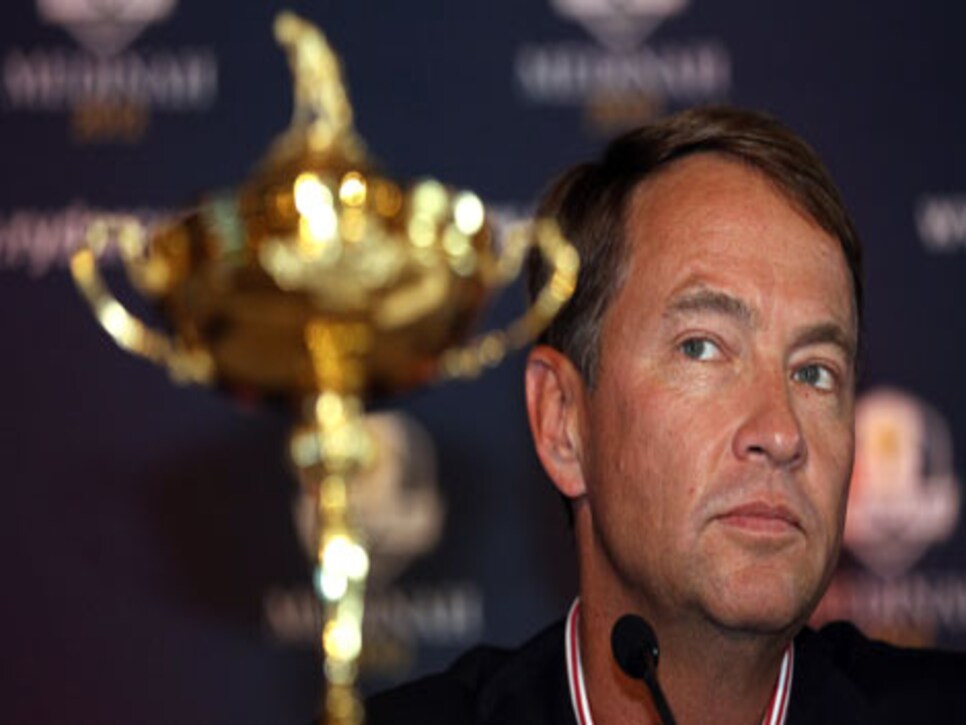 Photo by Andrew Redington/Getty Images
Love is leaning toward active PGA Tour players to round out his assistants, along with getting help from his brother, Mark. If veterans like Jim Furyk and Steve Stricker fall down the points list, they might well fill that role, just as Love did in Wales. "My next two are going to be harder," said Love. "I'm going to need to fill those gaps with guys that are out here playing -- like Corey (Pavin) did with Paul Goydos and myself. That's what Fred and Mike and I are doing right now is trying to figure out who's the best fit for the next two."
Of more interest was what Love had to say about the actual playing of the matches. "The three of us and a lot of other players, we've gotten together and decided that we think we'll go with the alternate shot format first in the mornings on Friday and Saturday," said Love. "We feel like with our team, the way it's shaping up, the way it's played in the past, that's a good thing for us to do right off the bat in the morning. We feel like across the board, the players that I've talked to were either for it or heavily for it. So, I think we have a lot of confidence that we're better at that format than people think we are, and we're going to go with that in the mornings and it'll give us more flexibility for having to make pairings in the afternoon for best ball."
Love also gave some indications on how he was leaning in course set-up. "We really haven't made any hard-and-fast decisions yet," he said. "It's hard to have a short-hitting team these days, so we're probably going to be a long-hitting team. I would think that the shorter rough, more creative shot making, firm, fast greens like we've been playing. That's what we're used to over here. We're used to making a lot of birdies, too. I think we want to at least tie or win holes with birdies because that gets the fans excited. But Medinah is Medinah. It's going to be a big, hard, long golf course no matter what we do."