The Loop
Louise Suggs, 91, dies; one of 13 LPGA founders
Louise Suggs, one of the 13 women who founded the LPGA in 1950, died Friday from complications of melanoma. She would have been 92 on Sept. 7.
"Her mind was as sharp as a tack to the end," her friend, former LPGA player Meg Mallon told me. "But the body just couldn't go on."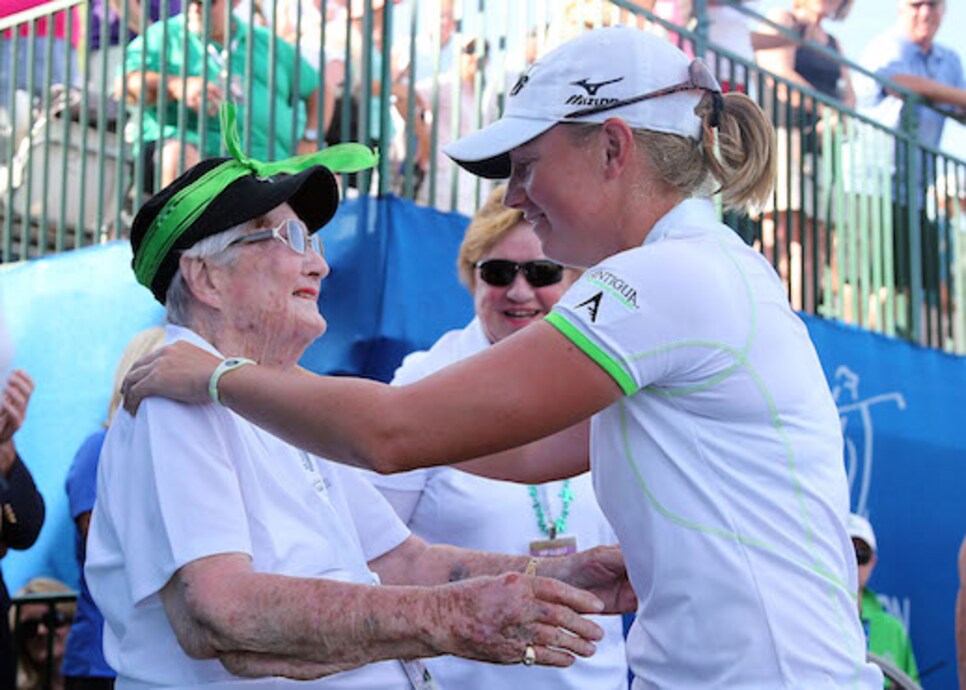 Suggs greets Stacy Lewis at the RR Donnelley LPGA Founders Cup in 2013 (Getty Images)
With 61 career LPGA victories - trailing only Kathy Whitworth, Mickey Wright and Annika Sorenstam - and 11 major championships - third behind Patty Berg and Wright - Suggs was recognized by her peers as one of the best ever to play the women's game.
In the eyes of the public, however, Suggs was often lost in the more flamboyant shadow of Babe Zaharias, a rival Louise was never fond of, saying the Babe "wasn't a golfer; she was  a showman."
(See the October issue of Golf Digest for more on the Suggs/Zaharias rivalry and other anecdotes shared with me by Louise.)
A member of the World Golf Hall of Fame, Suggs had a Hall of Fame career even before the LPGA was founded in 1950, winning the Western Open in 1946, '47 and '49; the Titleholders in 1946 and the U.S. Women's Open in 1949. She also won the 1947 U.S. Women's Amateur and the 1948 British Ladies Amateur.
Until this year, Louise would attend the Masters every year - she grew up in Georgia and was one of the last people to play a round of golf with Bobby Jones - and sit in a chair outside the back door of the clubhouse. Many of the players in the Masters field would stop by to pay their respects.
Louise, who will be cremated and have her ashes spread on the graves of her parents in Georgia, loved a good scotch and she loved the LPGA.  "This is my baby," she would say to new players on tour. "Don't screw it up."
Of the 13 founders - Alice Bauer, Patty Berg, Bettye Danoff, Helen Dettweiler, Marlene Bauer Hagge, Helen Hicks, Opal Hill, Betty Jameson, Sally Sessions, Marilynn Smith, Shirley Spork, Louise Suggs, and Babe Zaharias - only Smith, Spork and Hagge are still alive.
In Suggs, the game of golf has lost one of its greatest advocates - and one of its greatest players.  And the LPGA has lost one of its fiercest fighters for respect of the women's game.