Courses
Everything is bigger in Texas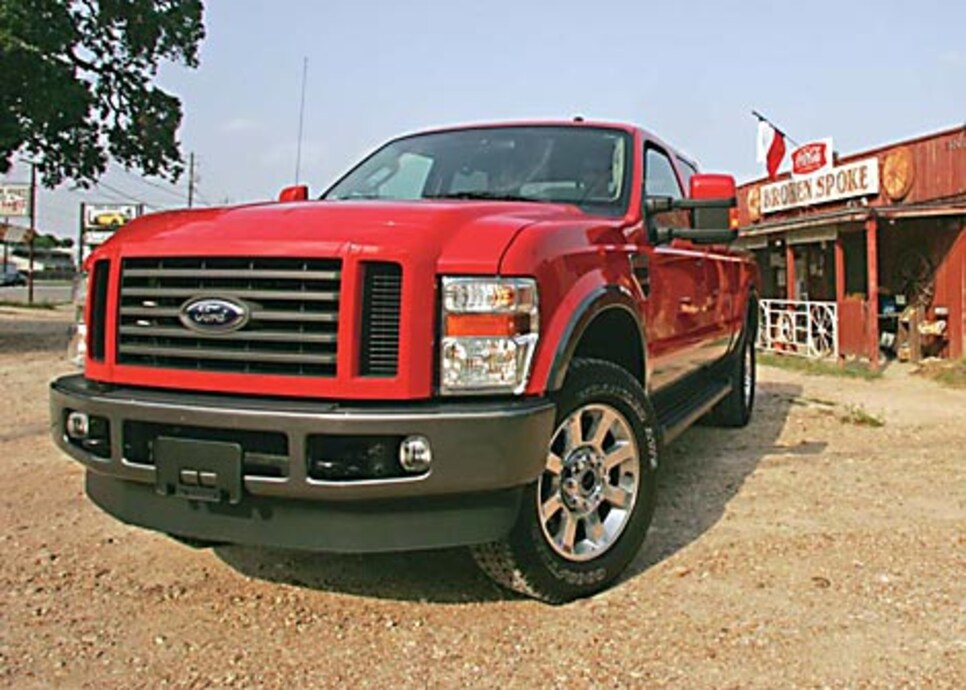 The Broken Spoke, an Austin country-music institution
I had a professor once who interrupted class to take us out to see one of the first hybrid cars sold in America -- an embryonic Toyota Prius. This car, he said, will change the way people think about personal transportation.
The reality of $5-a-gallon gas might drain the enthusiasm of less-committed oil-burners, but things like tow rating, legroom and road presence still matter. Especially in a place like Texas -- where everybody knows a king-size bed has nothing to do with sleep.
"Restful" is the last word you'd use to describe the lava-red Ford F-350 Super Duty truck we used to scout great barbecue and golf from Austin to Dallas. It's a rumbling, chromed-out, 7,000-pound anti-Prius, with a double-turbocharged 6.4-liter diesel engine and 20-inch all-terrain tires. In a Prius, you can back silently out of the garage on electric power. With the Super Duty, you could pull the garage down, haul the wreckage to the landfill in one trip, then tow six Jet Skis to the lake.
A bigger carbon footprint isn't always sensible -- and at $57,000 fully loaded, it certainly isn't cheap -- but for this route, a Texas-flavored hot rod big enough to have a retractable step ladder in the tailgate was hard to resist.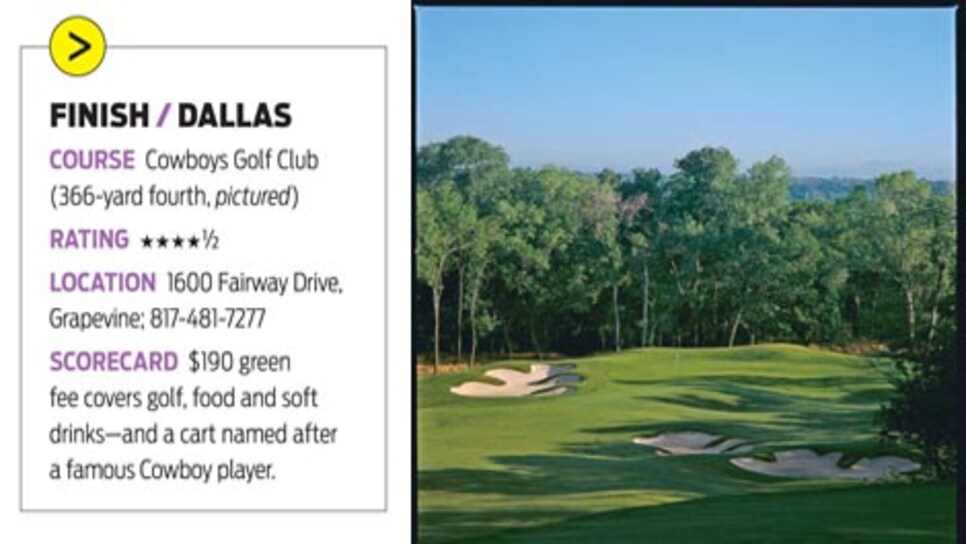 Lording above the rest of the Austin traffic in the seven-feet-tall cab, it's easy to be seduced by the commanding driving position. You feel like you're on the bridge of the Starship Enterprise, but with six (!) cup holders in the center console and giant side mirrors. And no Spock.
Negotiating a drive-through in a 20-foot-long truck is a challenge, but on balance, Texas is ideal for something like the Super Duty, with vast gravel parking lots, wide freeway lanes and plentiful diesel pumps. I even parallel parked in front of the Fort Worth Stockyards without wiping out the trio of Harleys behind me, to a smattering of applause from bikers at the White Elephant Saloon across the street.
Austin's Sixth Street has a well-deserved reputation for great food and drink, but if local delicacies motivate you, make the 30-mile trip south to Lockhart, the undisputed barbecue epicenter of Texas.
Fueled by equal parts seasoned oak and a nasty family feud, Lockhart is home to two of the state's greatest 'cue joints. Try to follow along: The original Kreuz Market butcher shop opened in 1900 and was purchased by Smitty Schmidt in 1948. Schmidt's kids got into a fight in 1999 and split up the family's barbecue legacy. Daughter Nina runs the original storefront location downtown, called Smitty's, and son Rick opened the gigantic Kreuz Market a quarter mile up the road.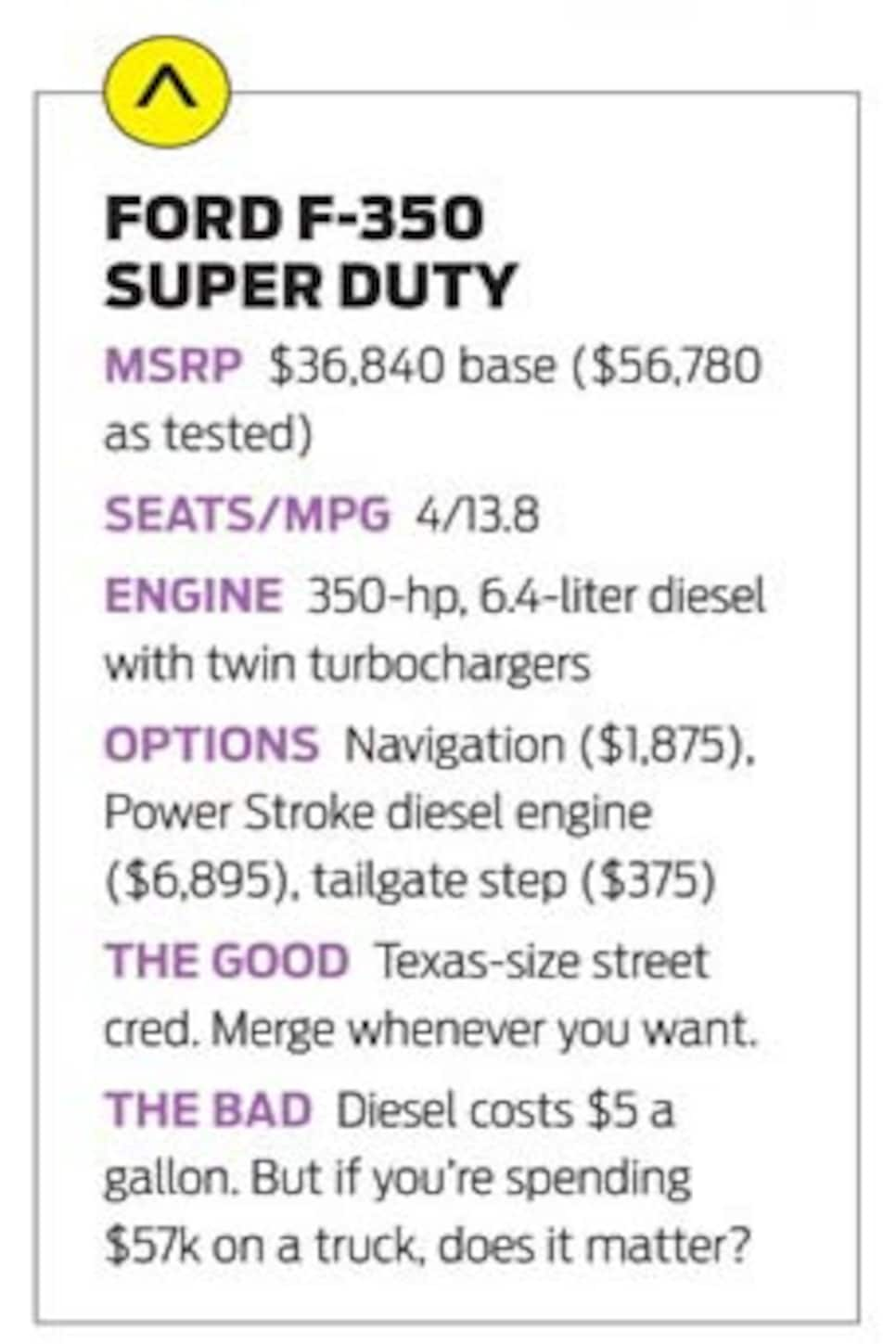 It's impossible to pick which is better, so eat at both. The brisket, ribs, pork chops and sausage are so good that you don't need sauce. Or a plate. Or silverware. Pick out what you want off the board, and it comes on a piece of butcher paper with slices of Wonder bread to catch the grease. Accessorize with a plastic cup of potato salad and a Miller High Life, and there's no reason to move for at least an hour. The smoke pit at Smitty's sits right inside the back door -- step wrong, and you'll burn yourself on the open flames when you come in -- and you'll walk out smelling like a forest fire. But that's kind of the point, isn't it?
A pound of brisket, four pork chops, six beef ribs and four sausage links later, we shook off our protein coma for the 230-mile trip up I-35 to Dallas. The Super Duty's cabin is a comfortable -- and surprisingly quiet -- place to be, with the massive diesel yawning along at an understressed 1,800 highway RPMs. You won't confuse it with a Lotus -- or even an Escalade -- but the sequential turbos make passing drama-free. It does help that runty cars give you plenty of room, out of self-preservation. The hard-plastic dash pieces clang at this sticker price, but this is technically a work truck, and mud (or barbecue sauce) rinses right off.
Keeping with the trip's subtle, understated flavor, we played Cowboys Golf Club -- the team-affiliated course in the northern Dallas suburb of Grapevine. If you've forgotten that the Cowboys won six Super Bowls, the full-size replicas of the Lombardi Trophy in the lobby will remind you. But get past the kitschy star-shape practice green and Cowboys is a blast -- with big, sprawling holes that aren't crowded by the housing developments that infest the rest of metro Dallas.
Cowboys' $190 green fee is stiff, but it includes all the food you can eat, all day. Catatonic from Lockhart barbecue, we could only rally for jalapeno dogs at the turn and chips and queso from our Tony Romo-uniformed waitress in the clubhouse.