News
Long time coming, Paul Dunne breaks through to win the British Masters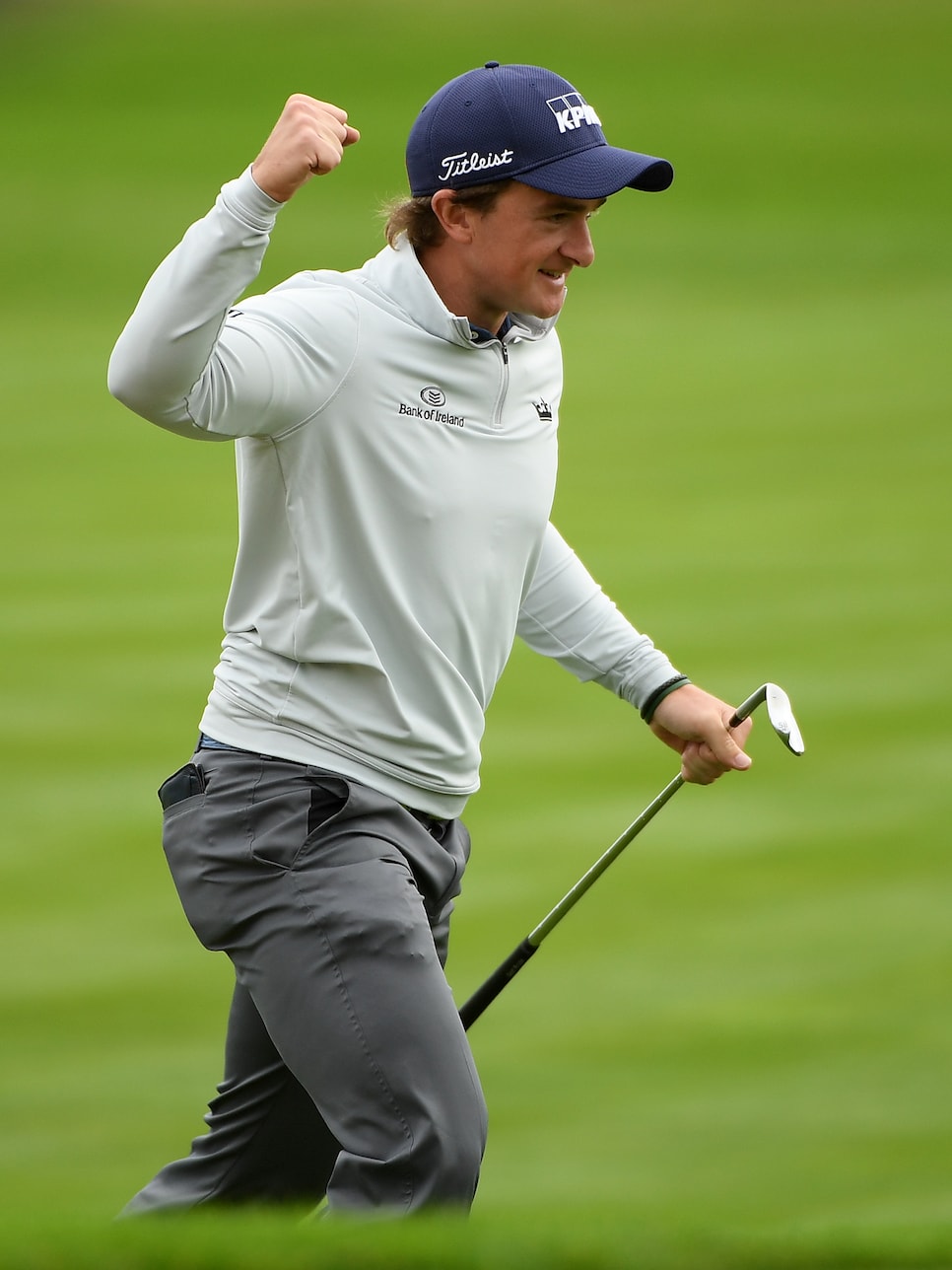 You'll remember Paul Dunne. He was the then-22-year-old amateur who shot 66 in the third round of the 2015 Open Championship over the Old Course at St. Andrews and led the world's best golfers into the final round. He didn't win then -- a closing 78 played a part -- but he has now. Chipping in for one last birdie on the 18th hole at Close House in the northeast of England, Dunne's remarkable nine-under par 61 saw him claim a maiden European Tour title at the British Masters.
Not yet 25 -- but noticeably bigger and stronger than he was back in 2015 -- the slow-moving Dubliner eventually finished three-shots clear of his fellow Irishman, Rory McIlroy, on 20-under par for four circuits of the hilly 6,831-yard course. Former European No. 1 Robert Karlsson was alone in third place, but no one else was within six-shots of Dunne, the 51st Irish winner on the Old World circuit in what was his 51st tour event.
All in all, it was a performance of great maturity from the new champion, who earlier this year lost a playoff to Edoardo Molinari at the Trophee Hassan in Morocco. Only three bogeys dotted his cards over the 72 holes, the last 24 of which contained nine birdies and an eagle. Just as well, too. Gradually building both momentum and enthusiasm for the penultimate tournament of his stop-start 2017 season, McIlroy was nearly as impressive. Over those same 24 holes, the four-time major champion notched up ten birdies.
"There is a sense of relief to prove it to myself that I can get it done," said Dunne, who earned €562,500. "I think I've improved a lot mentally over the last year in these kind of situations. On a lot of Sundays last year I found myself feeling like I needed to press forward trying to chase my card. I struggled with that. My Sunday performances weren't that strong. And this year, it's something I've definitely improved on.
"A lot of players in the world top 50 were here. That obviously gives me a lot of satisfaction to know that I can beat players of that calibre."
Speaking of whom, the current world No. 6, McIlroy, was happy enough at the end of a week that began with him appearing more indifferent than excited at the prospect of ending 2017 winless.
"It doesn't really matter," he had said on the eve his penultimate appearance this year. "I'm here to try to win and I hope to play well. That would be great. But if it doesn't happen, I'm OK with that."
The Northern Irishman is a competitor though. And, with the whiff of victory in his nostrils, he shot 127 over the weekend, a total bettered only by Dunne's 65-61.
"I actually feel like I played better once I got into contention, which is a nice thing," said McIlroy. "I felt like it focused me a little bit. That felt good. I got into my routine. I did what I had to do. I hit good shots. I made good strokes and holed some good putts. Shooting 64,63 over the weekend, I would have thought would have a chance. It just shows how good Paul played."