News
Long on confidence and ambition, Matt Wallace feels he's just getting started
He's enjoyed a meteoric rise, but has no interest in stopping now
Out and about on the European Tour, the first thing you hear about Matt Wallace is that he doesn't lack confidence and is never slow to tell you exactly how good a player he is. And why not? Over the last two years or so, his has been one of the more rapid advances through the professional ranks. As recently as 2016, the now 28-year old Englishman was competing on the France, Italy, Austria, Switzerland and Morocco-based developmental Alps Tour, where he won six times, including five times in succession.
"I got to know what a struggle golf can be," he says. "I went there because I wanted to learn how to travel. The EuroPro Tour was an option but it is based in the U.K. and you can drive to every event. It's easy and you know where to eat. On the Alps Tour you don't know when your next meal is going to be. I went to places where they weren't familiar with English or the language. I had to learn how to say 'bread' in a few different languages. But it was all good for me and helped me enjoy the good stuff. I spent three years losing golf tournaments. I don't want that to happen again."
Clearly. After beginning last year on the Old World's second-tier circuit, the Challenge Tour, Wallace ended it a winner—at the Portuguese Open—on the European Tour.
This season, Wallace added three more victories in India, Germany and Denmark, the most recent of which was achieved by dint of eight birdies in his last 11-holes. That spectacular run on then European Ryder Cup captain Thomas Bjorn's home course of Silkeborg inserted the former Jacksonville State student into belated but serious contention for a wildcard pick into the biennial contest with the United States.
It wasn't to be. He didn't make the trip to Paris. But Wallace was surely a big part of the behind-the-scenes debate that saw Bjorn go for experience in the shape of Paul Casey, Sergio Garcia, Henrik Stenson and Ian Poulter rather than raw, untested talent.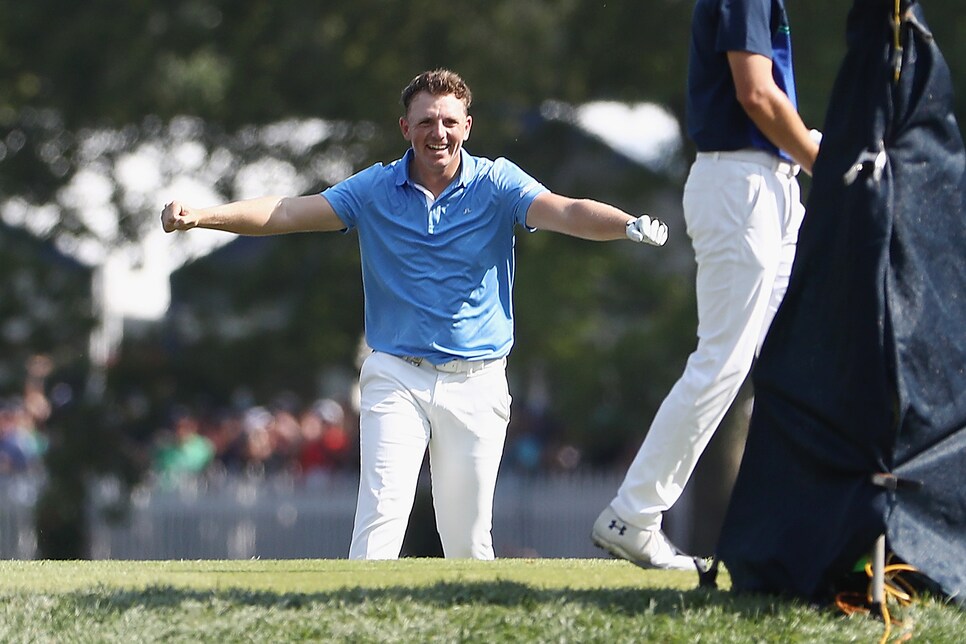 "It was amazing to be part of that conversation," says Wallace. "If you'd told me at the seat of the year I would be close to making the team I would have bitten your hand off. So, although it was disappointing at the end, I gave myself a great chance. I did everything I could do. Only the big events in the summer let me down (he missed the cut in four successive events—the French Open, Irish Open, Scottish Open and Open Championship). But that is part of learning during your first year on tour. So, while it was hard not to make the side, it is hard to disagree with what Thomas did. I'm certainly not arguing. He made the right picks. I'm a European fan, so to see them win was amazing. But it has also added to my desire to make the next team."
Ah yes, desire. Alongside the assuredness with which Wallace goes about his business on and off the course—prior to the interview for this piece his challenge was, "try and stump me with a question"—there is a clear passion to succeed at the highest level. Which is not to say he is there yet. Amidst the successes of the 2017-18 season, Wallace either missed the halfway cut or finished lower than 30th in 17 of his 27 starts. Consistent he is not.
"I try on every shot," he insists. "To the end. I feel like every event I play could be my last. Which is why you see frustration or disappointment if I'm not in contention. And yes, I've had way too many 30ths and up rather than 20ths and down. But when I get a sniff, I push the boundaries to get there. When I'm not in contention, I don't do that enough. I've spoken to my team about that. And I'm getting better. At the Dunhill Links I was about 50th with a round to go and all I was thinking about was trying to get into the top 20. I ended up 26th. But I gave it a good go. And that is how I have to be every week. It's the best way to world-ranking points—charging on a Sunday even when you're not going to win."
Still, let's get serious here. While there is an inevitable undercurrent of frustration in Wallace's words, some perspective is required. We are talking a pretty dramatic level of acceleration here. At the end of 2015, the former Argentine and Czech amateur champion was ranked 1,173rd in the world. One year later he was up to 221st. At the start of this year he was up again, to 127th. And today he is 61st. Not too shabby.
"What people sometimes forget is how fast things have happened for me over the past 18 months," he says. "I've had a pretty meteoric rise. So I'm in the spotlight. People now expect me to do well. But that is part of being a winner. If I hadn't won three times and come fifth instead we wouldn't be sitting here talking. But three wins creates interest. So I'll take the line that says when I'm in contention I win over being consistently in the top-20.
"I don't understand people who say they want to be more consistent. I want my bad golf to be better or good. I want to be off my game and still finish 20th. But that isn't what people remember. No one cares about me finishing 20th. It's all about winning. I love winning. I love showing people what I can do. I love to hear them say, 'Wow, that was mental what you did there.' I heard that a lot after what I did in Denmark. I love to do things that people don't normally see."
In order to further improve, Wallace works with fellow European Tour player Robert Rock on his already aesthetically-pleasing action. And he has one of the most experienced caddies on his bag. Irishman Dave McNeilly has walked round with the likes of Nick Faldo, Nick Price and Padraig Harrington in the past. And America has played a part in his career-rise too. Wallace speaks warmly of his year in Alabama at Jacksonville State.
"Going to America helped my game massively," he confirms. "I went there when I was 20 after two years of not really knowing what I wanted to do. I wasn't a very good player, dabbling in county golf. I was working too and using the cash to go out partying. My Dad told me I needed to find my feet and what I wanted to do.
"It was hard graft. Workouts at 6 a.m. Classes until 2 p.m. Then golf until 7 p.m. Then repeat every day for three months. But when I came home I was promoted into England Golf's elite squad. That was special, so I decided not to go back to the States, even though I had done well over there. I won freshman of the year in my conference. My team won the conference and I had a decent stroke average. But I still wasn't close to the player I am now."
As for the future, Wallace is keen to further establish himself on the European Tour before he considers anything like a full-time switch to the PGA Tour. Moving up another 11 places on the world rankings will, however, give him the opportunity to dip his toe into American waters more often. So far, he likes what he has seen. This year at the PGA he finished 19th, making a hole-in-one along the way.
"I don't want to go over there too soon and have to learn how to win again," he says. That could take me four or five years. I can learn how to play with the best in the majors and the WGCs while based in Europe."
Not that he needed it necessarily, but Wallace's limited experience of golf PGA Tour-style has already boosted his confidence.
"One thing I have seen in the top players is that they are not that far away from me," he continues. "In fact, there are aspects of my game they might want to have. Having said that, I played with Jordan Spieth at the PGA and his wedge play was amazing. He hit one shot where he faded the ball onto the flag. Then at the next hole he drew one in stiff. It was the ultimate example of control, fearlessness and execution.
"So yes, they all have things I'd love to have. But what I have is the head, the heart, the no-fear factor. When I'm trending, watch out. And when I'm not trending don't rule me out either."