The Loop
Jaime Diaz's insightful Golf World column on Arnold Palmer on the occasion of his 80th birthday has drawn an enthusiastic collection of letters and email. Jaime wrote:
__"Palmer's distinction was simple but definitive. In a sport that more than any other compels its greatest players to turn inward, Palmer stayed outward....Palmer's singular gift was that when he won--and even when he lost--he instinctively shared more the experience with those watching than any champion before or since. So powerful was the effect that it made the three all-too-short years he was alone at the top of the game, 1960 to 1962, the seminal period on which modern golf is built..."
Here are a couple of the millions of fans that Arnie reached out to.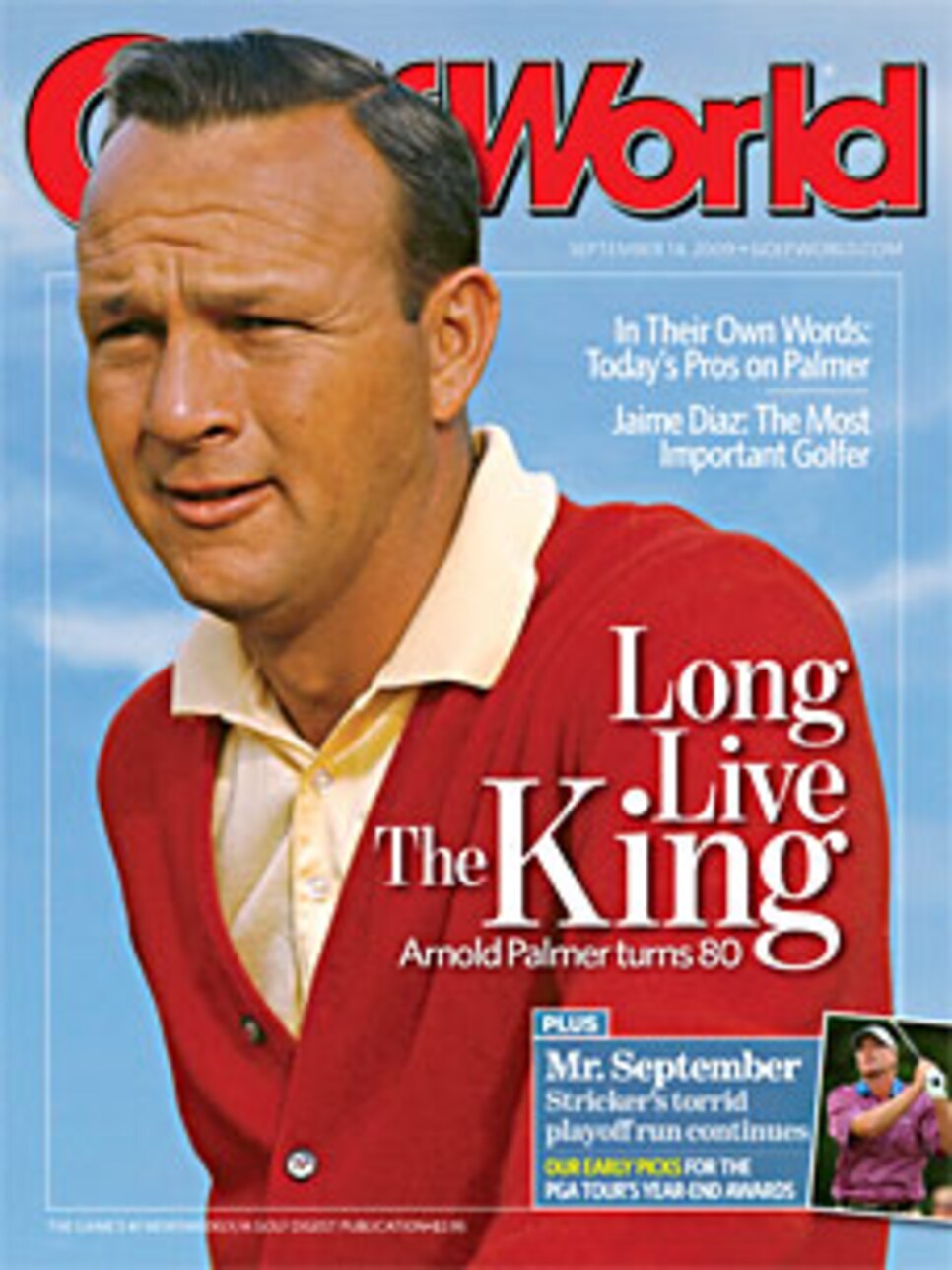 __Dear Editor, Jaime Diaz's article hopefully brought back fond memories for many who have cherished Arnie's contributions to the game as a player and spokesperson for our beloved sport. For me, a first encounter of the golf icon kind came at Rancho Park in the 1967 LA open where Arnie performed magic at a muni as his ardent army saw a man who relished the challenge that an errant shot might present. We all hit it sideways on occasion, but Arnie's swashbuckling bravado, although it may not have always presented instant reward, was entertainment well worth the price of admission. As Jaime points out, his charisma goes well beyond his skill on the course. He has always been a man of the people, by the people and for the people of golf, no matter what your handicap might be! He is a king who needs no crown or title for that matter! Thanks, Jaime and Golf World for covering his 80th so well.
We also got a copy of a letter to Arnie from Illinois fan Herb Gregory.
Over 48 years ago--in the summer of 1961--you played in a special golf exhibition at Drumlin's Country Club in Syracuse, New York. Joining you were the late Mike Souchak, Big George Bayer and the wiry Paul Harney in what was a most enjoyable, memorable day for everyone. You had started building your reputation as "The King" following your Masters championships in 1958 and 1960, and the U.S. Open title in 1960.
Syracuse is not known as a golfing mecca. Your coming to that area after those recent successes just forever endeared you to me, as well as to countless followers in "Arnie's Army." Having lived in Syracuse at that time, I was very fortunate to have been part of an appreciative crowd [that followed you]. All of us were grateful for your taking tim then to share your golfing passion with us.
Arnie, you've been the real face of golf for decades. You've been the leading force in building what the tour and all other golf is today. We're thankful and grateful.
Adding to this, you've created greater awareness for prostate cancer. Like you, I'm a survivor. You've helped others become aware of this dreaded disease and to act sooner, not later. Your early treatment no doubt has enabled you to reach 80. There must be many men owing their life extensions to the awareness you've helped to create.
Thanks for everything, Arnie. You will always be No. 1.