Podcasts
We carefully examine the relationship between ultra-wealthy financers and aspiring tour pros in our latest podcast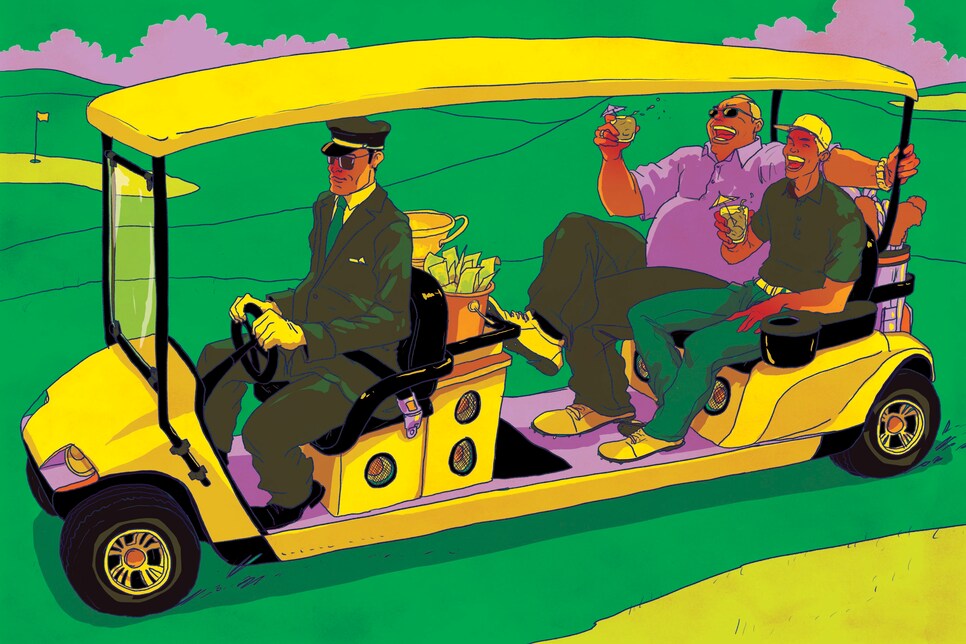 Ah, the life of a PGA Tour pro. Flying around the world, following the sun, playing for millions week after week after week. Great work, if you can get it.
It's getting it that's the problem. Sure, there are a few unicorns per year—top amateurs who sign seven-figure endorsement deals the day they turn pro, then bypass the mini-tours entirely by taking advantage of their plentiful sponsor's exemptions. But for every Collin Morikawa or Jon Rahm, there are thousands clawing for any opportunity to jump-start their professional golf journey.
And that journey, for all but a select few, is unglamorous. Unglamorous and pricey. Between entry fees, flights, gas, rental cars, hotels, and for the more buttoned-up events, caddies, playing a full season of mini-tours can cost up to $50,000 a year. Which is fine, so long as you've got that endorsement money, or if you're also getting starts on a tour where a top 10 can earn you over $100,000. But if you're not one of the unicorns—if you're someone like Will Wilcox, who played at a Division II school and racked up a criminal record, making corporate sponsorship a tough sell—where is that money supposed to come from?
From rich people, of course.
This week's Local Knowledge zooms in on the world of the PGA Tour Sugar Daddy, loosely defined as a wealthy individual who decides to financially support an up-and-coming professional golfer, usually in exchange for some piece of the player's future earnings. It's an entertaining ride that meanders through deep woods Alabama, where we meet Wilcox and his benefactor, a bookie-turned-used car salesman named Tim Jackson. We hear from PGA Tour pro Joel Dahmen, who lucked into meeting a man who bankrolled him not just in golf, but through his cancer treatment. And we examine the career of a 31-year-old mini-tour journeyman who once beat Rickie Fowler and Dustin Johnson in match play, in the same tournament, when he was 17, but now relies on a sugar daddy to keep his dreams of playing on the PGA Tour alive.
We also look at the risks involved in these one-on-one agreements, which often times aren't codified into a legally enforceable document. It's the wild west of contracts, and there are plenty of examples of these situations going horribly wrong.
But again, for some guys, there is no choice. Surely, they'd prefer to have their money come from Titleist of Morgan Stanley, but not everyone can be so lucky.
Take it from Dahmen: "A lot of people say, if you're good enough, you'll always make it," he says. "I don't know, without Bob—would I ever even have tried?"
We explore these issues in this week's episode of our "Local Knowledge" podcast: