The Loop
Lizette Salas' improbable journey
RANCHO MIRAGE, Calif. -- The LPGA is not readily accessible to a daughter of Mexican immigrants who was reared in a nondescript town a few miles east of Los Angeles, in a neighborhood where collars are predominantly blue.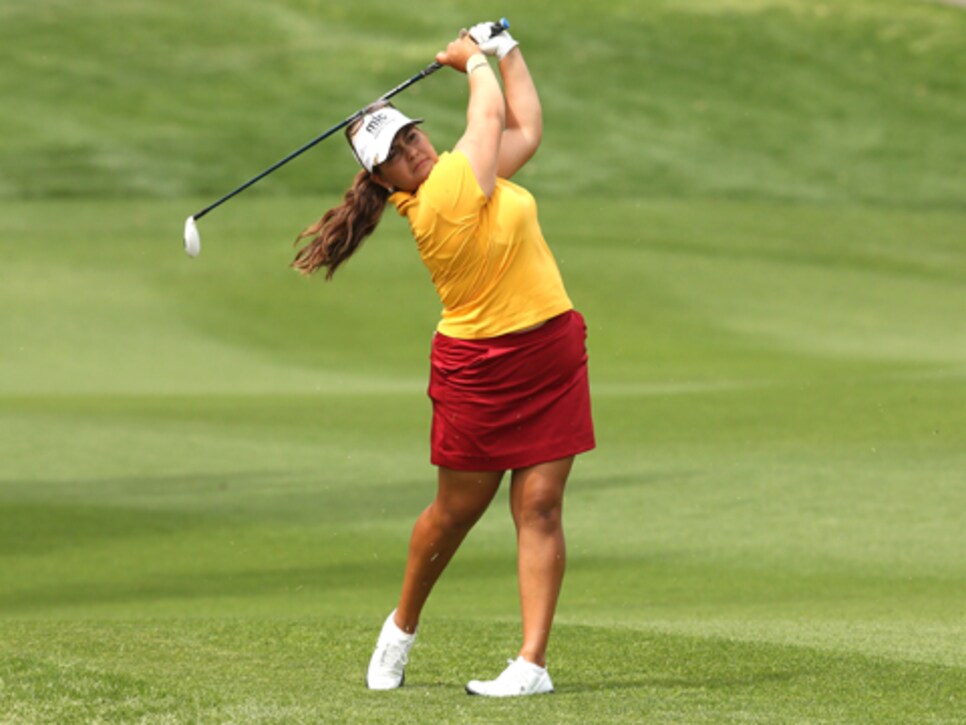 Lizette Salas hits her second shot on the second hole during the final round of the Kraft Nabisco Championship. Photo by Stephen Dunn/Getty Images
"Golf was not the thing you do where I grew up," Lizette Salas said. She is from Azusa, Calif., a town that in a broad context claims little more than the middle stop in the old Jack Benny Show routine announcing the next train to Anaheim, Azusa and Cucamonga. There was no rail service to Azusa.
Yet there she was at the start of play on Sunday, in second place and vying to win the prestigious Kraft Nabisco Championship. She might have been steamrolled in the final round, dropping six strokes behind on the first hole and falling to a tie for 25th. But her performance through three rounds allowed her story to be introduced to the wider audience it deserves. At 23, she is one of the better young players in golf, in defiance of the odds against her.
Her father Ramon is a mechanic who landed a job fixing golf carts at Azusa Greens Country Club, which is not always green and is not a country club, but a daily-fee course. When Lizette was seven, Ramon took her along to work one day. The head professional there offered Ramon a couple of handyman jobs, but in lieu of pay, he asked the pro to give his daughter golf lessons.
She took to the game and has become a budding star whose appeal is not confined to golf. She has talent and personality in equal measure and an unlikely story, though not an unfamiliar one. Nancy Lopez provided the template.
"We have a lot of things in common," Lopez said, citing their respective fathers, each a character, who introduced their daughters to the game and did what was necessary to nourish the passion they developed for it.
Salas recalled her father bringing her and a friend to the Kraft Nabisco Championship one year to watch Mexican native Lorena Ochoa. She brought with her a small banner that read, "usted puede hacerlo." You can do it.
Salas eventually earned a scholarship to USC and became a perennial All-American and the first in her family to graduate from college.
When she turned professional, she joined the Symetra Tour and traveled with her father in his red 2006 Toyota Tacoma pickup, "across the country three times, just to save money," she said. "I didn't have any sponsors and my dad was my caddy, so that saved a lot." They also spent nights sleeping in the cab, another cost-saving measure other similarly-driven golfers aren't required to endure.
Lopez, meanwhile, learned of her story and how it was remarkably similar to her own and reached out to her, the beginning of a relationship in which Lopez has become a mentor, "kind of my second mom, on tour," Salas said.
"I saw her play in Phoenix this year," Lopez said. "She hits the ball very well. She's strong. I just wanted her to not try so hard. She's a lot like I was, trying to make things happen, sometimes trying too hard. You just have to let it happen."
Eventually it will, it seems. She needs to heed her own advice. "Usted puede hacerlo." You can do it.