The Loop
Live from Demo Day at the 2015 PGA Merchandise Show
A warm-up club that isn't weighted - it's bent
When someone says they have a warm-up swing aid, I immediately assume they're going to hand me something weighted. The guys at DST handed me something quite different: a regulation weight club, but the shaft is bent to mimic the shaft's position at impact. You set up like you would to take a practice swing, and then make sure that the white line on the hosel lines up with the bottom line on the club. Once these are lined up, line them up with your chin. Because of the bend in the shaft, this is going to force you to push your hands forward and give you the feeling of hitting down on the ball - it mimics where you should be at impact. Retail is at $99.
A super cool new towel ... literally!
I found the Demo Day equivalent of click bait a little while ago, in the form of this poster.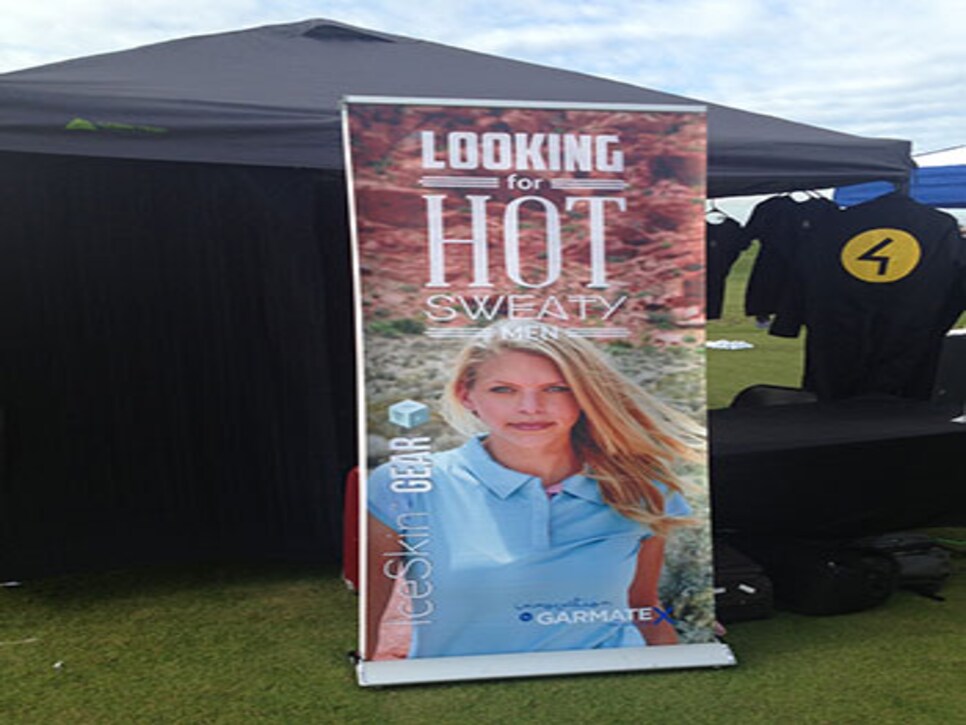 Turns out, the booth was selling a towel that can help keep you cool on the course. IceSkin uses jade minerals woven into the fabric are activated as they absorb your sweat, naturally taking thermal energy away from the body. The company, making its debut at the PGA Merchandise Show, is selling neck towels ($15, shown) and bath towels ($60).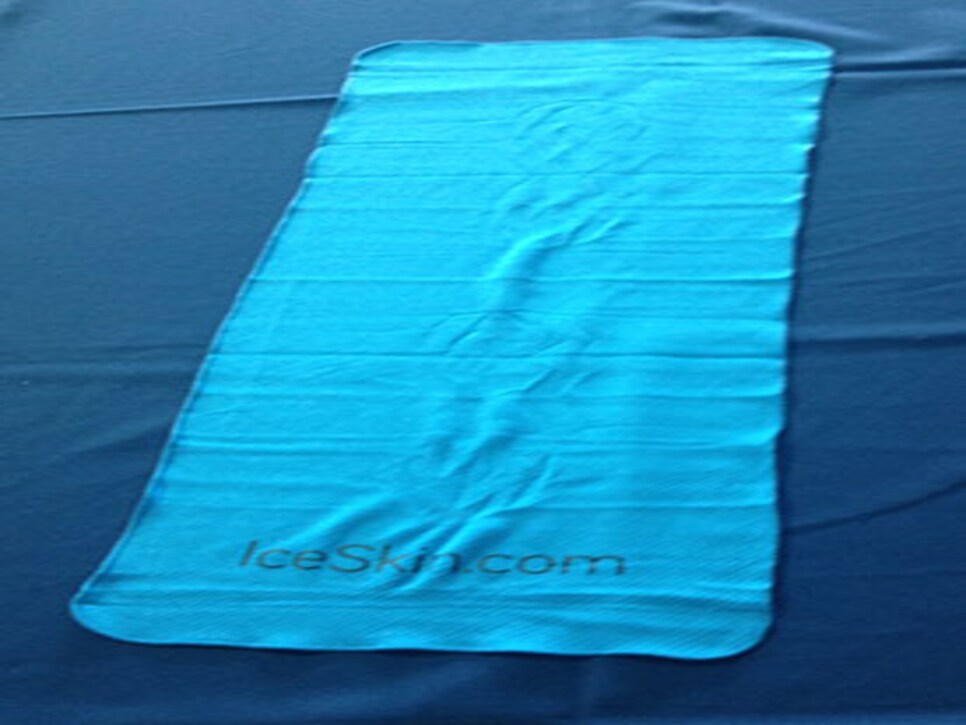 To demonstrate the product, an IceSkin sales person put a towel in a bowl and poured boiling water on it. Moments later, he whipped the towel in the air and then had people touch it. Sure enough, the towel was downright cold.
The towel, which also can be customized with different print style and club logos, is just the start of how the company plans to use the jade materials. It's also in the process of creating a line of shirts (Prime 4orm) that not only will keep you cool but will also promote better posture.
These are, quite literally, screw-on putter grips made from exotic animals. The one on the left is snakeskin; the one on the right is stingray. They also have an alligator skin one, which isn't pictured. Again, all of them are real. It's part of the exotic line from SwitchGrips, which retail from between $89.99 and $199.99. If you're not into all that, they have some more traditional options, too. The polyurethane option retails for $34.99, while the leather version sells for $63.99.
As for the screw-on element: The putters are made with a little plug in the but of the club which you can screw out or in that means the grip can slide off or on pretty easily.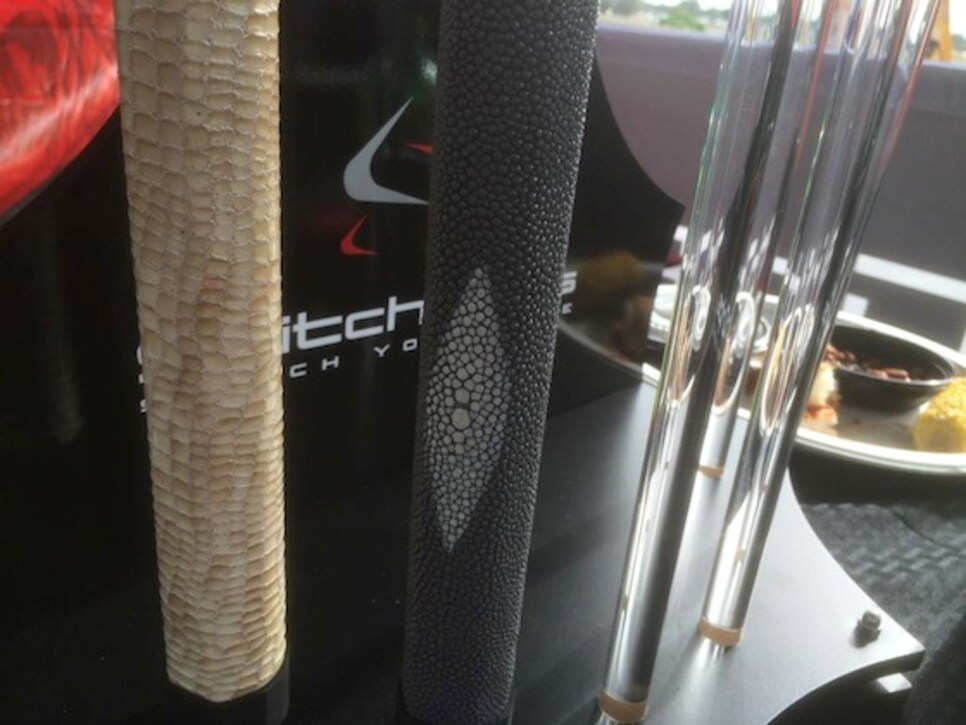 2015: The Year of the Push Cart?
If using a push cart is as uncool as everybody makes it out to be, how come there are more than a half dozen companies "pushing" them hard on the range at Orange County National?
We're going out on a limb and saying that 2015 will be the year push carts become cool. If so, it's not going to just be some standard push carts. It's going to be tricked-out, remote-control push carts, considering that at least three different companies -- MGIGolf, Stewart Golf and I Go -- were showcasing hands-free models on the range. (And that's not to mention the two variations of skate boards currently on the market.)
Keeping the rain off your clubs has never been easier
Big Max is a pretty new company to the US, but they're huge over in Europe. The pushcart company brought its products to the US last year and they're continuing to introduce products to the line. Below is their bag rain cover - a full bag is underneath it, I promise. You know when you're out playing in the rain, and it's impossible to keep your whole bag under your umbrella? This fixes that problem. All you do is unroll it over your bag, and clip it in to the handle of your push cart (the clip function is unique to Big Max push carts). The material is totally water proof, and the top section is see through so you can locate your club of choice easily. Retail: $90
It's been more than two months since my last round of golf back home in Connecticut, so doing any serious product testing here at Orange County National first required knocking off a little swing rust. Walking around, I thought the best place to start might actually be the Demo Day's equivalent of the bunny slope: SNAG Golf's test area.
The SNAG concept is a pretty cool as a entry point into golf for 40-plus-year-old Golf Digest editors young kids. You use oversize clubs and hit glorified tennis ball toward various velcro- covered targets. Working off the golf-scoring concept, the closer to the center of the target, the fewer point you earn with the goal of having the lowest score possible. (SNAG also offers "flag stick" style targets for a more tradition golf experience than merely dart board target practice.)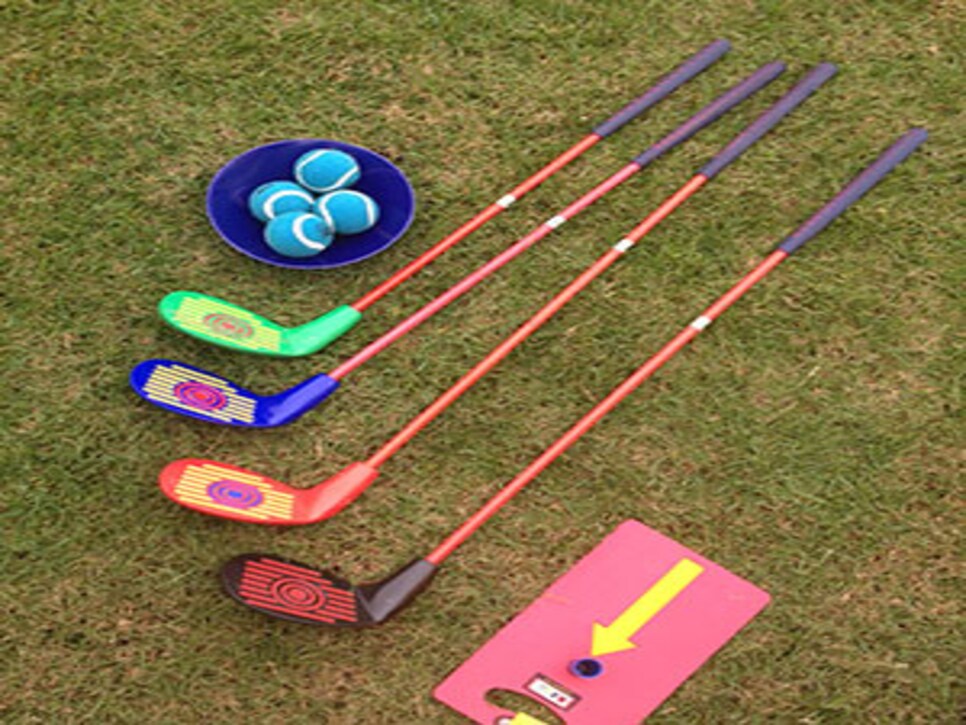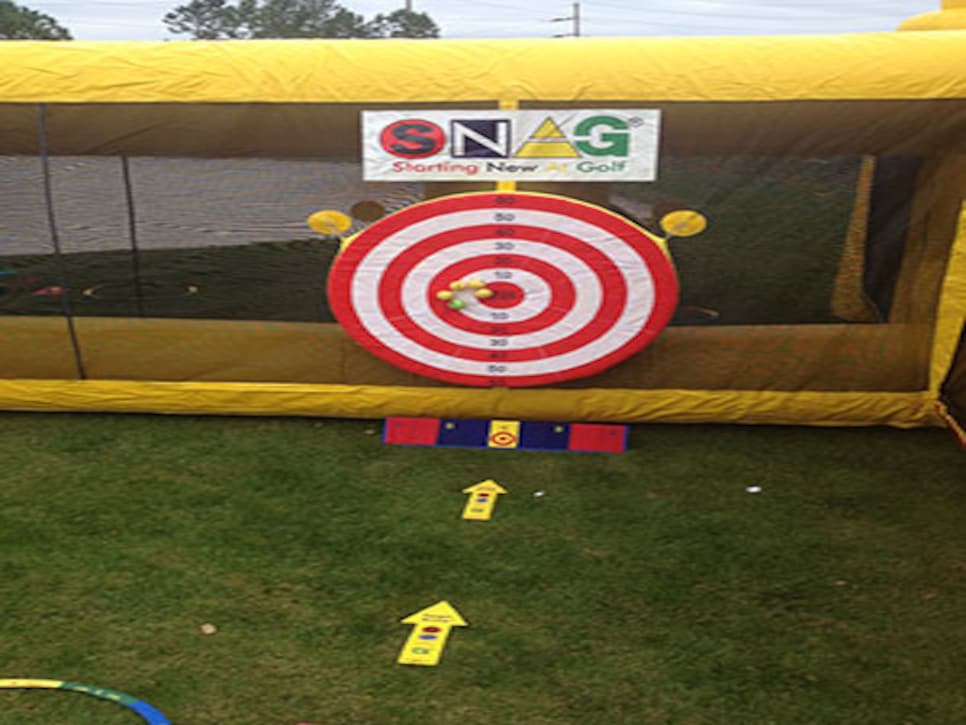 After hitting a dozen or so balls, I final got my swing back in working order. (Look at that target. You bet I'm an ace.) And I found something I think my 5-year-old daughter would get a kick out of.
A robot that you can scoot around the course on
The segways-for-golf idea is not a new one. But this vehicle that I came across at the PGA show, the i-Go Robot, is pretty cool. The tires are bigger and more aggressive than others that I've seen. It also has a seat and a side carriage system for your golf bag. To make it work, you step on the footbeds and lean forward. The foot sensors are pretty sensitive, so it doesn't take much to get it going. The sensors in the seat work the same way. Lean forward in the seat to go forward, lean back to go backwards. At its fastest, it goes 12.5mph.  Retail: $6,995
Inside the Cobra-Puma merchandise tent/vodka bar/mad house
__It's noon, and the Cobra-Puma is already doing it right. In fact, they've been doing things right for a few hours now. Cobra-Puma has become notorious in recent years for turning their tent into an outdoor rave of sorts, and it's proving equally popular this year. There's a DJ spinning music as people test the newest equipment, and yes, those ladies are pouring vodka into those glasses. Red Bull and vodka, to be more specific.
The Callaway set-up here at Demo Day had a big group gathered under one of the tents, so I took advantage of my short stature and snuck up to the front of the crowd. Jamie Sadlowski, who's a two-time long-drive champ and coincidentally also a stud, was hitting some seriously long drives. Yet the most impressive thing I saw him do was hit his putter. In the video below, the ball went more than 200 yards and his swing speed was 119 mph. Yes, you read that right . . . 119 mph. With a putter.
__Here's another product that falls squarely into the 'doesn't look beautiful but works beautifully' category. It's called The Perfect Putter, and it's kind of a cross between a stimpmeter and a training aid that was recently put into play by Justin Rose and Russell Knox. Basically, you use the ramp thing to line up, and then place your ball inside the "h" alignment aid that it comes with. Lining up this way means you can dial-in exactly how much a putt breaks, and won't leave you wondering whether you pushed or pulled it, because you'll know that a straight putt will go into the hole. The Perfect Putter retails for $299.99
__Demo Day starts at 9 o'clock*
*Line to get into the show was brutal today. Had to pull out the media big muscles to get to the front. Hate to do it (just kidding, I don't really). Off to walk around. Will let you know what I find.