Editor's Note: This article first appeared in Fire Pit Collective, a Golf Digest content partner.
Evidently, Tiger Woods is telling others in his small-radius circle-of-trust that he was offered something like $700 million to sign up for a Saudi-funded golf league. That is, LIV Golf before LIV Golf had its own Wikipedia page. When this supposed offer was made is unclear. Greg Norman said recently it was before he became the LIV commissioner last fall.
But this raises a major question, in this summer of professional golf's discontent: What was the goal of this offer? Was it part of a sound business plan? (Doesn't sound like it.) Or was it an effort to plant the seeds of chaos in the orderly world of professional golf?
Maybe you prefer the Get Smart spelling from years ago: KAOS.
Would anybody running a real business—Norman insists that LIV Golf is a real business—make such a staggering offer? It's hard to fathom. Woods has played about three dozen events since the start of 2016. Fourteen events in a year? That was never going to happen even before his devastating and life-changing car crash in February 2021. So that begs the question: What is really going on here?
Everything is odd in this summer of golf's discontent. Money, or at least the promise of it, has poured into golf as never before. KAOS has reigned.
Where is Agent 99 (Maxwell Smart's wise and beautiful fellow agent) when we need her?
Until she or someone like her can be found, here's a message for various executives at the PGA Tour and FedEx Corp.: The FedEx Cup playoffs are now what they have been from the beginning, a series of good golf tournaments. Even without Woods and Phil Mickelson and Dustin Johnson and now British Open winner Cameron Smith.
Smith was paid $261,000 last week at FedEx I in Memphis for a T-13 finish, despite the two-shot penalty he brought upon himself. He's skipping FedEx II because of "hip discomfort." Yep, that's what the statement said. He made $3.6 million when he won the Players in March. By the way, and you probably would agree, watching Smith play golf is a complete joy. But you'd be hard-pressed to find any ordinary fan, at least one without a gambling stake, who cares who wins the FedEx Cup playoffs and the $18 million that comes with it, whether it's Cam Smith or Sepp Straka of (once upon a time) Austria. That's because it's all about money. Fans don't care.
The PIP payouts, the increase in purses and everything else the PGA Tour is doing to stop its so-called name-brand stars from defecting to LIV? The same. Fans don't care. We do care about who puts on a jacket (Scottie!) and who hoists an old jug (Cam!). We feel like we know them, because we've been through something together.
Maybe you remember the reaction to Woods's triumphant Sunday at the 2019 Masters. Other winners of that tournament include Jack Nicklaus, Seve Ballesteros, Arnold Palmer, Ben Hogan and Gene Sarazen. A nice club, if you can get in it. That's one of the things that has made the Masters the Masters. The club within the club. Norman had his chances.
As for the club itself, Augusta National Golf Club, membership there is the ultimate statement on corporate success in this country and some others too. Ask the various chairmen of Ford, IBM and Coca-Cola. It's good for business, for one's status, for everything really, if you're into that sort of thing. Most of the world is. Now there's something no member of the House of Saud can buy.
As for the LIV events—48 players, no cut, everybody starts and finishes at the same time—I have not talked to a single golf fan who cares about who wins in any given week. What is a professional golf tournament without sustained fan interest? A Champions Tour event with music and, coming soon to a YouTube channel near you, David Feherty. This is a statement attributed to Feherty when he announced last month he was leaving NBC Sports for LIV: "As a storyteller, this is a one-of-a-kind opportunity to help write a new chapter in this sport's history. LIV Golf is developing ideas and innovations that are going to grow the audience and engage the next generation of players and fans. I'm excited by the energy LIV Golf is creating and I'm eager to contribute to a world class broadcast production that has a vision towards the future."
You know how you know that Feherty didn't say or write that? Because it's unspeakably boring.
Here's how Donald Trump, who once courted the PGA Tour but has moved on, might have improved that release for Feherty, on whose show he once appeared:
"The PGA Tour is boring. NBC is boring. I'm going LIV for MONEY + FUN!!! LIV will have the best tournaments played on the best courses!"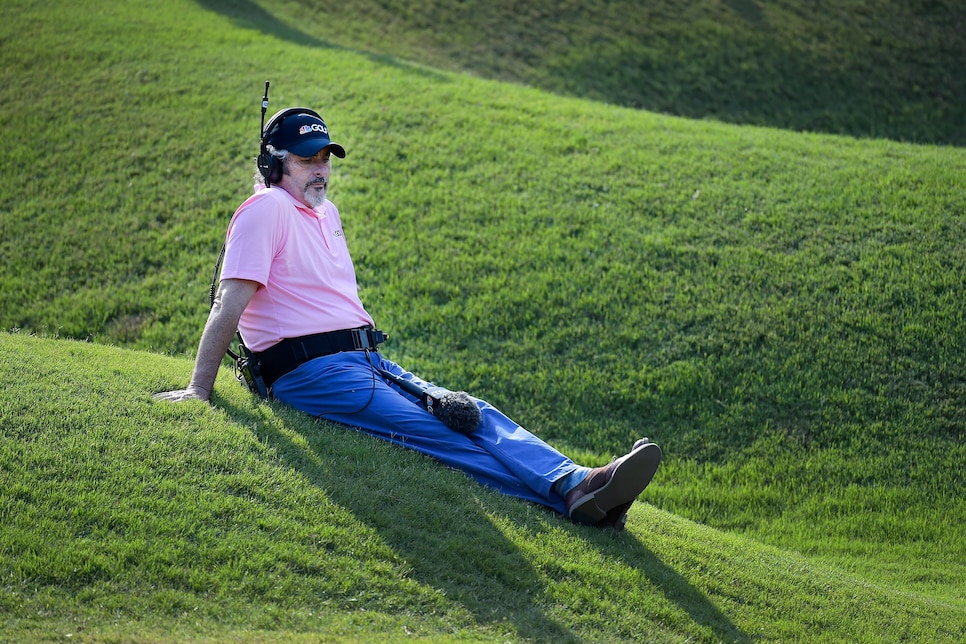 The Saudis saw where golf took Trump in his life. We all did. For a while, he was the most powerful person in the world and one of the most disruptive forces in American history. Golf did far more for him than baseball did for George W. Bush (ownership of the Texas Rangers). Most presidents have sought to unite, and most everybody would say that of W. Trump—this is an opinion—did not. He made the disruption work for him. The Saudis, of course, saw this. How could they not?
Meanwhile, this peculiar summer continues to unfold. Every day, some nutty new thing is being cooked up on "social media."
You probably know that Smith improperly played a shot from a red hazard line on Saturday and was penalized two shots for it a day later. That was orchestrated by LIV Golf to make the PGA Tour look bad. So says "social media." Unless it was orchestrated by the PGA Tour to make a LIV Golf recruit look bad. So says "social media."
Also, Norman is going to be fired as the LIV commissioner/CEO. Today. Or did it already happen? "Social media" cannot be expected to be on top of every little thing, can it? Actually, I don't see that happening, not anytime soon. Norman is LIV Golf's biggest asset. Yes, ahead of Patrick Reed. Yes, Norman whiffed in May when talking broadly about Saudi Arabia's human-rights abuses. Also, when commenting on the state-sanctioned murder and dismemberment of Jamal Khashoggi, the dissident columnist. ("Look, we've all made mistakes," Norman said.) Even Tiger didn't have his A game every time out. But Norman has managed to get this trial-run year of LIV Golf up and running, despite what he calls "obstacles." Of course, billions of dollars in Saudi oil money made it all possible. But the pandemic and Mickelson's winter-into-spring PR fiasco could have killed it.
Then there was the PGA Tour's assault on LIV Golf and its discovery of $10 million here and $15 million there for the fellas. And trotting out every big gun it had, including Brooks Koepka and Bryson DeChambeau and Dustin Johnson, to distance themselves from the "rebel golf league." (Now and forever: pet phrase of The Telegraph, famous English broadsheet.) The boys sounded so genuine, for a nanosecond anyway.
Note to self: Never underestimate the power of greed or the lure of money.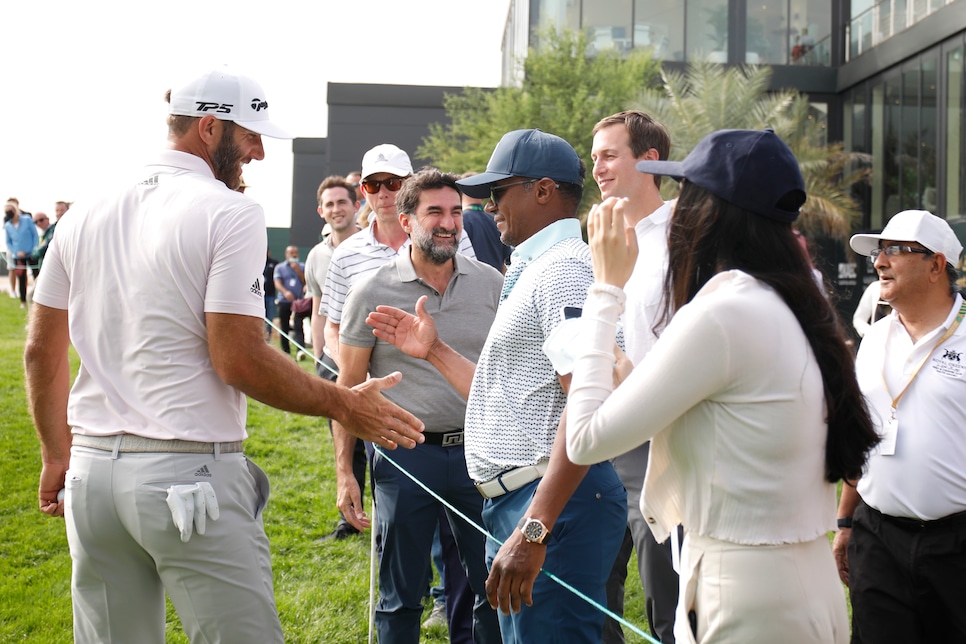 But here's an example of when Norman shined: with Tucker Carlson on Fox News a few weeks ago during the LIV event at Trump Bedminster. Norman killed it. Yes, Carlson put rubber-coated softballs on tall tees. But Norman went yard. First off, Norman guaranteed traction for the interview and attention for the Bedminster tournament by semi-confirming the $700 million number offered to Woods. Then there was this pearl. Carlson asked, "Why would sponsors drop golfers for participating in LIV?"
"Tucker, that blows my mind," Norman answered. "And sponsors, by the way, who have spent billions of dollars in Saudi Arabia!"
It's not, at all, a mind-blower. But to those who don't follow this stuff closely? It's a perfect sound bite. It's right out of the tournament host's playbook.
Now here are the dull, obvious and relevant details. American Express sponsored Mickelson and a PGA Tour event. American Express chose the Tour. RBC sponsored Johnson and a PGA Tour event. RBC chose the Tour. Rocket Mortgage sponsored DeChambeau and a PGA Tour event. Rocket Mortgage chose the Tour.
If a company has to choose between standing with a corporate partner or a human being, it will always choose the corporate partner. Human beings say and do whacky things. Companies exist to make money. That makes them more reliable.
But what Norman said sounded great.
This did too: "We're independent contractors. We have the right to go play wherever we want in the world for whatever we want."
The only problem with those two excellent sentences is that they have no foundation in reality. Nowhere in the world does a prominent professional golf tour, including LIV Golf, simply allow its members to play wherever they wish, whenever they wish. There are pages and pages of rules and regulations and stipulations.
That whole rule-of-law thing. It's a chaos-killer.
LIV (to me) comes off as the Robert Redford character in the heinous 1993 movie Indecent Proposal. The Redford character, a billionaire, offers a married couple, played by Demi Moore and Woody Harrelson, $1 million if Redford's character can sleep with Moore's character for one night. The answer is yes. It doesn't go well. But had Woody and Demi said no, there wouldn't be a movie, right? LIV is the Redford character. LIV, with a suite of rooms in the House of Saud, is barging right in.
This whole business brings to mind another Redford character, Jay Gatsby his own self. Yes, The Great Gatsby, one of the movie versions of it. Gatsby can't let go of Tom Buchanan's wife, Daisy. Tom's not happy. Tom says to Gatsby, "What kind of row are you trying to cause in my house anyhow?"
LIV is creating some row.
But even if you are, quote, anti-LIV, does that make you, quote, pro PGA Tour? Hardly. Kathy Whitworth, the greatest winner in LPGA history, told me the other day she could not for the life of her understand why the PGA Tour did not try to reach some accommodation with Norman and the Saudi government's Public Investment Fund.
Well, there's an answer but it's more of an answer than many people want to bother with: It's hard to negotiate with a group that you think represents an existential threat to your way of life. So Jay Monahan didn't take Norman's call. Neither did Augusta National chairman Fred Ridley. But Miss Whitworth, a legend and a smart person and a straight shooter (out of a long tradition of Texas golfers who are legends and smart and straight shooters) believes the PGA Tour is loaded with prima donnas. Other women touring pros will tell you the same.
The next men's major event is the Masters in early April. The Champions Dinner on the Tuesday of that week will be unlike any other that has come before it. That's because we now have another club within the club. All of the former Masters winners will gather. But now there will be Mickelson, Johnson, Reed, Bubba Watson, Charl Schwartzel and Sergio Garcia as LIV golfers who are also former Masters winners. Gary Player is with them in spirit. Fred Couples is not. Jack Nicklaus is not. Jordan Spieth is not. Tiger Woods is not. Arnold Palmer, wherever he may be, is not.
It could get chilly, up there on the second floor. The subtle truth is already starting to come out. Mickelson, we learned last week, was not "disinvited" to last year's tournament. He was invited to take a year off. That's how Augusta operates. Augusta does not like chaos. It likes control.
In Get Smart, Agent 86 (Maxwell Smart) works for CONTROL, a secret U.S. government agency. CONTROL fights KAOS, an evil international cartel. KAOS is lawless. It thrives in chaotic. But Smart is so obsessed with CONTROL's various codes he can never accomplish anything. The parallels in golf are too obvious.
LIV has already injected an element of chaos into professional golf. Witness last week's emergency federal court hearing in San Jose, Calif. The decision to deny three LIV golfers the chance to play in these FedEx Cup playoffs can be parsed a thousand ways. One way is this: The judge said the PGA Tour can have rules about who will play in its events and who will not.
LIV, too, decides who will play and who will not. Norman told Carlson that when players have called him in recent weeks looking to join the LIV roster, he has replied, "I'm sorry—the shop is closed." There's no more room. Unless LIV really, really wants you. Like, it really wants Cam Smith. Cam Smith didn't want to play golf this week. He had an easy out. Calling in sick on the LIV league most likely will not be so easy.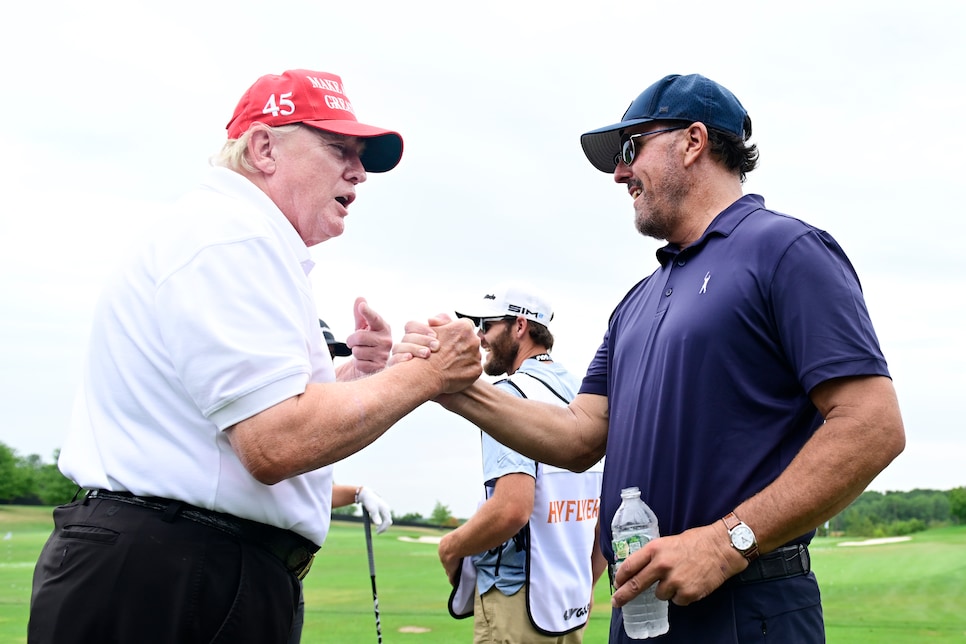 The motivation for the players who have gone to LIV is not hard to understand. They want the guaranteed money. Just like Feherty did.
"Money," Feherty told the Toledo Blade a couple of weeks after that painful LIV press release. "People don't talk about it. I hear, 'Well, it's to grow the game.' Bull—-. They paid me a lot of money."
Norman's motivation is obvious. He had a good idea nearly 30 years ago—a world golf tour—and cannot let go of it.
But what are the Saudis trying to achieve here? My guess is that about two people really know, and one of them travels the world on three letters, his vast wealth and his link to the death of Jamal Khashoggi: MBS. The Crown Prince, Mohammed bin Salman Al Saud. He's not being invited to join Augusta National anytime soon. Neither is Trump.
From my former colleague Rick Reilly, courtesy of his Twitter feed:
"Trump may have taken nuke secrets to Mar a Lago. The Saudis are openly thirsty for US nuke secrets. Saudis 'invested' $2b in [Jared] Kushner (below). Saudis and Trump are suddenly in bed together in LIV Golf. Probably just a coincidence, right?"
I believe it was Maxwell Smart who said, "Coincidence? I think not!"
Michael Bamberger welcomes your comments at Bamberger@firepitcollective.com