Digital advertising
Gimmick? Perhaps, but one LIV Golf team might have just tapped into the next innovation in golf advertising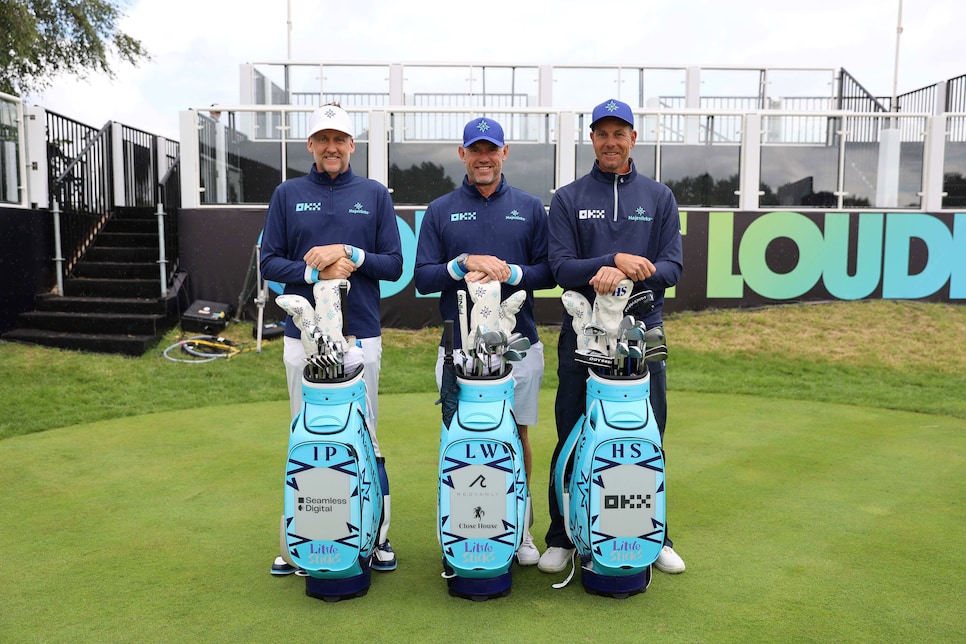 File this one under "things professional golf didn't see coming," right next to the PGA Tour and LIV Golf joining forces after a bitter battle. At this week's LIV Golf London event, the Majesticks GC team will debut a digital billboard on the front of their staff bags.
Majesticks GC co-captains Ian Poulter, Lee Westwood and Henrik Stenson, as well as Laurie Canter (an injury substitute for Sam Horsfield) will have interchangeable, digital advertising displayed on their staff bags after partnering with a company that first brought the technology to Formula 1.
Seamless Digital were approved to place digital ads on the McLaren F1 race cars at last year's Austin Grand Prix. The ads changed every 45 seconds and included the team's partner, Google/Android. Technology also was being developed to place the ads on the helmets of F1 drivers.
With the Majesticks GC, photographs of the Poulter, Westwood and Stenson at Centurion suggest their bags will flash ads promoting team sponsors OKX, a cryptocurrency exchange; apparel company Redvanly; and Westwood's sponsor, Newcastle, U.K. golf resort, Close House.
"It's definitely ground-breaking and something new," Stenson said. "It's not something we've seen before on golf bags. We've seen it in their partnership on Formula 1 cars, and it brings something special."
The lightweight, reflective displays are invisible when not in use, allowing them to remain completely concealed within their original environment.
If critics of LIV question the viability of the league's teams concept— which sees 12 four-player teams competing for $5 million purse each event and a season-long championship but with each team also tasked to develop its own revenue streams to create value for potential future sale—the Majesticks GC at least have an answer. Seamless Digital is the third sponsor the team has acquired since forming.
"I think collectively as a group we've bought into the idea of being a team," Poulter said. "Team means we all do exactly the same things, but behind the scenes, [team manager] James Dunkley and the whole team are pushing boundaries.
"[Seamless] gives us an opportunity to appeal to more sponsors for us to be able to interchange that at certain times during a round of golf is exciting, and there's endless possibilities. I think for us to be able to one day be coming up the last hole and somebody really wants to be on that bag, then we could have the ability to do that. I love where the technology is."
But save for an initial reflex of this being a gimmicky idea, could digital display ads be a viable branding option for pro golfers down the road? Could we one day see a golfer walking up the 72nd hole at the Open Championship and his bag flashing digital ad every 45 seconds?
Mark Turner, the founder and CEO of Seamless Digital, believes it is.
"This feels like a seminal moment for our sports marketing division within Seamless Digital," he said. "Being able to change branding in real-time on a golf bag gives greater flexibility and value to teams and partners. Our technology enables more creative options for brands to communicate situationally relevant messages, and we are proving that our dynamic branding technology can be applied 'in the action' across many more professional sports."