LIV Golf
LIV captains reveal some of their team-concept approaches, including one hilarious 'training camp' nugget from Dustin Johnson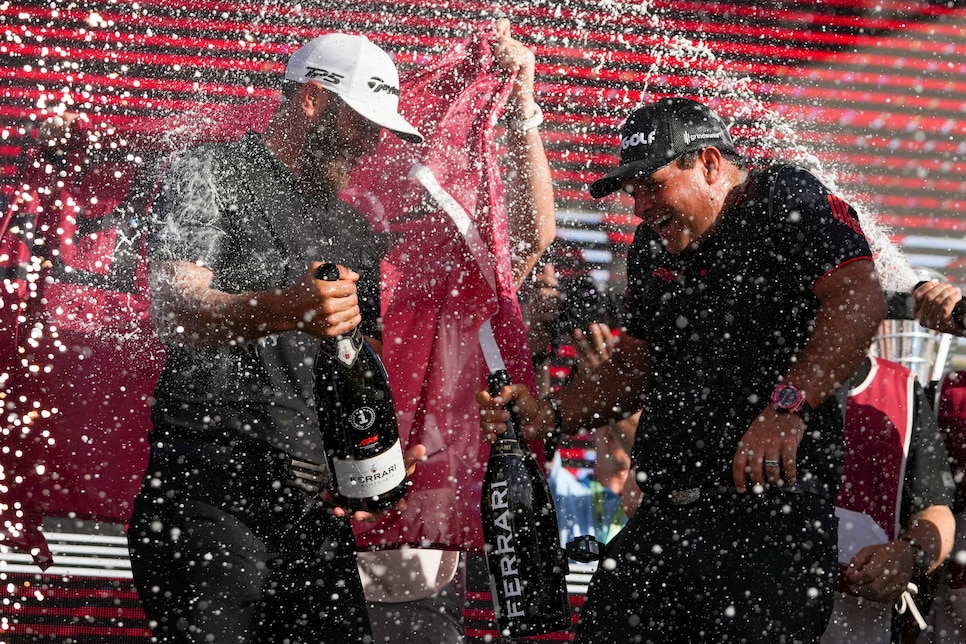 Team Captain Dustin Johnson and Patrick Reed of 4 Aces GC celebrate their 2022 LIV Golf team championship.
Eric Espada
MAYAKOBA, Mexico — A three-day training camp Ian Poulter ran for his LIV Golf teammates in Orlando's Lake Nona area, and Dustin Johnson hosting his squad at Michael Jordan's exclusive golf club in Jupiter, Fla., are among the ways that former PGA Tour stars are practicing and traveling differently in the second year on their rival tour.
Before LIV Golf kicked off the season in the Mayakoba Resort-area of Mexico this week, several teams rendezvoused in the home cities of their captains. For the team Majesticks GC, which is co-captained by the trio of Poulter, Lee Westwood and Henrik Stenson, with three-time DP World Tour winner Sam Horsfield the fourth member, the quartet held a bonding and training camp at Lake Nona Golf and Country Club last weekend. The England-based Westwood stayed at his countryman Poulter's house, while Stenson and Horsfield already live in the Lake Nona area.
Rounds of golf, range sessions, getting fitted for their new team uniforms and collecting tour staff bags were among the activities. Afterwards, the players and team staff flew together to the El Camaleon Course at Playa del Carmen, ahead of LIV's $25 million season opener.
"Mayakoba was a short flight down from Florida, so Lee came in [from England], and the caddies and staff helping us run the team got together," Stenson said at El Camaleon. "It was just a bit of team bonding, enjoying some fun hobbies and dinners, playing a bit of golf and practicing together. We got all our team gear, the golf bags and clothing and also met with our clothing partner, Redvanly. It wasn't like a boot camp in that sense; it was more like getting together and bonding."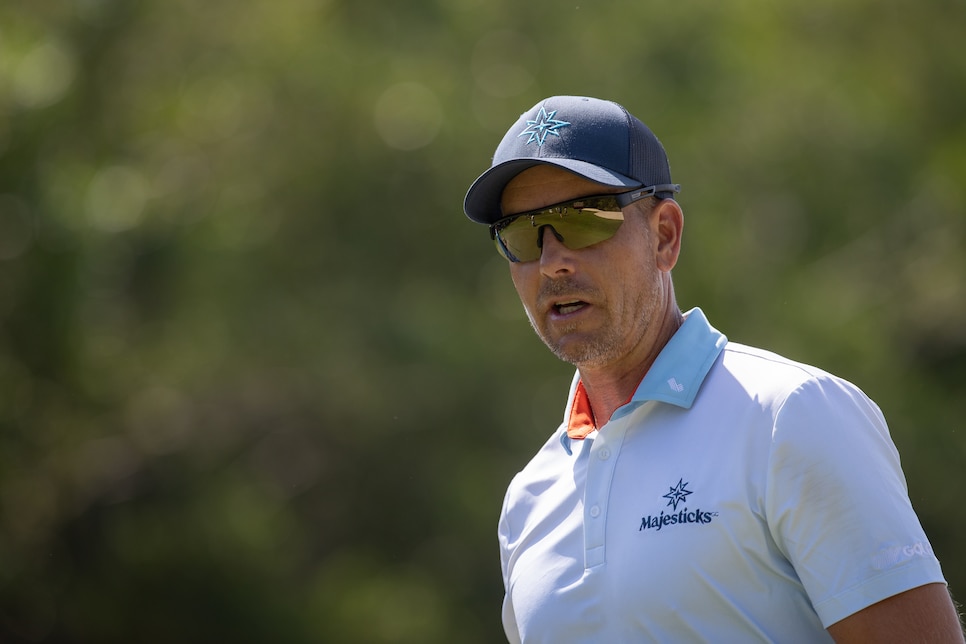 Henrik Stenson's Majesticks is going to great lengths to try to create a team atmosphere.
Quality Sport Images
Similarly, reigning Open Championship winner Cameron Smith, who captains the all-Australian side Ripper GC, had teammates meet at his house in Florida's Ponte Vedra area on the eve of the new season. Marc Leishman travelled from his Virginia Beach base and Matt Jones from his Arizona residence, while the fourth member, Jed Morgan, was already in Florida. Along with the team's physiotherapist and mind coach, they flew together to Mexico.
Less organized was the preparation of two-time major winner Johnson's 4 Aces team. The group didn't feel the need to overdo preseason practice, given Captain Johnson won LIV's season-long individual points title last year, while the 4 Aces won the team championship. Johnson recently hosted teammates Pat Perez, Patrick Reed and Peter Uihlein for 36 holes at NBA icon Jordan's private club, The Grove XXIII, in Hobe Sound, Fla.
"We played at Grove twice … if you want to call that training camp, sure," Johnson said.
It's unclear if all 12 of LIV's teams will continue to travel to all 14 events in pods, but many said they intended to when possible. What will make their travel arrangements different from last season is that it is now up teams to cover their own travel expenses. That is because LIV is attempting to get the franchise concept off the ground. LIV aims for the franchises to operate as businesses that will balance overheads with revenue, with captains having an equity stake in their team, and eventually selling off the franchises. In LIV's first season, the league paid for all flights and accommodation costs for players, caddies and support staff.
Six-time major winner Phil Mickelson captains the HyFlyers, which includes Cameron Tringale, James Piot and new LIV member Brendan Steele. Mickelson believes the franchises can be lucrative. "There are some incredible opportunities, especially globally," he told Sports Illustrated. "As we have bigger crowds, grow the overall interest level, see how TV is presented [with LIV's deal with The CW network] … that will ultimately make clear what is the value, what is the worth. We've already gotten a couple of things done corporately that I think we can continue to build on."
Teams fronting the costs won't change anything for Johnson's 4 Aces. They stockpiled plenty of cash last year on LIV, which is funded by Saudi Arabia's Public Investment Fund. Johnson amassed almost $36 million on LIV in 2022, having won its Boston tournament, as well as an $18 million bonus for the individual season-long points title and his quarter of the $16 million the 4 Aces won for their team championship victory.
"No," Perez said bluntly when asked if the team had to be more frugal this year. Added Johnson, "Our team will be just fine [travel-wise]. I have plenty of confidence in that."
Once LIV's teams are at an event, they generally practice in groups together, as evidenced at the El Camaleon this week. Most teams play practice rounds as a four-ball and hit balls on the range side-by-side. Many teams eat together, too. The only time the teams seem to split up is for short-game and putting work.
Torque GC is captained by Chilean star and two-time PGA Tour winner Joaquin Niemann. He said Torque plans to play every practice round together at LIV events, believing the competition within the team will sharpen their individual games. Torque has added new LIV signings Mito Pereira, also from Chile, and Colombia's one-time PGA Tour winner Sebastian Munoz. Both golfers left the PGA Tour after playing on the International team at the Presidents Cup last fall.
"I'm really happy having Mito and Sebastian just sign after we've been together probably three, four years on [the PGA] Tour," Niemann said. "I think it's going to be really fun. The practice rounds are really competitive with the four of us."
Stenson said the Majesticks aimed to have several bonding camps through the season.
"I think we'll try to have a couple of catch-ups, and not necessarily in Orlando," he said. "It's always good for everyone to feel included–caddies, staff, players. That's what most teams will [probably] do and it's good for the team spirits."