Stylish Collab
A look at Lilly Pulitzer's collaborative men's golf collection with Southern Tide
*All products featured on Golf Digest are independently selected by our editors. However, when you buy something through our retail links, we may earn an affiliate commission.*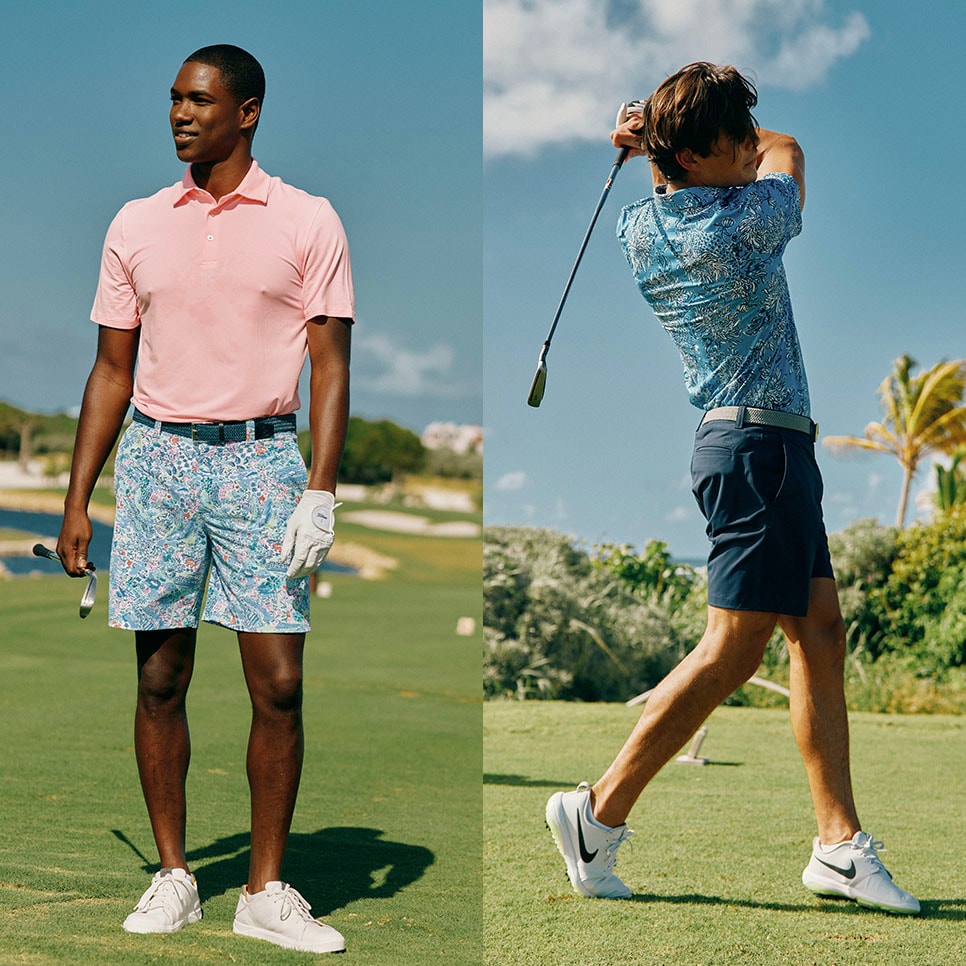 For lovers of coastal golf and resort fashion, this launch is especially newsworthy: For the first time since Lilly Pulitzer's founding more than 60 years ago, the storied fashion house—known for its iconic, vibrant, flowery prints—is making a foray into performance-driven men's golf apparel. The brand has dabbled with menswear in the past, but has made women's apparel and accessories the primary focus in the last 10 to 15 years. With a direct aim at golf and performance wear for men, Lily Pulitzer has partnered with Southern Tide, the South Carolina-based lifestyle brand with a particular knack for the casually cool men's polo, among other silhouettes. Here's a look at the collection of golf attire from two of the most colorful brands we know.
The collaboration includes 14 new pieces for men—including golf shorts, polos, swim trunks, boxers and short-sleeved button-down tees. And for juniors looking to match dad at the pool, the line also has two youth swim trunks with the patterns featured in the men's collection.
In honor of both brands' love of adventure and a little relaxation from time to time, the Lilly designers dreamed up two original, hand-painted prints exclusive to the collection, both nodding to the flora and fauna of the Palmetto State—South Carolina.
The first, called "Lilly Loves SC," features little sketches of architecture from the state's historic places like Charleston, Kiawah Island, Columbia, Greenville, and the Hilton Head Lighthouse, all blended in summery shades of pink, blue and lime green.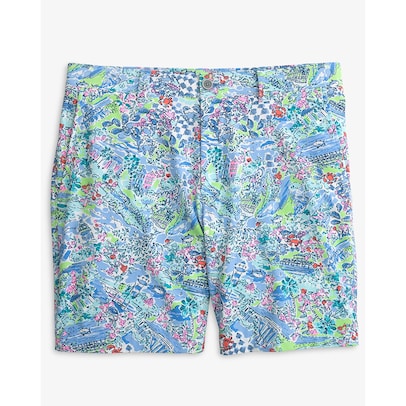 Lily Pulitzer X Southern Tide brrr°-die Lilly Loves South Carolina Short
Lily Pulitzer X Southern Tide Lilly Loves South Carolina Short Sleeve Button Down Sport Shirt
The second incorporates both the Southern Tide fish logo, the Skipjack, and the signature Lilly floral motif in a design titled "Croc & Lock It." The playful name comes, of course, from the whimsy crocodile characters surfing through the fabric, in between artsy splashes of watercolor. This print is slightly more subtle in color, incorporating a more nautical palette of ocean blue, navy, and white into the design.
While most pieces would work great for the course—especially if you predict jumping into the pool post-round or aren't afraid to fish out stray golf balls in the water hazards—the performance shirt and polos make for especially versatile additions to a men's course wardrobe.