The Loop
Like it or not, the new Master of the Golf Universe is Donald Trump
Forget Jack and Arnie, Tiger and Phil. The Master of the Golf Universe is now Donald Trump. I came to that realization during an extended telephone conversation with the man on Tuesday.
Trump was telling me how he'd just closed on the purchase of the famed Turnberry Resort in Scotland the previous evening. "It really wasn't on the market," he said, "but I made [resort owner] Leisurecorp a very attractive offer."
Trump told me his contract with the Dubai corporation prohibited him from revealing the purchase price. The London Independent reported the deal at $63 million. If true, that's darned cheap.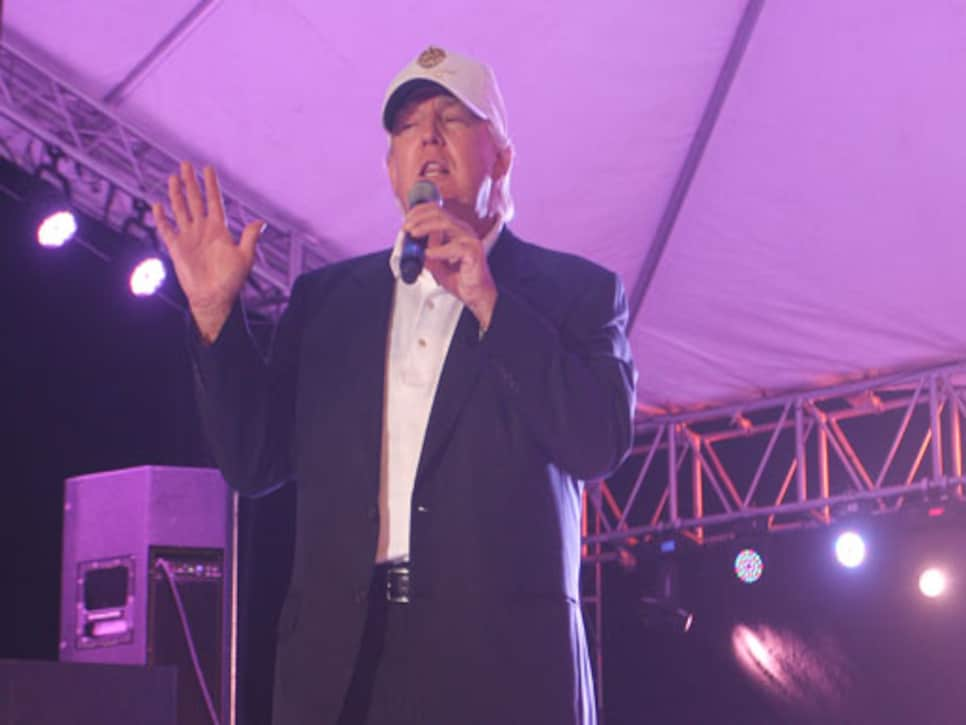 Now, this was just months after his purchase of Doonbeg in Ireland.  He'd previously bought the Ritz Carlton Golf Club in Florida, now renamed Trump National Jupiter, and had Jack Nicklaus revise his design there. He has Tom Fazio redoing his original 18 at Trump National Washington D.C., what had been Lowes Island Club on the shores of the Potomac.
The man collects golf courses like I collect bag tags.
He builds them, too. Trump has Gil Hanse constructing a course in Dubai. Bill Coore and Ben Crenshaw have contracted to do one for him on the old Kluge Estate near Charlottesville, Va. Martin Hawtree is set to do another 18 at Trump International Scotland once Trump succeeds, as he insists he will, in defeating a plan to establish a windmill farm just off the coast of his Aberdeenshire resort. (According to reports, Trump also can look forward to hosting the 2022 PGA Championship at his Trump National Bedminster course in New Jersey.) Hawtree may also redesign the Greg Norman course at Trump International Golf Links Ireland (the old Doonbeg).
"The big problem Greg had at Doonbeg is that he wasn't allowed to use the good land, the real dunes," Trump says. "Because of some snails. We're going to get permits to use that land, to put some holes in the best dunes. That will make a big difference."
As for Turnberry, Trump says he hasn't yet decided whether he'll rename it, but give him another 24 hours. "It's a great course, but the resort would do better with my name on it," he says. "To golfers, my name means quality."
He'll definitely gut the Turnberry Hotel, Trump says, and may have Hawtree remodel Turnberry's Kintyre Course, but won't touch the Ailsa Course, site of many memorable British Opens, without the approval of the R&A.
I asked Trump for his response to the claim that he's buying Turnberry simply to buy a spot on the Open rota. "I'm buying one of the great golf properties of the world," he said. "The Open just happens to be part of it."
I suggested to him that most financial analysts must think he's nuts, buying into golf at the time of a bear market. "Yeah, but I'm buying into a bear market at really good prices," he said. Indeed, he picked up the Kluge Estate in Virginia from bankruptcy and other golf courses he's acquired in recent years, including Doral, were distressed properties.
I then asked him if he were concerned that he might be overextending himself.  "Listen, my primary business is real estate, not golf," he said. "I also have a tremendous business in television. I buy these golf courses out of cash flow. None of them have any mortgages."
There's no concern on the part of his family that he's squandering the kids' inheritance. Sons Donald Jr. and Eric and daughter Ivanka are all part of the business. Indeed, it was Ivanka who negotiated the purchase of the Doral resort for a "bargain basement" $150 million just weeks after giving birth to a daughter.
No one else presently in golf seems as bold and as well-funded as Trump. That's why I call him Master of the Universe. Personally, I'd prefer someone far more humble, someone more dedicated to affordable golf and to promotion of the game for future generations. (To his credit, Trump says the new municipal course his company will operate in the Bronx, Trump Golf Links at Ferry Point, will offer free golf lessons this summer to youngsters.)
But beggars like me can't be picky. I want the game I love to survive and if it takes a gilded edge to accomplish that, so be it.
At the close of our conversation, Trump offered to show me his books sometime, to prove that all his golf operations are profitable. I plan to take him up on that. Not because I don't believe him, although it does seem fanciful that his courses are making money when most others right now are money pits. I just want to know how he does it. I want to learn from The Master.