The Loop
Like all great players, Rory McIlroy stepped up when he needed to most
GLENEAGLES, Scotland -- It's what the truly great players do, even on days when the swing, the game and the score is less than perfect. Way less. They step up. They do things that stick in the memory. They hit great shots at the most opportune moments.
Rory McIlroy is such a player. And on Day 1 of the 40th Ryder Cup at Gleneagles the 25-year old Irishman did all of the above, despite -- as he put it himself -- "not playing from the fairway much." He wasn't exaggerating either. Time and again in a morning four-ball loss to Phil Mickelson and Keegan Bradley, the world No. 1 was out of position after his drive. Time and again his partner, Sergio Garcia, was largely left to fend for himself. Coincidentally or not, McIlroy had chosen the Ryder Cup to put a new driver, a Nike Vapor Pro, in play.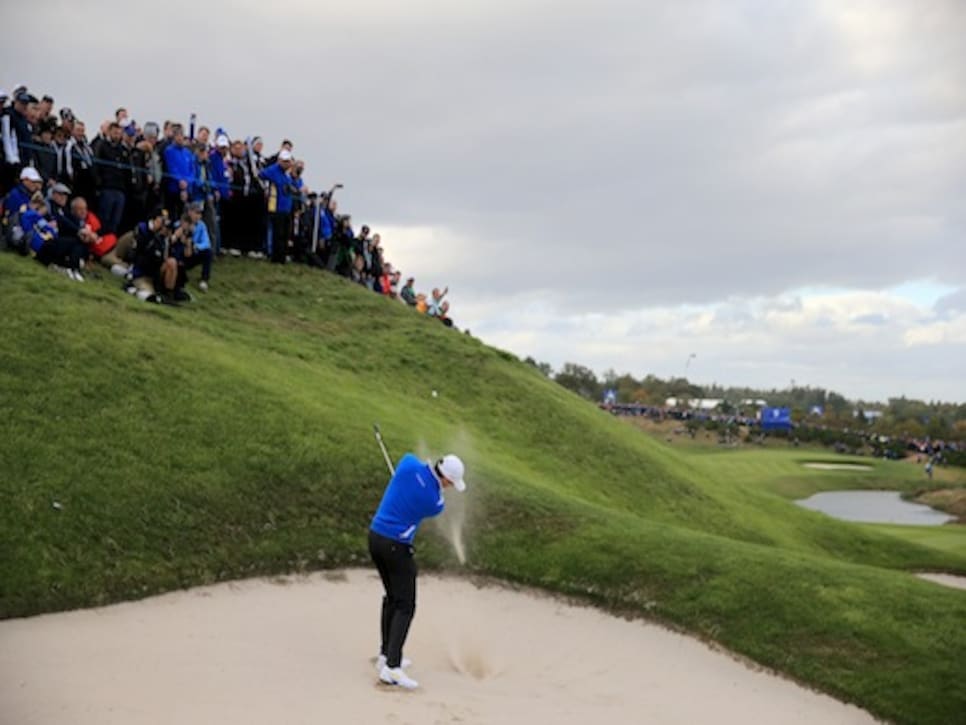 "I felt like we played decent golf," said McIlroy by way of mitigation. "It was a little scrappy at times but we fought until the end. I'm obviously disappointed that neither of us made birdie at the last." Well, making par would have been nice too. "That's what happens sometimes," said a philosophical European skipper Paul McGinley. "You go out and play well and get beaten. But it's just a point lost."
Things didn't look much better after lunch. Only a chip-and-putt birdie at the long 16th kept McIlroy and Garcia alive against Rickie Fowler and Jimmy Walker. And the Spaniard's tee-shot to 40-feet or so at the short 17th didn't offer much hope either. Then it happened. "It was one of those (shots) where you knew what you needed to do," said McIlroy. "There was a piece of dirt on the line and it was embedded so I couldn't touch it. Sergio said it was easier to hit the hole than hit that. It was going at quite a speed when it hit the hole."
Now one down with one to play, McIlroy reverted to type and missed the 18th fairway badly to the right. The ball hit a tree and crucially dropped into a lie from which Garcia could hit a magnificent wood onto the distant green. Two putts later, the pair had an unlikely halve. "There was no reaction to what happened in the morning," said a beaming McGinley. "They went out and rectified things. That halve was as good as a win to be honest." "Yes, we needed it," agreed McIlroy. "We were making life difficult. But we battled for 36-holes out there today. I'm just glad we were able to contribute. I didn't feel like we should have lost this morning. But this feels like a mini-victory for us. "Neither of us played from the fairway much. Three under for the last three holes is good though. We wanted to ask them the question and at least get them down 18, which we did. At least we got something from the day." Of course. It's what the great ones do.