News
Life is always entertaining when you're 'the famous Kip Henley'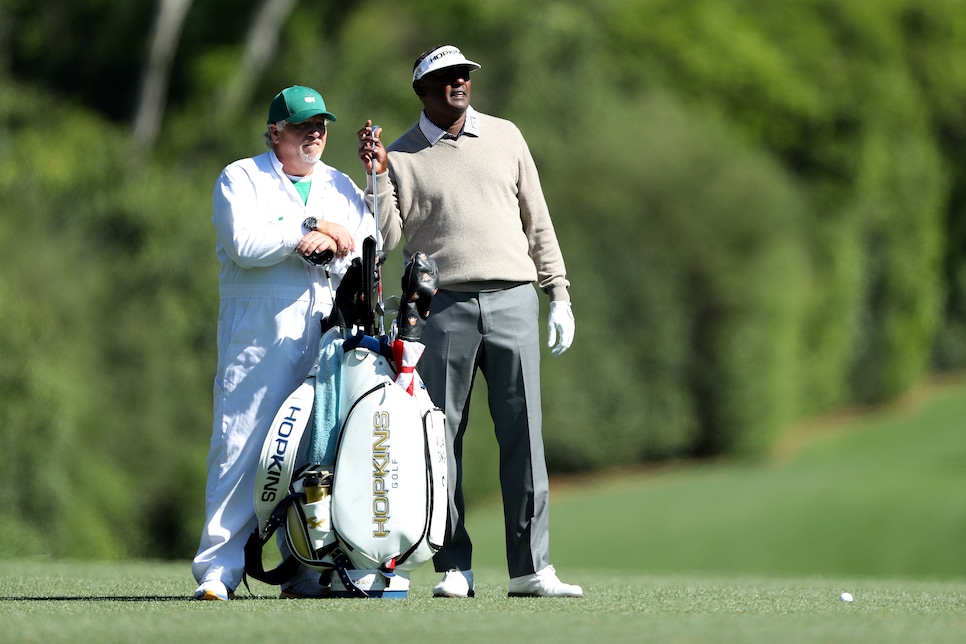 AUGUSTA, Ga. — "The famous Kip Henley!"
"Being interviewed, the famous Kip Henley! My man!"
Henley stood outside the caddie building.
He is caddie-famous. He once used a bunker rake to chase an alligator off a PGA Tour course and into its pond. He named "Alabama" as his favorite foreign country. He paid off a bad bet by mowing a yard while wearing only a sock in a place where a sock is rarely worn. He became a caddie after "failing at everything else in life," mainly his dream of playing the PGA Tour himself. In 10 years working for tour pro Brian Gay, he three times earned $108,000 paydays. On Friday, carrying for 2000 champion Vijay Singh, Henley worked the Masters for the fourth time and had reason to run up the third fairway, which gave him reason to tell the interviewer, "I'm the fastest 56-year-old, 5-foot-8, 230-pound white man in the world."
All good, and reason enough to think caddies are unique in all of sport. And yet if we know Kip Henley at all, it's because of what his wife wrote.
Sissi Hanley became real-world famous when she wrote a love letter of sorts on Facebook. She became the face of every woman, wife and mother who loves a man who has to travel to do the work he loves. At the beginning of this golf season, she wrote …
"It means I put back on my unconditional cheerleading uniform, my travel agent hat, my psychologist couch and make myself available at a moment's notice to rearrange, fix, reserve or help with everything that comes along with life apart! So now is my time to put back on my big girl panties to prepare for countless weeks away from my husband and sleepless nights alone. To become once again the sole person responsible for the home front, the banking, the bills to be paid, the garbage, the animals to be fed, the dripping sink, so on and on. Why do I do it? Because"
Because on July 11 this summer, the Henleys, the parents of two grown daughters, Stormi and Darbi, will celebrate their 30th wedding anniversary, a time that includes Sissi's years as navigator on treks through the big leagues of golf—he played maybe 20 PGA Tour events—and through the bush leagues—he gave up the Web.com Tour at age 44. It was 2005 when he quit playing. "The dream was dead in 2005," he said. Then he hooked up with Gay.
I followed Kip Henley twice today, first of Twitter where his handle is @KipHenley. His profile identifies him as "Kip Hanley PGA Loopr." Then: "My job is to wash guys balls and carry heavy stuff. Im an Outdoor Butler." He has 28,900 followers, one of them, most likely a wise-guy caddie himself, who saw a picture of Henley standing behind Singh, his legs spread wide on the putting green. The wise guy asked, "What do you call this putting green stance?"
Henley's answer: "It's called the 'my man loves to practice and im trying to keep my legs from falling asleep'  stance."
I also followed him on foot. There's always a moment. Singh's and Henley's came on the 13th hole, a par 5.
Singh's drive stopped atop the ridge at turn of the fairway. From there the green is approximately forever away.  It is a dot in the distance between flower beds and a creek. To imagine hitting a golf shot that far, that straight, is to imagine a wonder. Singh did it.
"From 222 yards," Henley said. "And the ball was above his feet."
It sounded like a rifle shot. It stopped pin-high, 10 feet left.
"Pretty awesome," the caddie, once a player, said.
On the green, as Singh stood over the putt, Henley moved directly behind the putt's line. He learned over, holding the flagstick on his back. Singh had asked him to help line up putts.
Just a touch on this one. Curling left to right. Disappearing. An eagle.
Mostly, though, Singh struggled. At nine over, he missed the cut. Henley carried his man's bag to the courtesy car lot. They would meet again next week for the RBC Heritage in Hilton Head, S.C.
Henley, the road warrior, walked into the caddie building.
There he texted a note to his wife reporting the day's events.
Her reply, in full, was, "Oh, sh*t."