News
Lehman-Langer Team Wins Playoff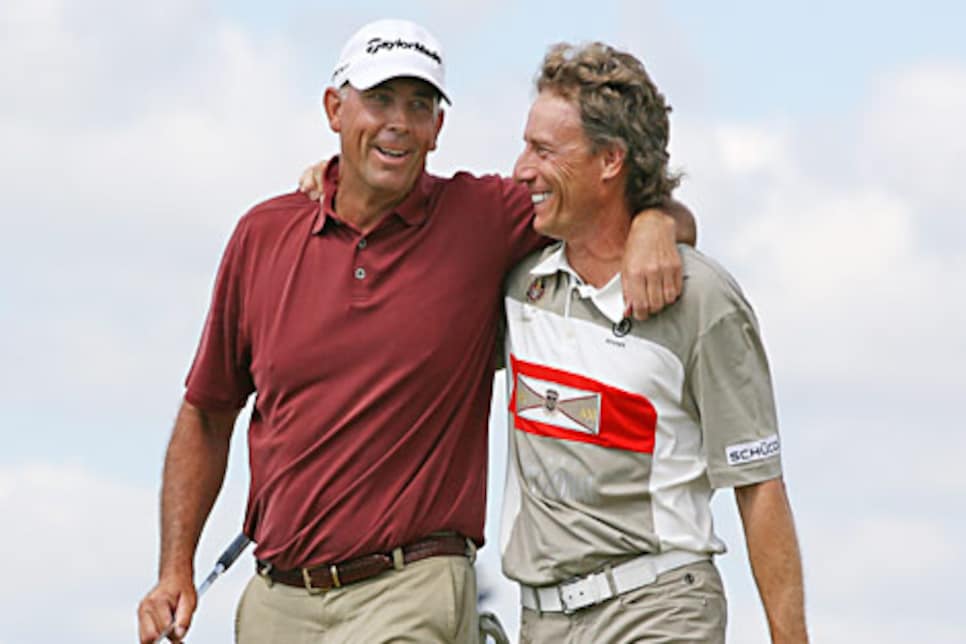 When Sluman missed his par putt from four feet Lehman got his chance to win.
SAVANNAH, Ga. (AP) -- Tom Lehman made a par putt on the second playoff hole Sunday to become the 13th player to win his Champions Tour debut, teaming with Bernhard Langer to beat Craig Stadler and Jeff Sluman in the Liberty Mutual Legends of Golf.
Each team finished at 27-under 189 in the better-ball event. Lehman and Langer (62) started the final round at 17 under, a stroke ahead of Stadler and Sluman, two strokes off the lead.
On a perfect day for scoring, several teams raced up the leaderboard at The Club at Savannah Harbor, an island course in the middle of the Savannah River. There was just one catch: No. 18 yielded only three birdies all day, and that was the playoff hole.
On the first playoff hole, Langer's approach hit Stadler's ball on the green and stopped about 45 feet from the pin, and he sank it for birdie. Stadler, who got to replace his ball, promptly followed with a long putt of his own and the teams returned to the 18th tee.
"After that putt, I didn't know what do to," Langer said. "Then, Stadler made his on top of mine. It was very exciting."
"I had the exact same putt in regulation, so I hit it a little harder," Stadler said. "I said to Slu, 'If it gets there, I made it.'"
Stadler bogeyed the second playoff hole. Langer's approach landed in a greenside bunker, and he blasted to within 5 feet but missed the par putt. Then Sluman missed a par putt from 4 feet, leaving Lehman to win it with a par from inside 4 feet.
"I was disappointed to see Sluman miss his putt," Langer said. "That isn't like him at all."
Stadler and Sluman birdied Nos. 13-16 to reach 27 under, but couldn't keep the magic going. They finished with a pair of pars, tied for the lead with Langer and Lehman, and waited to see what they and the others playing behind them would do.
Langer and Lehman also settled for pars on the last two holes.
The final group had the team of Joey Sindelar and John Cook (64) paired with second-round leaders Loren Roberts and Mark Wiebe (65) -- all tied at 26 under. But those teams also settled for pars, missing a chance to join the playoff.
This course, with few tree, fairly flat greens and little wind, was the perfect setup for this event. If nothing else, switching the event back to team play last year has proven to be highly entertaining.
Teammates read putts for one another, and it paid off. It seemed as if some of the holes on the back nine had ball magnets in them, with birdie putts running in from everywhere. The fans loved it, of course, roaring their approval. At one point, there were four teams tied for the lead at 24 under with three others a stroke back.
"The people here were loving it," Sluman said. "I'm sure the people watching on television were, too."
Langer and Lehman somehow managed to bogey the par-4 sixth. But they birdied No. 7 -- their fifth in seven holes -- and shot 4-under 32 on the front side. Then they birdied the first five holes on the back. It was that kind of day.
"On the back, we didn't know, but we sensed that we could be in the hunt," said Langer, this season's leading money-winner on the senior circuit with seven top-10 finishes in eight events. "Just watching the leaderboard, you could see that."
Notes: Langer earned 225 Schwab Cup points, giving him 922 for the season. Roberts moved up to second with 506 points. ... D.J. Gregory was among the fans walking the course. Gregory, 30, who lives in Savannah, has cerebral palsy and was given little hope of ever walking. Last year, however, he completed his mission of walking every hole of every round every week on the PGA Tour to raise awareness. Gregory, who walked 3,256 holes and traveled 79,838 miles to reach 23 states and two countries, has a book coming out soon. ... Defending champions Tom Watson and Andy North (65) were never able to mount a serious charge, finishing at 21 under. Still, since teaming up in 2005, Watson and North are a combined 102-under par and bogey-free after 12 rounds in the tournament.